Brenda's Blog
Entry 11 - December 10, 2013

As I look back on the fact that I missed doing a blog entry in November, I realize what a very quiet, mundane life I live. Nothing much happened other than work and various projects. Some of those projects will get their photos into this episode. Since I doubt that I will get another entry done this month, here is wishing you all a very merry Christmas and hoping you have great health and happiness in the New Year.

We have had snow off and on since October and along with the snow comes the Snow Buntings. These are one of my favorite winter birds. They form large flocks and fly like finches dipping along in their flight path. They have a cheerful chirp that welcomes me when I venture out to see them. We enjoy the flocks until the snow leaves in the spring time. Some special moments I remember were when they decided to roost in the eaves just outside my library window. They were having little tiffs over the best roosting spots, one of which I managed to photograph. Another special event was after an ice storm had coated all the snow and made it very slippery. These birds are ground feeders and we had enough weedy seeds poking out of the icy crust to bring a pair of them into our front yard to eat. The wind was blowing hard making their attempts at feeding very difficult. One would fly to some of the weeds and start eating seeds. The other would see that this was a good spot and fly past, land and slide back to where it's buddy was feasting, knocking the poor friend off of the bush to slide away. This bird would then find a new spot only to lose it again to the more aggressive feeder. Their sliding and scuffling over the best seeds gave me 20 minutes of laughter but unfortunately at that time, I did not have a video camera or I would have filmed their antics.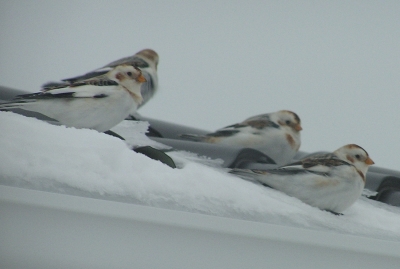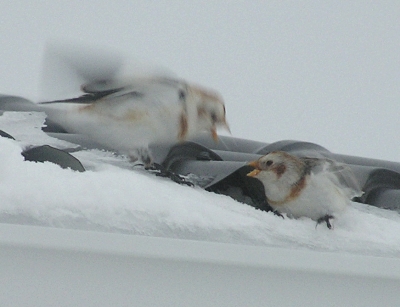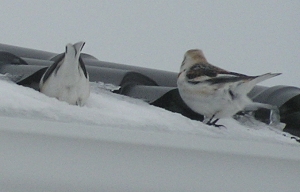 I have been busy with commissions and will continue with more commissions into the new year. I hope to also tidy up any updates I have available for the website early in the new year and that will include price updates. One of the new designs I will be releasing is a sled dog design. I have wanted to do one for years and with the request of an afghan with this theme, I had a good reason to make the new design. I still have to go over the design to do any touch-ups that I find and once it is finalized, it will be available.

Along with the personal projects, I have also been cleaning house. I'm trying to get it ready for paint which may not happen now until spring. I don't like introducing more moisture into the house than is already there. Building R2000 style has great advantages in lowering heating/cooling costs but it is sealed so any moisture in the house stays in the house. We don't tend to have a static electricity issues in the winter. Some of the personal projects that have been keeping me busy are tapestry weaving, rigid heddle weaving, small loom weaving, knitting, stitching and beadwork. Samples of which are below. The woven scarf is done on the small loom: each squre individually woven and then all of them crocheted together to make the scarf. The knit cat: knit, stitched and stuffed and then the face needlefelted onto the cat. I added amber beads for the eyes. I also managed to find time to add some bead embellishment to a pair of UGG boots I picked up for a super price last spring. I stitched beads into the gimp trim up the back of the boots and then duplicated that design with a bead lace stitch around the top edge of the boots. I like the hint of sparkle that the red three-cut beads add to the work.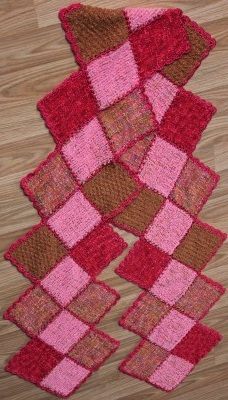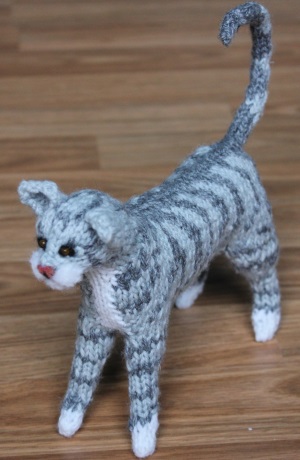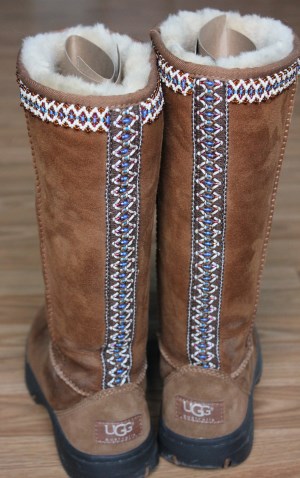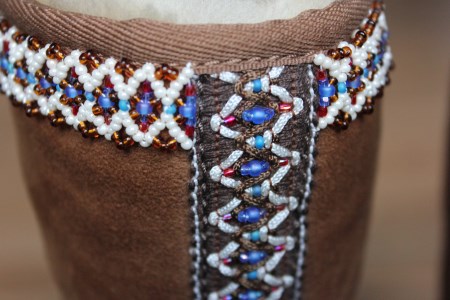 I always have more projects on the go so hopefully will remember to photograph them and share them with you in the new year.

I was asked recently if I had all the money and time in the world, what would I do? I know I would add some things to my 'to do' list but I would pretty much do the same as I'm doing now other than hiring someone else to clean the house. I love my work and am blessed to be able to do what I love to do.

All the best,
Brenda

Entry 10 - October 17, 2013

Now that my fall shows are done my life/work has shifted back to designing. For Thanksgiving, we managed to squeeze in a family day and spent our time exploring Tobermory. It was great fun, hard hiking and exhausting in a good way. Even Kodi, who does not travel well because he cries, had a blast and was ready to hop in the car the next day for a new adventure. I think we walked and hiked for at least 6 hours that day. Some of the terrain was pretty tough and not all of the trails were well marked but we managed. At the end of the day, when it was starting to get dark, we were on one of those 'not well marked' trails and I decided to let Kodi lead for a change. He knew exactly where the trail was and in the dim light, made it easy for us to get back to the main trail. The trail in the photo was one of the easy trials. On the tougher trails, I was too busy watching where I was going, climbing up or down and trying not to slip to take any photos . . . sorry. I was especially amazed that none of us felt any stiffness from our adventures at Tobermory. The photos show some of the limestone escarpment, trails and boulder beaches.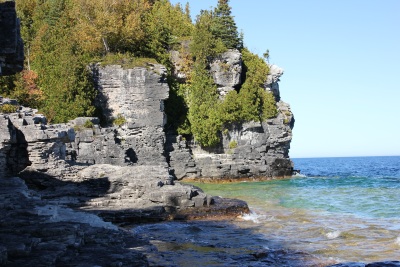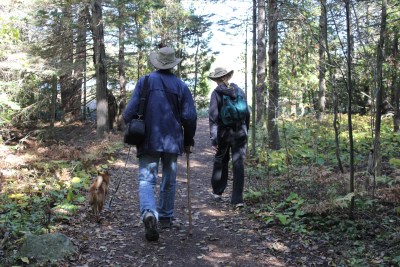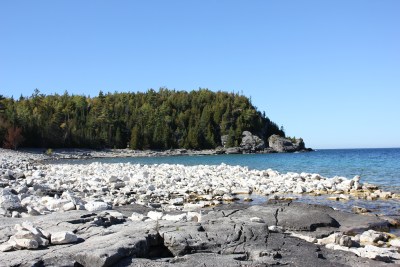 There were also caves, lots of fungus and critters.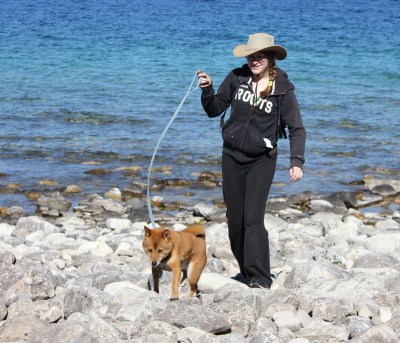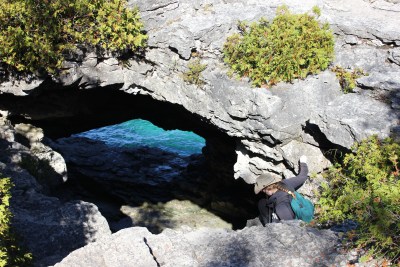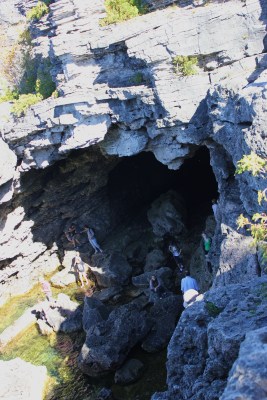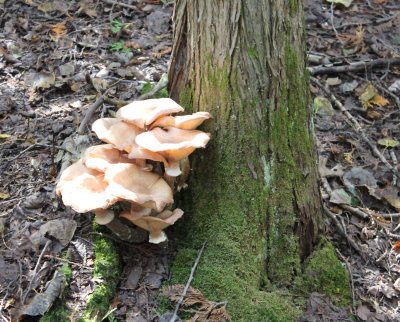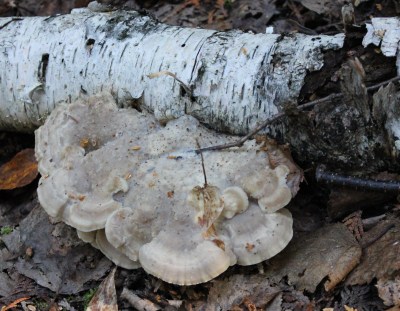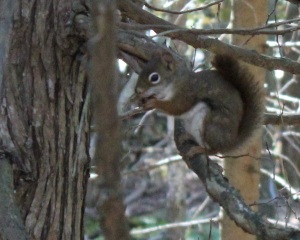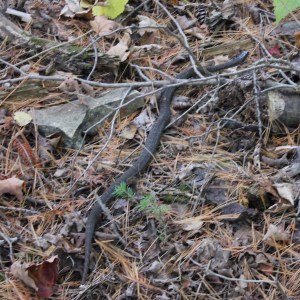 During our local walks, we've also come across various critters. Sometimes a fox, bunny or deer, always birds and occasionally our little snake hound will find a snake. Fortunately for the little one we came across recently, Kodi didn't find it first. We'd found a red belly racer last year and it was very small, the size of a dew worm. This is the second one we've found this year unfortunately the two others had been, unfortunately, run over. Hopefully not the one we found.




I grew up playing with and catching odd critters like snakes. This was the first time with a red bellied racer. It reminded me of the green snake, we called a grass snake. Tiny and benign but great for eating bugs. Arianna doesn't seem to mind snakes and things either. She even enjoys snails which aren't something I would want crawling around on me.

Work will continue on the current commissions, all of which are larger jobs so will occupy most of my design time. I am still knitting, painting, weaving and stitching in my spare time and although I will not be selling any products at the GHS Fall Fibres show on November 2nd, I will be demonstrating for the day. I have also been working on cleaning up areas of the house in prepration for painting and laying the floors. I would really like to get a bunch of this work done before I'm too old to be able to do it. We'll see how long I can keep the momentum going. I pick a section every day and spend around an hour cleaning that area with the hopes that someone doesn't come along and mess up the cleaned places behind me. Maybe if I keep at it, the rest of the family will also get into the cleaning groove and do some to help.

Winter will soon be here and a whole new set of challenges for living the rural life. In the mean time, I'm going to get the most out of one of the best fall season's we've had in years.

Happy stitching, knitting and crafting!
Brenda

Entry 9 - September 10, 2013

August seems to have skipped on by and suddenly we are dealing with fall shows and school. Silly season is almost over now that 'supposedly' cool weather has arrived. I say supposedly since today and for the next few days we'll be getting record highs with extremely high humidity making outside activities very uncomfortable. It appears that life is settling down again into a more normal rhythm and I'm hoping that this fall we'll be able to find time to work on important things like getting back to finishing the house. It is always good to get projects finished as well. I've included a sample of my wood burning with the quail plaque as well as some of the experimental paintings, my iris on watercolour paper and pink peony on a blotter like, drawing paper.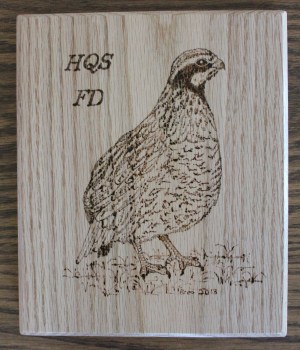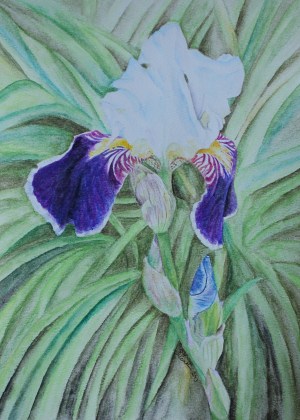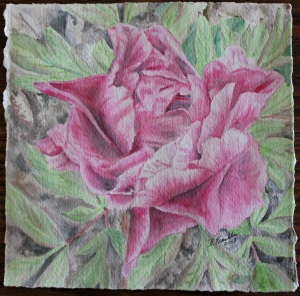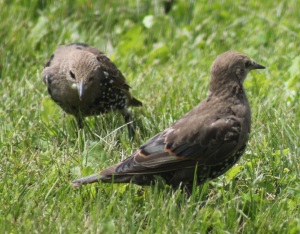 I finally figured out what the large flock of birds was that kept visiting. It is called the Common Starling. What threw me off was that it wasn't black. I've grown up with starlings hanging around and they were always black. The young would show speckles of white all over but otherwise - black. These birds are much different. They have a white speckled, black breast but the rest of them is a brown with this reddish stripe along the wings and iridescent wing feathers. I'm surprised that I'd never seen one before and thanks to Ari's education, found out that they were introduced from Europe when the 'new world' was just beginning to be populated.

We've had some very raining weather between those sunny days and one evening when I was headed for bed, I noticed a silhouette of a tree frog stuck to the window of my front door. I showed Glenn the frog plastered to the window and his one question was 'you aren't going to keep it are you?' It was a legitimate question because I was sorely tempted to at least hang on to him until the next day so Ari could see it. I decided it would be better for all if I didn't keep it. The little frog was brought inside for a grueling (for him) photo shoot where I tried to capture all aspects of tree frogdom and then released back to the very wet outdoors. I was late getting to bed but fully satisfied with my reasons and happy to have the photos of the tiny, agile little frog. I suspect that he too will end up in my designs at some point.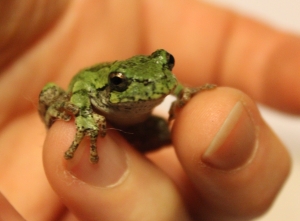 Work continues as new commissions show up and preparations for my fall shows and classes continue. I will be teaching at the Fringe Tatter's event at the end of September in Cambridge and the following weekend, the first weekend in October, I will be in Guelph with a booth at the GRBS bead show and sale. After that, I have the weaving show at the Wellington County Museum, the first Saturday in November. Most of my time will be spent over the next couple of months, preparing for those shows. Once they are finished, I hope to finalize the latest updates to my website. I've managed to keep up with articles and projects for ANPT magazine and have more ideas for upcoming issues.

For those not familiar with silly season, that is the time of year when my husband's time becomes highly in demand by his customers. His business is with antique cars and as soon as the weather is warm enough to work on the cars, it becomes silly season. Once the weather changes and it is too cold to take the cars out anymore, silly season is over. Generally during this time, Glenn can end up working not only through the week days but also evenings and weekends. We've tried to get summer vacations but his schedule seems to make that impossible. Thankfully, silly season will soon be over.

Hope all are enjoying fall. I know I am looking forward to harvesting the squash that I've managed to grow this summer . . . as long as the frost doesn't kill the plants.
Brenda

Entry 8 - July 29, 2013

I have been keeping busy with new designs as well as personal projects. I hope that all who find time to read my blog have had a chance to do something for themselves this summer. The weather has cooled a bit from it's oppressive humid heat and is feeling more like the kind of summer I prefer. I have had a chance to not only finish more designs but also to do a watercolour painting. I admit that watercolour is not one of my normal mediums to work with but I am making an effort to do more painting in whatever form it takes. It is interesting working with the 'wet' brushes as well as watercolour crayons. I may add pictures of my efforts in future blogs.

I have a couple of commissions that I will be working on over the next few weeks as well as beginning preperations for upcoming classes and shows. There always seems to be lots of work to keep me busy. As for the critter's around us. I had noticed when photographing the doe and two fawn that one of them seemed to be an adventurous type and always dawdled or went it's own way, not caring whether mom and sibling were with it. The other day I saw just the mother and one fawn. I hoped that the other fawn was safe and was happy to see it's ears pop up out of the field behind the house. It never did join up with the family but headed off in it's own direction. I hope it continues to be safe.

We were visited by a large flock of birds. They appeared to be young thrush but I couldn't find what type in any of my reference books. They were fun to watch as they crowded into and around the big rock near the driveway. Some of the birds were bickering over who would occupy the hollow cavities and crevices of the rock. Unfortunately, timing and the skittishness of the birds made it too hard to photograph them. We also have flight school for the baby swallows again. It seems that our large chocolate brown roof makes a wonderful thermal area for the baby swallows to practice arial acrobatics. We have tried to capture their joyous adventures on film but they are moving so fast, it is very difficult. I did manage to get photos of some of the butterflies that visited the yard and I am also adding some photos of Kodi with a 'short term' playmate. It was hard to capture clear images of the Monarch in flight but I did manage to get a few that turned out well.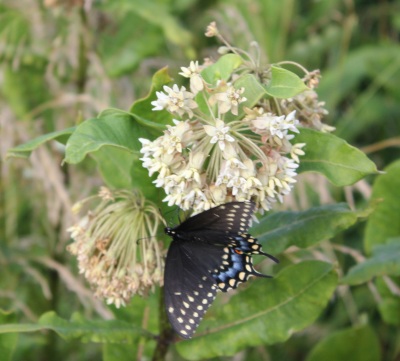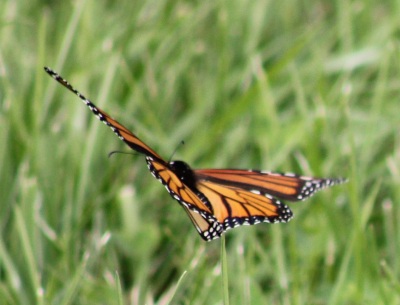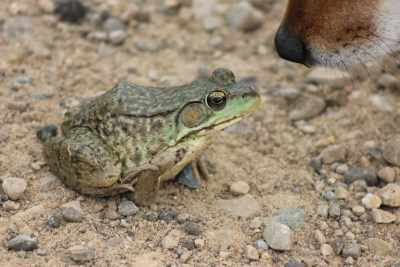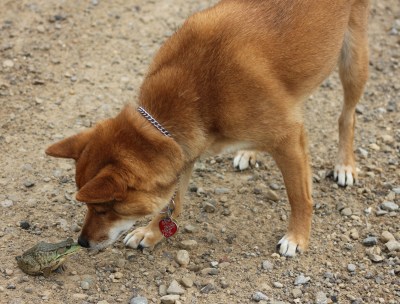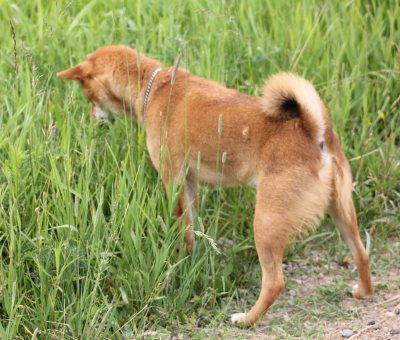 One day when we were walking on our sideroad, Kodi came across a frog. After warning him to be gentle, he gave the frog a good sniff and then waited for it to do something. The frog, jumping to safety in the tall grass was hard for my catlike Shiba Inu to resist and he went pouncing after it. Fortunately the frog quickly disappeared to safety and Kodi did not catch it. Sitting still is much safer for some critters than moving. That movement insights the preditor in my dog. All it takes is some shifting in the tall grass and he is pouncing on what he thinks may be prey. His tightly curled tail wags like crazy when he thinks he's onto something. He is fun to watch when he is hunting. You can see all his senses, nose, eyes and ears, working overtime to find the prey. What surprised me the most about the confrontation with the frog is how long it sat still and let Kodi check it out. I have even more photos of the two, together. The one with just the tip of Kodi's nose and the frog trying to be a rock was the very first one I captured of the two of them.

Soccer season has just finished and only baseball is left. Both Arianna and Glenn enjoy baseball and me, not so much. I will likely attend some of the playoff games but with sleeps that aren't so great and fighting off exhaustion most days, I prefer to stay home. The games start late and the two get home way after my bedtime. Not that I can sleep until they are home anyway, I just sleep better if I'm settled down before 11 pm. I am definitely not a night person.

Here's wishing you all a wonderful August and hope to find time to write again soon.
Brenda

Entry 7 - July 6, 2013

School is finished, the report card has arrived home and Arianna did very well. She works hard and deserves the great marks that she gets. She has soccer and baseball to keep her somewhat active and will be starting driver training this weekend. For those of you who are local, consider yourselves warned . . . new driver will soon be on the road. Ari is working on her novel and also doing some work for 'Dixies' so I guess you could say she has a part time summer job.

I continue to be working on new designs but I will soon have to prepare for the fall classes and shows. I also have another project to put together for ANPT magazine. This one is again beadwork but all about babies so it will be interesting to see what I can come up with for a bead project and related to babies. No one really wants those tiny beads anywhere near babies. The only other thing that I really have to put time into is to update my prices for my dealers and the website. That is a tedious, mind numbing job but definitely needs some of my time.

I squeezed in a visit with my sister in June and we enjoyed one of the local attractions, 'Jungle Cat World' where I managed to collect a good selection of photos as well as actually get to be face to face with some of my favorite large cats - with a fence between us. They were beautiful to see and although I didn't like photographing the fence, looking eye to eye with a snow leopard was something I never expected in my life. The Siberian tiger was just more icing on that cake. We also did some artsy things and concocting in the kitchen and I worked on a gift for a friend.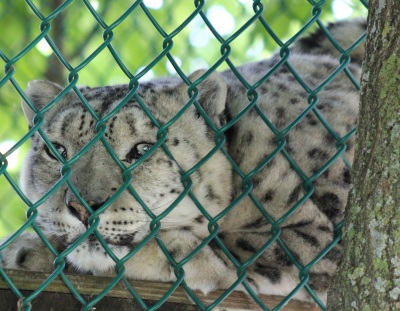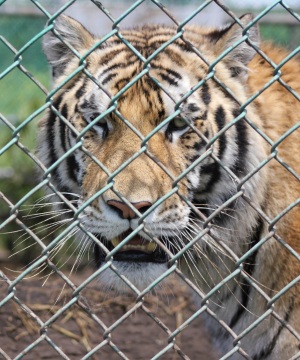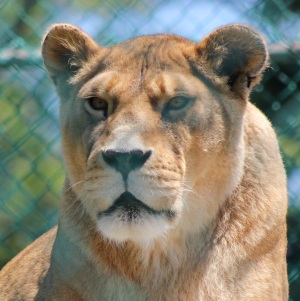 The gift for my friend turned out well and I'm happy with the results, 'Bob' the cat. I hope she enjoys her birthday gift. This knit pattern was from a book but I changed up the head a bit by adding rows, needle felting the face, adding cheeks and a chin and attaching the ears differently than the original design.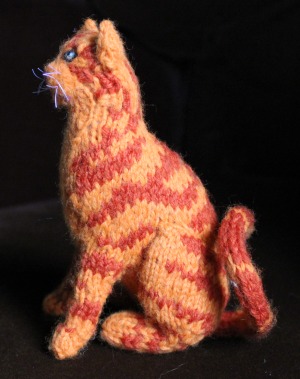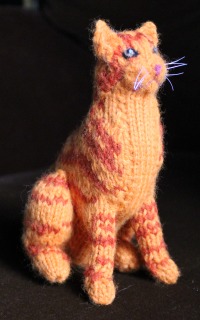 Locally, we have critters and no fence between us but they don't let you get too close. Ive noticed the doe hanging around with it's fawn. I was delighted to see that it didn't have just one, but twins. They come by almost every day. I hid on the balcony to take this picture, wishing I had a bigger telephoto lens. From the backyard, I also managed to get some photos of Kodi's backyard buddies, a pair of cottontails. He loves to chase them and although has not yet caught one, we sort of cheat because he is usually tied up and can only chase so far and then runs out of rope. He knows just when to stop so he doesn't get yanked. These guys are around a fair bit as well. We also get the occasional snake, skunk, groundhog, coyote and raccoon. I think the snakes are his favorite, probably because of their strong odor. We did come across a large garter snake on one of our bike runs. It must have been run over although it was still alive, I could tell it was hurting. We moved it carefully and gently off the road so that it could have more of a chance for survival. Kodi didn't seem as interested in one that doesn't move.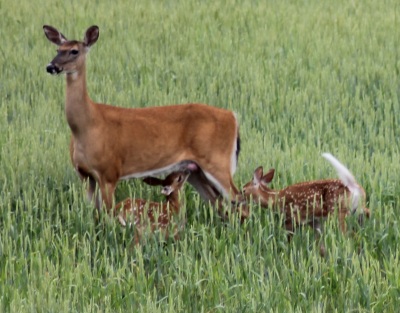 My evergrowing collection of photos gives me more and more sources for new designs. I am excited about the possibilities and now all I need to do is find the time to see them happen. A few of the new designs are from my own photos and more are from requests and photos submitted by you. Hopefully you will see something that appeals to you when the updates are finished this fall.

In the mean time, I wish that all can find some enjoyment this summer even through all the challenges our crazy weather may bring.

Keep on stitching!
Brenda



Entry 6 - June 14, 2013

With the school year coming to a close, exams have begun. I know that Arianna is well prepared and she knows she is well prepared but for some reason, she seems to fret. She is writing one exam today and two next week and then she will be done for the summer. Now that she is 16, it is time to think about a driver's license. She has put that off until school is out for summer but I know that Dad won't let her put it off any longer. I'm thinking he may be weary of being the kid's chauffeur so driver's ed will be one of this year's summer adventures.

I am finally feeling like I'm back into a more consistent designing mode. It seemed to take awhile to get out of the rhythm that teaching brought these past few years and I'm happy to be back to a more productive state of mind. The latest ANPT Summer issue is now available, the Festive ANPT issue is being edited and I'm working on a project for the Spring 2014 issue. I have ideas kicking around in my head but nothing has solidified yet.

Anyone who looks at my website should be able to tell that I love animals since they are the main focus of my art. I think that if I had a chance, I'd have all sorts of different types of pets around but having one dog right now seems to be enough. As a child, I had a variety of pets, both wild and pet shop bought. Watching animals seems to be one of the joys I find in life. I even remember spending hours watching ants struggle with a large dead beetle, dragging it to their ant hill and trying to haul it down the hole. I enjoyed keeping praying mantids as pets and feeding them as well as snapping turtles and lots of other critters, including snakes. I don't mind most critters but dislike spiders in the house - so spiders beware - If I find you, you're dead. I was probably a tome boy as a child as well and in those days, my brother and sister and I would cover a lot of territory together and on our own. It is too bad that children don't have that freedom in today's world. The treasure hunts we did, the games we played and the adventures we shared were akin to Tom Sawyer and Huck Finn in our imaginations. Maybe that is a big reason children aren't getting the exercise they should, they aren't allowed to be out in the world enjoying those innocent childhood adventures I remember experiencing.

My recent observations this past week were a doe with a very small fawn, strolling across the back yard to the road where they cautiously crossed into a swampy bush on the other side. I thought the fawn was very small for this time of year. When out walking or biking, we've seen wild turkeys. One was running across the field and it looked like it was floating. It had not seen us yet and at the edge of the field near the road it slowed down. As it walked towards the road, it'd head would bob back and fourth and didn't have that floating grace when it seemed to glide over the top of the field. Once it got on the road and spotted us, it was gone in a flash into the bush on the other side. Closer to home we came across a pair of turkeys in a wet section of our field. I had my camera and thankfully a telephoto lens because they certainly don't let you get very close before they take off.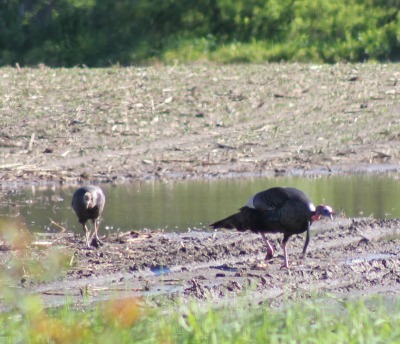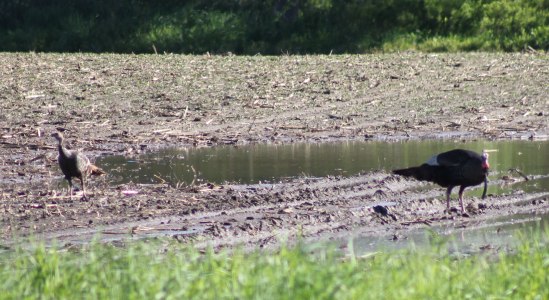 The first photo are turkeys doing turkey things. The second one is when they've spotted us and the third is 'run for the hills' time. The other picture is the lastest robin's nest, under the hood of a car that is being stripped for parts for my car. Unfortunately, the nest was too close to the ground and has already been raided. Not long after I found the nest and took the pictures, I found it completely empty. I'm hoping she finds a much safer location for the next brood. She usually does two during the spring/summer season.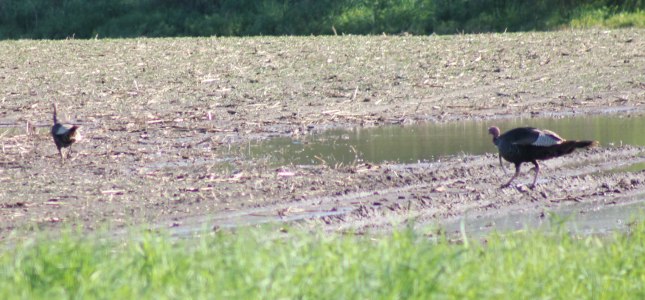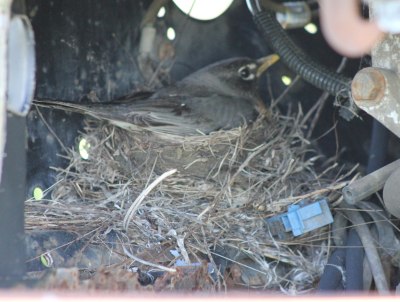 Also on one walk, we happened across some fledgling red winged black birds. They were just starting to get adult feathers and learning how to use them so their flights were short. This fascinated Kodi who would love to catch a bird but we didn't let him get too close. Ari tried to take photos with the phone but that didn't work well enough so we gave up and just enjoyed watching them while the parents fussed and complained nearby. Walking is getting trickier with lots of bugs out to feed on us. This is when those really windy days make walking more pleasurable rather than adding a nasty windchill factor cold enough to cause frost bite. When it is really windy, the bugs have trouble flying anywhere but away with the wind.

The warmer weather will soon be bringing the ragweed and Kodi will be in full blown allergic reaction. This is when he and I tend to hibernate and he is on heavy duty allergy meds. Since he has a weakness for peanut butter, it is very easy to give him the pills, just cover them in nutty goop and he'll take them without issue. I know that locally produced honey will help but all local producers are out and I honestly have not seen more than one honey bee this year which is very sad. I'm afraid that we are losing too many bees. I will be giving him not so local but still Ontario honey and hope that it still gives him some relief. He doesn't like honey all that much though so it is a bit more difficult to feed that to him.

My life in rural Ontario is relatively quiet and peaceful (boring), which I love. Work will continue on new designs and hopefully before the end of the summer I'll have my website updated again.

Brenda


Entry 5 - May 31, 2013

This month brought a few challenges with it. One was getting a garden plot set up for some haskap berry bushes we purchased and the other, a partial flood in the basement from a malfunctioning sump and lots of rain. At least a day and a half of back-breaking work for all three of us was spent getting the bushes planted, along with some of the strawberry plants that needed to be moved. Thankfully Glenn had the tractor and used a cultivator to scratch the surface soil and then the weeds had to be cleared out, rocks hauled over to surround the garden, and a chicken wire fence put in around it to keep the bunnies out. The deer had stopped by and checked out the new bushes before the short fence went up, but left them alone. The strawberry patch that is being transplanted was being ravaged by a hungry cottontail so it also got covered with chickenwire. Another 12 hours of heavy work was spent cleaning the flooded area of the basement so that it could dry up again. Mostly what was stored there was empty boxes for shipping so there was no great loss other than time and since shipping has slowed down so much, those boxes weren't really needed anyway. The forced cleanup was probably a good thing. Makes one wonder what June will bring since it is almost here.

Kodi indirectly treed a racoon while we were out for our walk. Ari and I actualy saw it before Kodi did but he could smell it and became very intense. As soon as he spotted it, he barked determinedly as he tried to get to the racoon. I wasn't going to let go of the leash so he was out of luck. I had an Akita which weighed 5 times more than Kodi wrestle with a racoon once and he was all biten and scratched so I wasn't going to let Kodi near the coon. It was across a deep ditch and up a tree so pretty much out of his reach anyway. We watched the racoon for a short while as it tried to be invisible behind the tree trunk but eventually it figured out that we were still there and looked around the trunk at us. It was one of those withering glares that Ari calls 'the hairy eyeball' and what I call 'if looks could kill'. It was not pleased about the interruption to it's day. We continued on with our walk and on the return trip it was no longer there. What is it about certain types of critters that can really send a dog over the edge of invader alert to extreme dislike and desire to kill?

As is typical of our area these past few years, we seem to go from winter stright into summer weather. It has been a wet spring but is also suddenly very hot and muggy. This may bring on Kodi's allergy season early this year and that also means it will last longer. Lots of things seem to make him itchy but the worst is ragweed. We are trying local honey this year to see if it will help reduce his general itchiness and will likely have him on allergy meds by the end of July.

The killdeer must have given up nesting on the driveway. They are out in the field but not hanging around

the rock

anymore. The robin gave up trying to build a nest on the manifold of the tractor after we removed their muddy construction twice and then filled the area with chunks of 2 x 4's to crowd them out. They have nested there in past years if we don't catch them quickly enough. Glenn can't use the tractor or he'd light up their lives a bit. The robins have built nests in other unusual locations that were not necessarily good ideas. The basket ball net nest was blown over during a storm last year and the eggs did not survive the fall. The swallows are back and our windows are again decorated with plastic bags that get stuffed under the drip rail on top of the windows. The bags flap around in the breeze and discourage the swallows from building the nests above the windows. These are some of the most agile flyers I've seen in this area and hopefully flight school will be back again this year. The only other bird that we've watched display some amazing flying abilities is the kestrel. I was watching a murder of crows flying very eratically and just about flying into each other. I kept watching, trying to figure out why they were flying so crazily. I realized that there was a kestrel in their midst, showing the crows that flying was more than just flapping wings to stay up in the air. Not long after, most of the crows grew weary of the game of trying to catch the kestrel and landed in the trees below. A few hardier crows still attempted to tag the kestrel but didn't have a chance. Once all of the crows gave up, the kestrel then made a few diving passes at the crows in the trees, probably trying to insite them into the game again but got not takers. The kestrel eventually flew off but the crows, defeated, stayed in the tree to rest for quite awhile after. I've always wanted to fly and my best dreams are the ones where I actually do fly.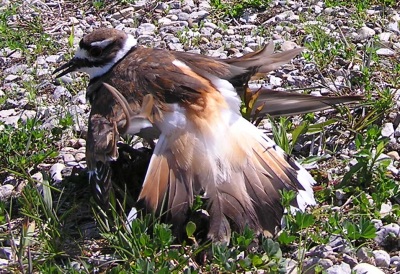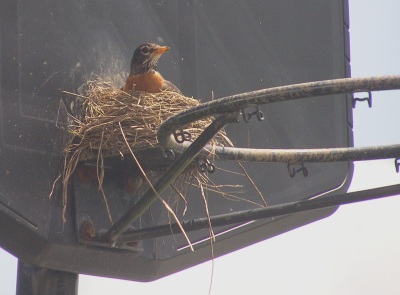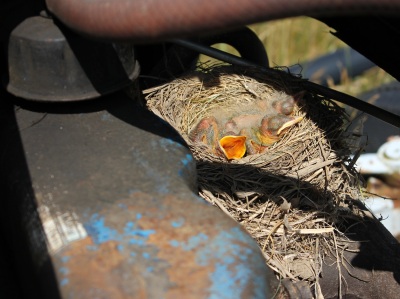 This time of year I call silly season. Mostly for my husband's business. His customers all want everything this time of year and it gets so busy with weekend shows and things that silly season seemed to be the best name for it. Once winter is back, things will get very quiet again. I guess that is the car hobby industry in Ontario. Cars are parked for the winter and most people find it too cold to work on them. In the mean time, it will be silly season.

This is also the time of year when Arianna's sports kick in. She is playing co-ed baseball (softball) as well as soccer. She enjoys both of these games and has been playing them for many years now. Once she is on her own, she may not get a chance or the time to play so thankfully she is getting that chance now.

I am working on one last commission and expect to have that tidied up in the next week. I also have some book work to do for the government . . . does that type of work never end? The only other pressing item I need to finish is the next project for ANPT and the festive issue. This issue will be featuring ornaments. Once those jobs are tidied up, I will be concentrating on speculative and requested designs, more dogs mostly. When I pick a new subject for a design, it is either by request or a subject that appeals to me. We'll have to wait and see what my next batch of new designs will be.

There is not much spring time left this year and even if it feels like summer, my advise is to enjoy it while it lasts. School will soon be done for this school year and summer will be in full swing.

Brenda

Entry 4 - May 13, 2013

I knew that April would be a busy month with the trunk show at Gitta's in Mississauga. Life is finally getting back to normal now that Glenn's show schedule is kicking in. We had some very nice summer weather for a couple of weeks and the current joke, after the crazy snow storms we got yesterday is "hope you enjoyed your summer". Glenn is happy that the snow tires are still on the van. Maybe he'll be able to swap them for summer tires next weekend. The weather is supposed to improve again soon.

I've been busy getting commissions done and soon will be caught up with them. I continue to work on requested designs as well. There is always lots of work to keep me busy. In my spare time, I continue to weave and knit but also have some bead concepts to try out. They start with sketches and then playing with beads to try and work out how to make what I've sketched into a new bead design. I also have to consider my fall show schedule and at this point, I will be attending the Fringe Tatter's event in Cambridge on the last weekend in September and the GRBS show in Guelph, the first weekend in October. Having back to back shows is good and bad. Good in that I'm all set up for the shows after the first one and bad in that there isn't much time for anything but doing the shows. There are things that need to be done to prepare for the shows and then busy with the shows and after the shows, time to recover because once you stop, there is a tendancy to crash.

With the improved weather, I have been able to get out for more walks with the dog. He is loving this and his normal signal for getting outside has switched from banging the closet door with his paw to sitting and looking at the front door. I guess he figures that banging the closet door puts him out the back but if he sits looking at the front door long enough, we'll get the hint that he is ready to go for a walk since we always head out through the front when we are going some place - dog logic. He learned to bang the closet door when he was a pup. We got him in the fall so we always put a coat on to take him out and the closet door was closed every time. He never went out alone and I'm happy about that because a couple of times, at night, I had to wave off an owl that was trying to grab him for a meal. He's big enough now that he only interests the local coyotes. There was only one confrontation with a coyote that I know of. Kodi was tied and snarling like a demon at the coyote who stood about 15 feet away and looked at him. Not sure what was going through it's head but when I did a growly dominant 'get away from my pack mate' yell at it, it just stood there and looked at me. I turned back to the door to get Glenn to try and scare it off and when I turned back, it was gone. Kodi was still in snarly 'doesn't play well with other's' mode and didn't want to come in until he knew he'd chased it off for good. Now I'm happy he wasn't well socialized because he wasn't interested in playing with the 'new doggy', he wanted nothing to do with it. When it comes to some dogs defending their territory, they don't care if the other critter is twice their size, they'll still take it on. I don't understand how Kodibear survived his confrontation with the coyote because I know that it was out there for a few minutes before I showed up to figure out why Kodi was carrying on so nastily. I'm just glad he did. Maybe it's because Shiba Inus don't smell like a normal dog. If someone has any ideas why the coyote didn't just kill my dog, they could let me know. The next big issue I'll have to deal with is Kodi's allergies. Not looking forward to that but ragweed season will soon be here and he'll be so itchy, I'll be putting him back onto his meds.

With spring also comes the birds back to their nesting grounds and baby birds. The robins still want to build their nest on the tractor's manifold and Glenn continues to try and discourage them. This is a common problem every year with the robins. They also build nests on top of tires in the wheel wells of any vehicle that sits long enough. We have a few vehicles that fit that description so if we want to move one, we have to check it for nests. I don't understand why they dont pick a tree like most birds but robins like the strangest places for nesting. Many of those spots are not protected enough from the egg loving critters that hang out at night and the eggs or babies get eaten. The other bird that is determined to build it's nest in a less than convenient location for us is the killdeer. Glenn figures that they must have a GPS locater in their brain because every year they pick the same location on the driveway. This year, they were back again and Glenn was working on making sure the Model T would run because Ari wanted to use it in the movie she was doing for French class. Anyway, they industriously dug a hole in the driveway and Glenn went over to check on it. He filled it back in and went back to the T. The birds were soon back and had re-dug the hole. Glenn filled it in again and put a rock big enough so that they couldn't move it on top of the spot they'd chosen for their nest. Glenn said there was a lot of fussing and scolding at the rock shortly after he went back to working on the Model T. Then they decided to work right next to the rock. Glenn then moved the rock over the new dig. They gave up, or appeared to give up at that point. I'm not sure where they've put their nest this year but it isn't in the driveway. Too often, the driveway nest was accidentally driven over so we would prefer they build their nest elsewhere. Finally, we get the swallows. They are fun to watch but they also would like to build their nests in awkward locations. We tuck plastic milk bags into the tops of our windows on the house so that the moving bags discourage them from building on top of our windows. We do love when they bring the baby swallows around the house for flight school. With the dark metal roof, I guess the air currents make the house an ideal location for flight training and every year we get flocks of them doing wild flying around the house. I've tried to film it but they are so quick. Maybe I'll get some good shots with the new camera. Stepping out onto the balcony can be an adventure when they are doing the fly throughs and weaving in and out of the pillars. They've been almost close enough to fly into me but they are too maneuverable for that to actually happen . . . I hope.

Continue to enjoy spring and look forward to summer.
Brenda

Entry 3 - April 3, 2013

It appears that March got away from since I didn't manage to get an update posted. I did manage to get everthing ready for the trunk show at Gitta's and will be there this weekend doing demonstrations as well as meeting and greeting the customers. For a complete schedule of my April events at Gitta's, check out the events page on Gitta's website. Also in March, I squeezed in a visit with my sister. Since our previous visit, I've managed to get her totally hooked on fulling (felting in the washing machine) and needle felting. I'm probaby a bad influence when it comes to things like that. Too bad she doesn't have a top loading washing machine.

I have not noticed anything that resembles spring weather since we've been getting snow flurries all week. I know that it will warm up and the snow will melt. That is when the mud shows up. I have been working on a variety of projects, most of which have been either for ANPT or for Gitta's. I hope to be back into designing this month and definitely fully involved in it by May. In my spare time I have begun a new knitting project and finished putting together a bunch of little woven squares to make a baby afghan. I'm now working on more little squares for other projects and using up odds and ends of leftover yarns.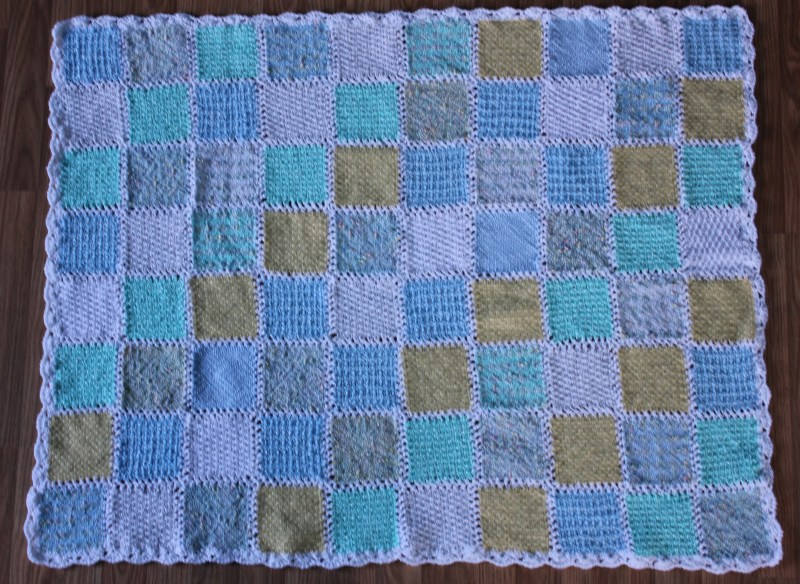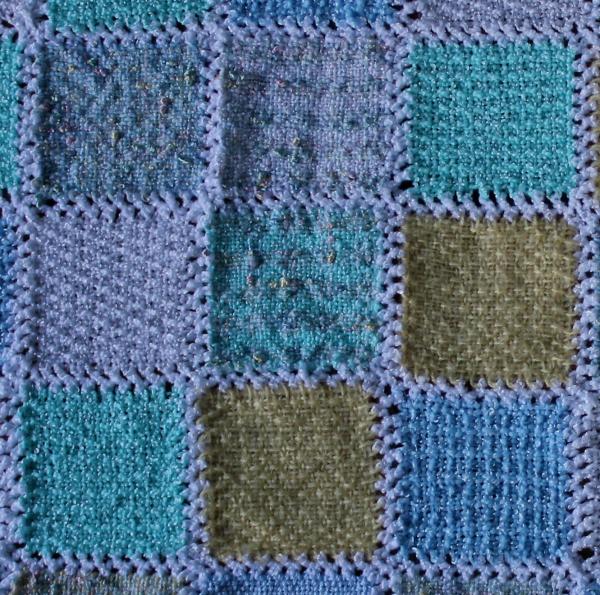 I enjoy doing cryptographic type word puzzles. I find it interesting how words and letters can have distinct patterns. Some of these words really stand out even though they aren't in the normal letter configuration we are used to reading. Words like 'people, that (can also be else) never, there and these' are some of the more obvious candidates. This enjoyment of deciphering word puzzles may be part of why I like to design needlework patterns. Sometimes when I'm designing, I feel like I'm putting together a jigsaw puzzle as I chart the colours around the eyes and nose. I also find that there are certain shapes in the way the colours fall that I don't like to use, like the + shape. I do mostly organic designs and I find this shape to regular and static to properly represent hair or whatever else I'm working on. If I've charted this shape, I will more often than not, change it if possible.

For most of April, I will be trying to keep up with my schedule of events at Gitta's. I will also be working on new articles and projects for ANPT magazine and the commissions that are starting to pile up. In my spare time I will continue to knit, weave and bead. I also would like to continue working on finishing the house and getting my car on the road for the summer. It has been under restoration for the past couple of summers and it would be nice to have it back on the road. It is a very fun car to drive but only safe to drive in the summer. We'll see how this month shapes up and how much I can fill it with as time goes by.

Wishing all a wonderful spring.
Brenda

Entry 2 - February 26, 2013

It is a very exciting day for me as I have just recently checked out the proof for the Spring 2013 issue of 'A Needle Pulling Thread', www.ANPT.com - one of the perks of being the bead editor. This will be my first serious article for ANPT as the bead editor and the topic of choice is beading thread.

It was interesting, gathering up the information to put the article together. I poled many of the local beaders to find out their thread preferences as well as searched for more information on the types of thread that beaders use. I have been using the same threads for years so it was enlightening to see such a variety of preferences and types of beading threads that have become available as bead stitching has grown in popularity. I feel that the thread of choice will always be an individual's personal preference but it is nice to know that they can use a wide variety of thread types, depending on the project that they are working on.

February brings a variety of special occasions with family birthdays as well as Valentine's day. This time, I requested a simple 'pin' loom for my gift and my husband kindly obliged me by making one. That led to some of my spare time being taken up with weaving little squares and experimenting with colour, texture and weave pattern. My husband commented a few days after giving me the loom that it was wonderful that a chunk of wood full of nails could bring me such joy. I'm loving the chance to use up more of my stash in such a constructive way. I will have no problem making things from all those little woven squares, the ideas are filling my head as I sample another leftover scrap of yarn. I have requested a slightly larger version that will be set up for weaving squares with much heavier yarn and hope to be able to make floor mats using up more of my yarn scraps. Finally, I will have to figure out how to incorporate beads into my little pin loom projects.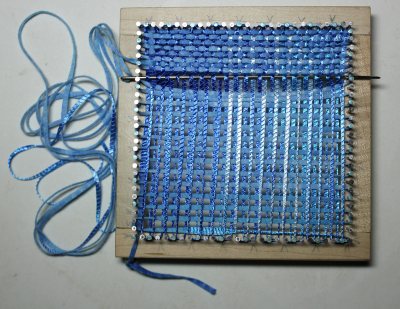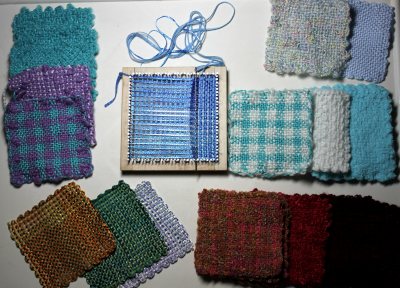 The weather continues to be crazy in Southern Ontario and we are expecting more snowy, windy weather this week. There have already been a few 'snow days' for my daughter which means catching up on school work when she gets back. In some ways she likes the break but mostly, she'd rather be at school and keeping up with the work. She's one of those children who likes school. The nastier weather also means that I stay home more which adds up to more time to work on projects. I've recently finished knitting a sweater for my mother-in-law and now have to wash and block it and then it will be ready for 'Grammy' to wear. I decided to make the sweater based on one that she has loved for years and has seen better days. Hopefully the replacement will bring her as much joy.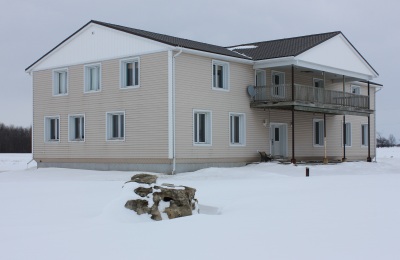 I'm currently working on new designs as well updating catalogues and the website. I am also preparing for the April trunk show that will include a few workshops at Gitta's in Mississauga. There is always lots of work to keep me busy and give me an excuse to avoid housework. Time to get back to the work on hand.

Brenda

Entry 1 - February 7, 2013

I often am asked where I live and the best way to describe my location is that I'm in the middle of nowhere, central to everything. Below is a photo of my home, unfinished but comfortable. We are still working on some painting and trim inside. I'm sure that anyone who has built their own home can understand the dilemma of moving into an unfinished home.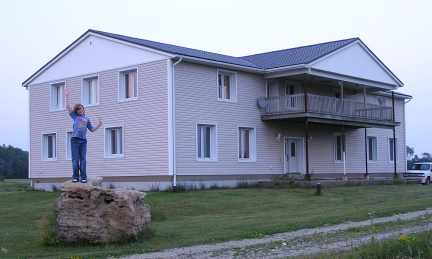 That's my 'not so little anymore' daughter in the picture. She's now in highschool. That giant chunk of limestone was dragged and rolled out of the field and placed at the corner of the front yard. There is 90 acres of farmland around the house that we rent to a local farmer.

I love my work and that is probably why I do it all of the time. When I'm not designing, I'm knitting, weaving, stitching or doing beadwork. I always have multiple projects on the go and work at them in my spare time. The most recently finished projects are a knit top for my daughter, some handwoven towels from my rigid heddle loom and the beaded box pictured below. The top of the box is beaded with 'Sea Foam', my favorite sea serpent. The sides of the box have a beaded Celtic woven design and the inside top, not shown, has a beaded Celtic maze design.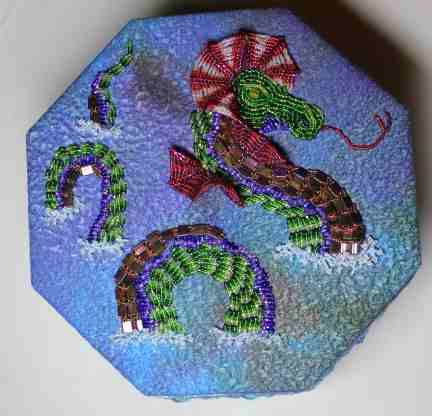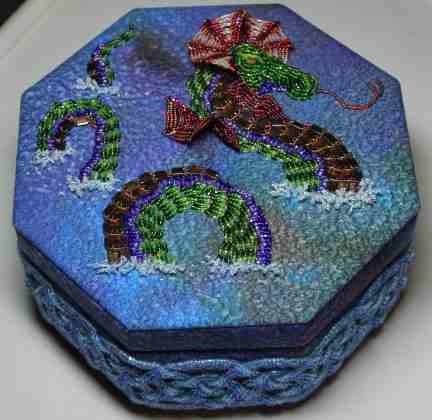 This project took many months to complete but was worth every moment. Thank you to my friend Madeleine for supplying the fabric for this project.

There is very little excitment out here in rural Ontario unless you count our crazy winter weather. I'm currently awaiting the next 'weather bomb' to strike and hope it is not as bad as they are predicting. I enjoy the quiet of rural living and hope to be able to live here many more years. Besides my husband and daughter, we also live with a gorgeous little 'four-legger', Kodi, a Shiba Inu. He has a full winter coat right now and is so soft and plush that we can't help but want to cuddle him. Shiba Inus are not exactly a cuddling type of dog, in their opinion but he does put up with our affectionate petting and scratching. He is the feature model for the 'red sesame' designs on the Shiba Inu page.

When I decided to write a blog, I had no idea what I would write. We'll see where my wordy path will follow and hopefully I will be able to keep this going on a regular basis.

Chat again soon,
Brenda



Copyright (c)2013

Brenda Franklin

All Rights Reserved