Brenda's Blog
Entry 39 - January 1, 2017
I hope that everyone had a wonderful Christmas and this is to wish all a blessed New Year.
This will be my final blog entry unless enough of my followers request more. I hope to totally revamp my website in the New Year as well as do more updates. My other plans for this year are to finish up unfinished projects. This is always top on my list of things to do and I have made progress but there are still many things left undone. I am also picking up a project started by another that I can hopefully finish.

I have a new great nephew, born earlier in December and have finishedthe baby blanket and booties that I will be shipping north, this week.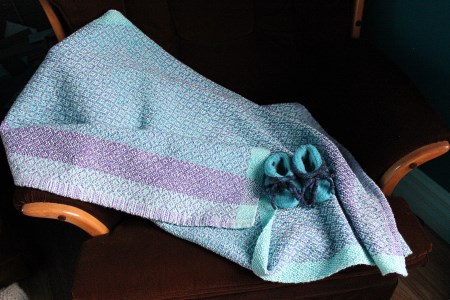 This has already been a snowy winter, even before winter officially started. I expect to spend a few more days, snowed in during the start of the new year. I don't mind, there are always a lot of things to keep me busy.
I hope that everyone continues to enjoy whatever crafts they prefer and keep on stitching.
Kindest regards and many hugs for those who want and need them.
Brenda

Entry 38 - November 21, 2016
It is now time to wish my US followers a perfect Thanksgiving. We have had a wonderful fall until this past weekend which brought gusty winds and snow. I'm sure the snow won't last yet since weather is still changing but with the powerful winds blowing, it has slowed down my desire to walk outside.

Last month I enjoyed a week in the Kawartha area and watched the trees work towards shedding all their leaves. The weather was mostly rainy but we enjoyed one day of sun to see the area and visit one of the best restaurants around, the Granite restaurant in Bancroft. During the rainy days, my friend and I were very productive and did as much beading as we could squeeze into our time away.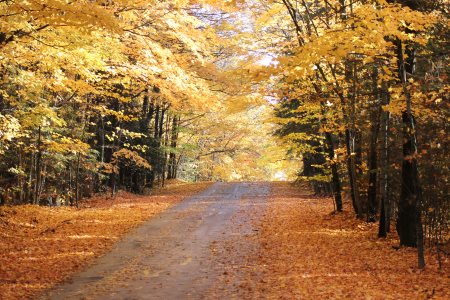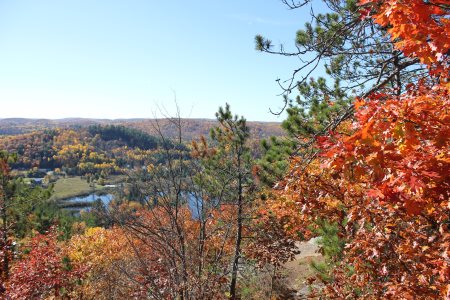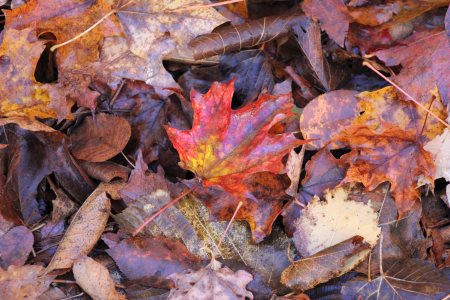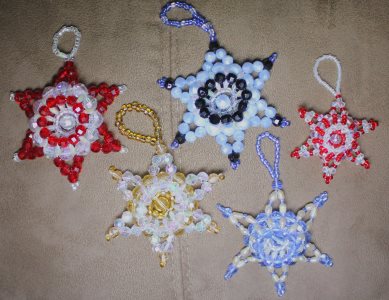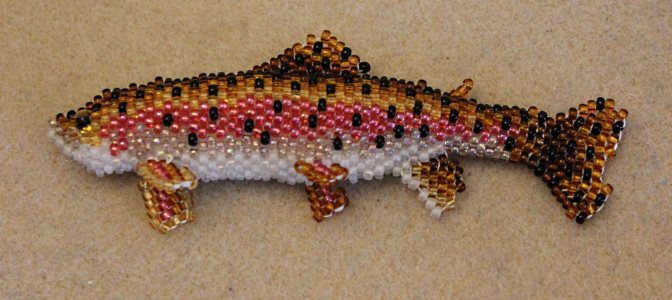 The bead stars were just for fun and the rainbow trout was a commission that I thought turned out very well considering the limitations of the medium I was working with. I find that I thoroughly enjoy the challenge of sculpting with beads and plan on doing more fish and possibly other bead sculptures in the future. Ari has requested a lion fish and I'm thinking that dragons might be fun too. I would also like to try doing some bead pictures using Delica beads.

I have been filling in my spare time with finishing up some projects. I've woven place mats on the floor loom . I also made some scarves on the rigid heddle loom in preparation for a class I'll be teaching in the new year. I finished knitting the brioche jacket. It is stunning in the way the five colour brioche stocking stitch works. It was not difficult to knit but the brioche stitch is a time consuming knitting technique and although fascinating in the possibilities, can become tedious in the execution. I do plan more projects with this stitch but am doing some basic, simple knitting projects in the mean time. I am doing more weaving on the floor loom and am in the process of putting on another warp. I also need to make at least one more sample scarf on the rigid heddle loom.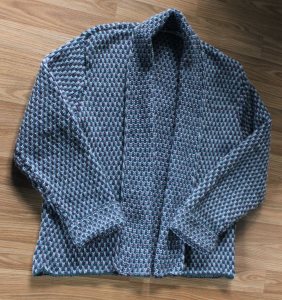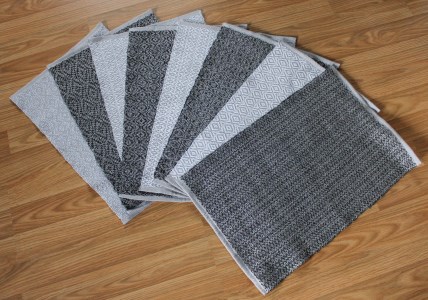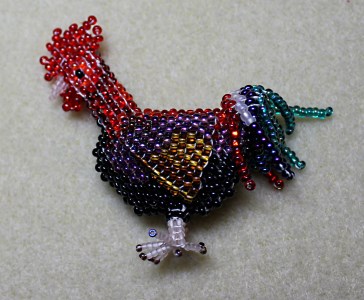 The most recent item that I've finished is another version of the bead rooster. It was interesting to put together and I've made one change to the original concept by doing the legs and beak with size 15 seed beads. It will look very bright, decorating the Christmas tree.

Most of the birds have fled south and the only ones that I still enjoy seeing are the blue jays, chickadees, occasional crows and sea gulls. I look forward to the arrival of snow buntings once the cold is here to stay. There have been occasional deer sitings but for the most part, critters have disappeared along with the arrival of the snow.

The van needed an engine replaced and while that was getting done, the pick up truck, the only other vehicle available decided it needed some rush repairs. It interrupted the van repairs but is back on the road. The question as to whether the used engine that replaced the damaged engine would actually run was answered last week and once the weather calms down and warms up a bit, the final things needed to put the van back on the road will be completed. I look forward to that because I'm not a big fan of the pick up truck. It seemed that every time we had plans for working on a specific projects something else would go wrong and we would have to change our plans, sort of like constantly feeling like waiting for the other shoe to drop.
Now that November is almost past, we have been thinking about Christmas and possible things to do during the holidays. Ari will only have one week break between her fall work term and her winter school term and skiing is one of the possible plans. Now if the weather will co-operate, we might even get enough snow to put that plan into action. Otherwise, we will enjoy as much family time as we can during the Christmas break.
Stay safe, stitch to your hearts content and enjoy the changing season.
Brenda

Entry 37 - October 7, 2016
First of all I would like to wish all of my Canadian followers a blessed Thanksgiving. I have been thoroughly enjoying the change in the weather. It is not blisteringly hot and humid but more like fall as I remember it from when I was young. The spicy scent of fallen leaves is in the air and the trees are finally changing colour. I noticed that some spring flowers have bloomed again and wonder if the very hot, dry summer was to blame. There are not only wild violets blooming along the road but also the chives in the garden are flowering again. In the mean time, birds have started to gather in flocks and most will soon be flying south. Last fall we had a flock of blue birds hanging around. This fall, I've noticed some new visitors, the Eastern Phoebe. We also have some new feral cats out and around the area. We don't feed them so if they are living on anything, I'm hoping its some of those nasty destructive rodents. Not only is there the brown tabby but also just in time for Halloween, a black cat too. I'm sure that they have been around when Kodi is outside but so far have avoided contact with the dog.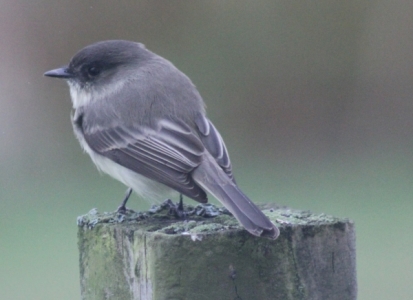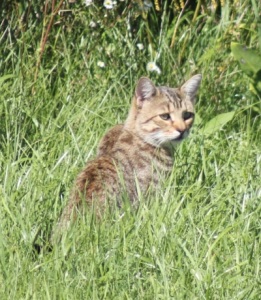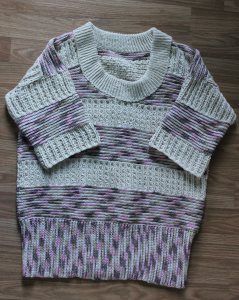 I'm still working on a bunch of projects but managed to finish the crochet top I had been playing with off and on through the summer. My current knitting project is a brioche jacket. It is an interesting stitch but also very time consuming because it takes two knit rows to complete one actual row. The only thing keeping me going is the effect of this fascinating stitch. I'm currently doing a five colour brioche stocking stitch and although working with five and sometimes ten balls of yarn at the same time can be aggravating, the diagonal stripe effect of the knitting makes it all worthwhile. Occasionally I have to untangle all the yarn but that hasn't stopped me from making this project. I've finished the front and back panels and am now knitting the sleeves so I can see the end coming soon. I have also been doing more weaving. I finally set up the 45 inch loom that a friend loaned me. She didn't have space for it and thought I would enjoy using it. I got the courage to work with it after I participated in a weaving workshop that my guild put together. I am thoroughly enjoying the weaving as I knew I would and have threatened to wear out my friend's loom. So far I've woven six place mats and am now working on the seventh out of eight. I've been sampling all of the four shaft twill patterns from the workshop. I'm hoping to also sample the more difficult eight shaft patterns but may play with four shafts awhile longer. That doesn't mean that my rigid heddle loom will get any less attention. I will be teaching an introductory class in rigid heddle weaving in the new year and have been enjoying making models for that class.
September was occcupied with preparing for the Fringe Elements tatting event. I taught three classes and as usual, my students and I thoroughly enjoyed ourselves. I plan on teaching at this event again next September.

This month I will be visiting the Kawartha area with a friend to enjoy the fall colours and spend some time doing beading. I will also be preparing for my next show with the GRBS (Grand River Bead Society) in Guelph on November 12th and 13th. Classes are being offered at this show but I've chosen to not teach this year.

Kodi has been dealing with his ragweed allergy but now that it has mostly gone to seed, we will soon be weaning him off of his medications. I'm looking forward to giving him another bath to get rid of the residue that his reactions to allergies always seem to leave on his fur.

I'm not sure whether I'm looking forward to winter or not. There is a prediction for massive amounts of snow this year and after having a couple of lean snow years, I'm not sure I'm ready. If it does happen, it will give me the opportunity to shovel snow which I enjoy. Time will tell.
This fall, my wish is that you find the time to stitch to your hearts content.
Brenda

Entry 36 - August 27, 2016
This will be my second attempt at writing this blog. The first one blew up on me . . . after I was almost finished. I will try and remember to do frequent saves so that I don't have to rewrite this a third time. I know this version will be shorter and likely less entertaining but at least it will get done so I can post.

July was a busy month, tidying up the two deadline jobs I had for the end of that month. I unofficially retired from being the bead editor for 'A Needle Pulling Thread' magazine. I'm working towards spending more time tidying up unfinished personal projects, including the house and my car. I have a couple of shows this fall that will keep me busy into November. I joined a weaving group and did a couple of days of marathon weaving sessions to finish weaving my tea towels. I got sore from sitting on the wood weaving bench but I figured out that weaving on a floor loom doesn't mess up my pelvis, if I'm careful. I plan on setting up the floor loom that I have here and do more weaving.
I was surprised by a couple of different birds that showed up in the backyard. One, a northern yellow shafted flicker which is a ground feeding bird in the woodpecker family and the other, a spotted sandpiper which is a shore bird. We don't have trees to attract the flicker or a shoreline but I guess there was lots of food in the grass. The shore bird, also called a 'teeter tail' because of the way it bobs its tail up and down, let me get very close. Normally, they fly away as soon as they see me. I figured out, after looking at the photos, that it was a juvenile bird so probably not as cautious.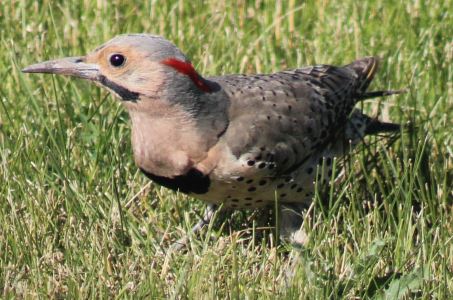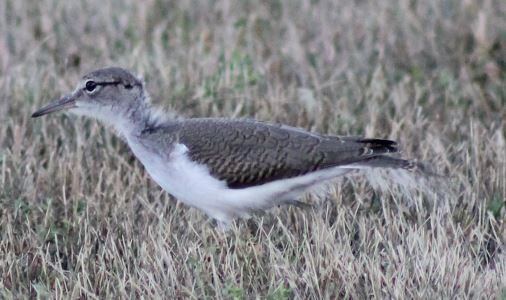 We squeezed in a camping trip to Algonquin park again and this year we stayed at Rock Lack. There was less privacy than we had a Pog lake but better access to water. This year we brought a canoe with us and enjoyed seeing the park from a different perspective. There were lots of birds and animals around but we didn't see everything. We found moose and otter tracks on the beach one morning and during the evening canoeing, enjoyed the beavers. Kodi had his first and likely his last very short canoe trip. He didn't like it. He also had his first swim and we encouraged (pulled) him into the water for a second swim so Glenn could watch. Funny that even though he doesn't have much undercoat, the water didn't soak through to his skin. I guess he just wasn't in it long enough to get soaking wet. Ari did her first solo canoeing and learned some steering techniques. We also watched red squirrel antics. They can be devious little critters. The dog in the next camp had made a cool bed in the dirt but the red squirrel in the tree above him kept dropping pine cones down on him. It is hard to sleep when being bombed by a squirrl. Another squirrel entertained Ari and I when it tried to figure out if there was food in a bag between two lawn chairs near the beach. 'Spy Squirrel' strikes again! They were also busy gathering up pine cones but couldn't seem to keep a good hold on them when they were rushing away from us. Pine cones were flying everywhere.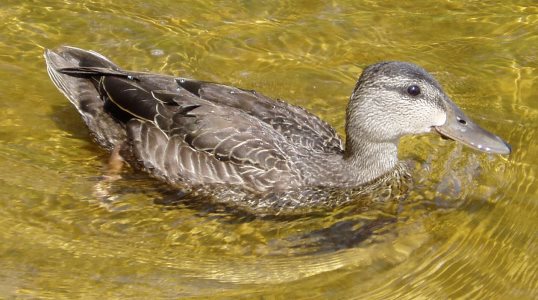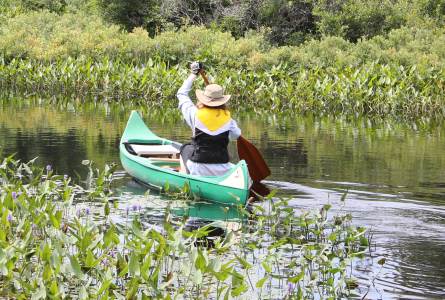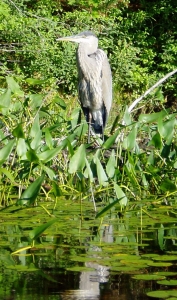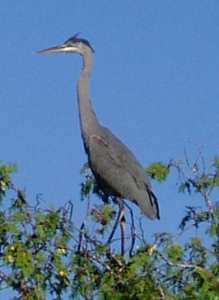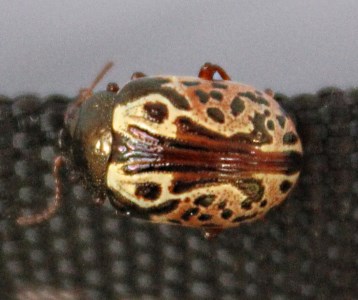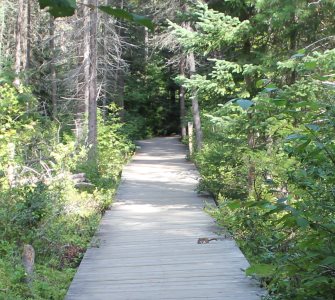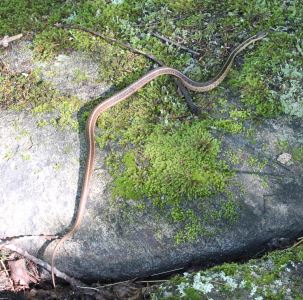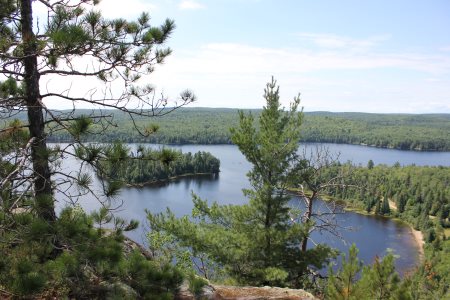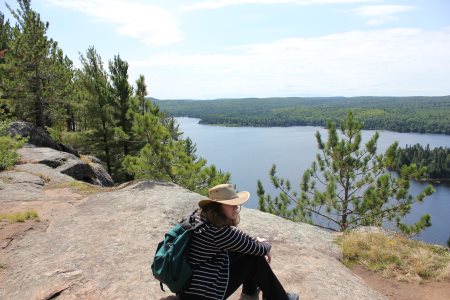 We did some hiking and found 'snake rock' and 'tiny toad trail' along the way. Some of our hiking was not the best for those afraid of heights but the views from those high spots were amazing. I tried to get more fungus photos but it appears that the dry summer has reduced the amount available and it looks like it is food for voracious slugs making it even less frequent than last year.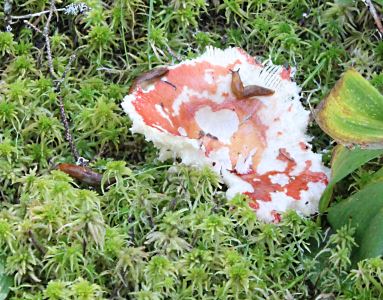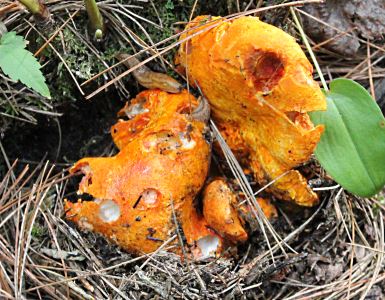 I looked eveywhere for turtles and eventually was rewarded by a distant shot of a pair of turtles sunning on a rock and also the remains of turtle shells along the lake edge.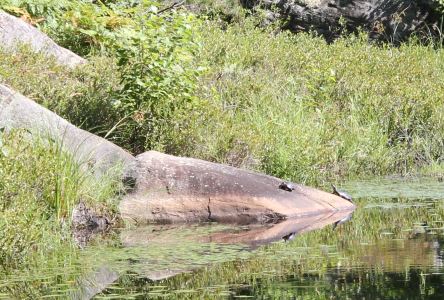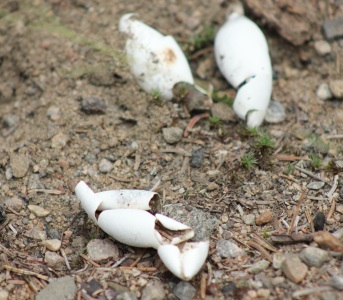 On our last hike we came across a leaf miner's work that left my initial in the scribbles. I couldn't resist that shot. We took a day off from camping to visit Bancroft and again enjoyed the best hamburger I've ever had at the Granite restaurant. They have a patio that welcomed Kodi again. We did get some bug bites but there weren't as many biting insects as last year. There were a lot of dragonflies and at dusk, they were so numerous we had to walk slowly so we didn't get run over. I found one spot and stood in the middle of them. I could hear their wing beats and also when they rubbed against each other. I have never seen so many dragonflies at one time. It was an amazing sight.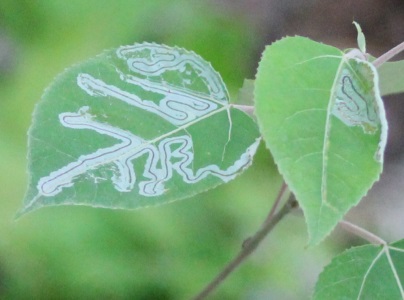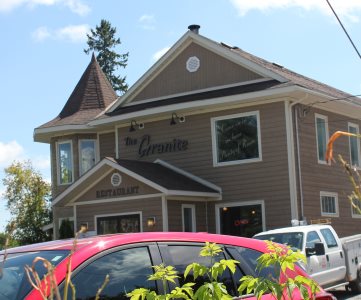 Arianna was happy to finish her second term at university and will be starting her next work term on Monday. She passed all her courses and will begin her second year in the winter. She'll be studying things that are more related to environmental engineering so hopefully will enjoy the classes more during her second year. Her next work term will be in the summer so we'll have to see if she can find a job before winter.
Glenn is still in what I call 'silly season' and will be for a few more months while the antique cars are still out and about. He said that things have slowed down but he has some new customers so that is keeping him busy.
I wonder what my next adventure will be and which project I will finish next. There is always something new and exciting around the corner. In the mean time I will knit, stitch, weave and bead my way through the fall.
Brenda

Entry 35 - June 25, 2016
It has been a sunny month with very little rain and it looks like the haskap berries are just about ready to be harvested. That may happen this weekend. Some of the transplanted trees from last fall have needed watering to survive and I may have lost a couple.

Walking needs to be done first thing in the morning before the sun heats things up but bugs are making the walks less pleasant. I've resorted to carrying a bug net around and catching the deer flies to reduce the numbers that bother us on the walk. There is no catch and release when it comes to deer flies. Kodi will actually cry when they bother him too much.

As for wildlife, there have been quite a few sightings of deer during the morning walks and during one of those, I froze so as to not spook it. Unfortunately, Kodi didn't freeze but the deer might not have seen him in the tall grass. The deer looked around and got curious so took a few steps toward me. I was hoping it would get much closer and when it took a few more steps closer, I figured that would be possible. Of course I stayed frozen but Kodi didn't get that memo and was still fidgeting. The deer looked around again and then came even closer but at this point Kodi had enough of the freeze and did one of his big shakes. Everything moved, the tags jingled and the white tailed deer flipped it's tail up and leaped into the woods so that was as close as my encounter would get . . . about 40 feet. There were other moments when deer were closer to us but they were shorter because the deer would spook and run away immediately.
This month I have been working on tidying up unfinished projects as well working on commissions. I received the yarn samples so have also been working on the magazine project. It is fun to be designing beaded knits again. I haven't worked with beads and yarn in awhile. I have figured out two types of knitting that I am not fond of. One is Fair Isle and the other intarsia knitting. These styles of knitting involve changing yarn colours. The sample swatch of Fair Isle that I knit is for sampling one form of steeking which is basting and cutting the finished project and hoping it won't unravel. The other, intarsia, was a project I started months ago but had to put aside as I prepared for my spring shows. It was a gift for a friend and thankfully it is finished and she loves it. I had guessed at the colours to match her room and got those right which was a huge bonus for me.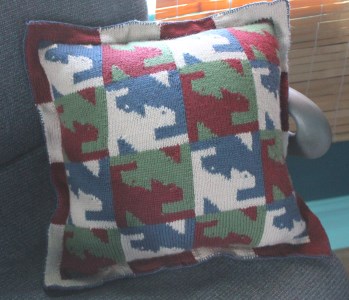 Other projects that are occupying my spare time is an ancient embroidery, pillow and dresser scarves, that I inherited from Glenn's grandmother's stash. I have finally finished all the applique for the project so the only thing left is the embroidery. I have also been working on a crochet top and have started a brioche knit jacket. There are a variety of commissions on the go that are not just cross stitch but also wood burning and copper embossing. I enjoy the variety of work and even did a bit of glass etching this month. I did start a bead project but was not enjoying it, so gave up on that one and took it apart again.
Having a constant headache has caused some struggles this month as the pressure and pain have increased likely due to the weather changes and poor sleeps. Most of the time I can work through the pain but I've noticed that this month has been more of a struggle. We'll see how the summer months shape up for head pain and how much work I can get through. One nice thing about this month is my favorite flower is in bloom. I not only enjoyed yellow bearded purple irises but also Russian water irises. The last one to bloom was the blue bearded, dark purple iris. I only got two flowers. The scent was much richer than the yellow bearded irises and I enjoyed every moment of the blooms. Unfortunately the camera failed to capture the depth of the colour but it was close.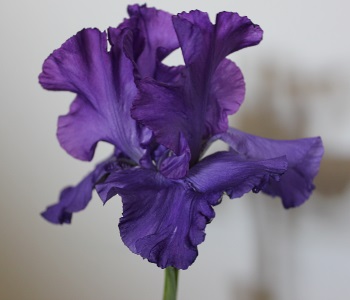 The summer plan is to work through and finish up commissions and personal projects. Hopefully there will be a vacation squeezed into those months and we'll see what else can be tidied up during the warmer weather.
Wishing all who love stitching, time to finish their own projects and the joy and adventure of starting something new.
Brenda

Entry 34 - May 25, 2016
May seemed to follow in April's footsteps with cooler weather and even snow up until this past weekend when the warmer weather finally arrived. This week is so hot that we've had to turn on the air conditioner to take some of the heat and humidity out of the house. I managed to protect the haskap berry plants better this year and didn't lose the new growth to the snow and frost this month.
It has been a busy month, recovering from one show at the end of April and two more shows just finished up. I now have to get back to my real work, commissions and other arts. In the mean time, I've managed to make a few needle felted critters. The golden retriever and mini hoots are what I worked on during one of my shows and the hoot is the model for a class I'll be teaching at the Fringe Elements tatting event in September 2016. I'll also be teaching some basic embroidery classes (thread and bead). For more information about the Fringe event check out their website www.FringeTatters.ca I've also booked another show for November, the GRBS bead show and sale. You can find information about their show at www.grandriverbeadsociety.com I haven't decided if I'll be teaching at that show yet.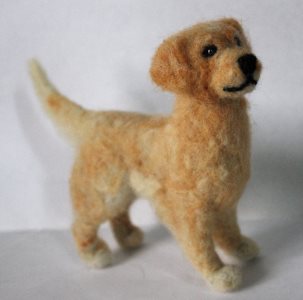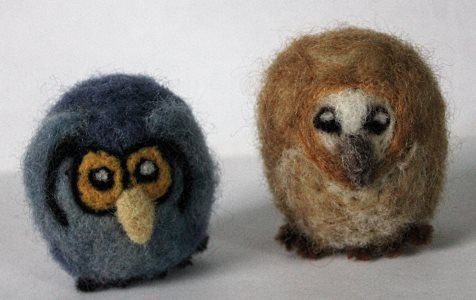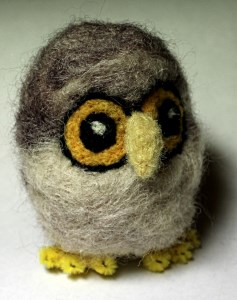 I finished up another fish design to go with the other four and especially the clown fish, a blue tang. I enjoy making the three dimensional designs and will probably make more of them in the future.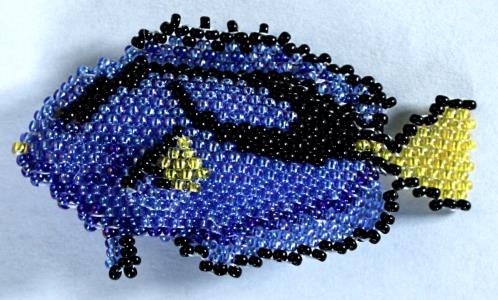 When I'm not working on preparing for shows and creating new designs, I manage to squeeze in some personal projects. I'm still working on using up the yarn stash and now have a new brioche scarf and a lace knit jacket that need to be blocked. I hope to do that soon. I changed the colours that I had been working on for the brioche scarf because the turquoise was a bit too 'in your face' for me. I think the black is much more elegant and it goes nicely with one of my winter coats. I've got some new knitting projects to work on once I get them set up. The knitting group is going to try Fair Isle and steeking. Hopefully I will have time to finish up my sample piece for the end of June.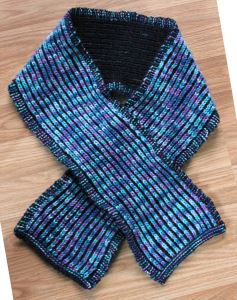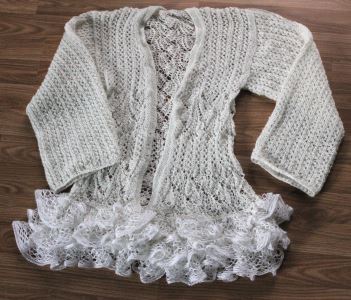 We've had some interesting bird activity around the house including the return of the swallows. We didn't want a repeat of the nest mess from last year so we put up bird netting under the balcony floor to stop them from building between the joists. Unfortunately we ran out of netting before completely closing off access to the underside of the balcony and we managed to trap the pair for a short while until we could encourage them to leave. We now have more netting to finish the job and hopefully the birds have also learned to avoid the netting.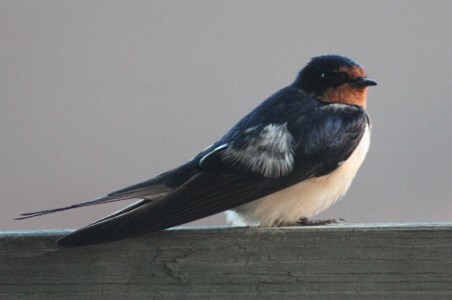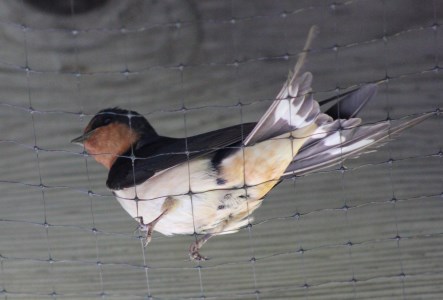 The other bird activity was a pair of killdeer. The planted their nest next to a storm ravaged lilac tree and succeeded in hatching all four of their eggs. The last two hatched yesterday and the nest is now empty although the parents are still around but we can't find the little ones. They are very good at freezing and hiding. The parents didn't start out with the 'wounded bird' stunt right away but once the eggs were close to hatching, they got very good at flopping around to distract us from the nest.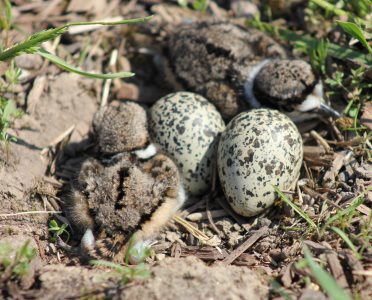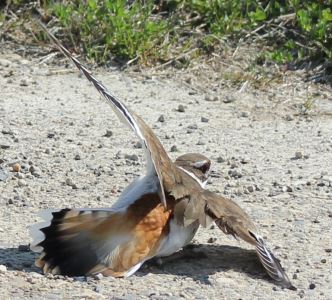 It is nice to see all the birds return although I'm still waiting for the cedar waxwings and the brown thrashers. I haven't spotted any of them yet this year. I will continue to look for them while we do our walks. If we don't get the bird netting onto the haskap berry plants before the start to turn dark blue, those cedar waxwings will be into the berries. They don't ripen for another month so the birds don't like them and just drop the unripened berries to the ground. The bird netting prevents that from happening.
It has been a very dry spring and I'm not sure what it will be like for the summer but if it is too hot, I'll likely be doing my walking on the treadmill. The good thing about it being dry is that there aren't very many mosquitoes out for our blood. I definitely enjoy that. Summer is coming soon and I hope to get lots of work done around the house and to my car that has been in the restoration mode for far too long. It would be nice to have something fun to drive this summer.
Enjoy what is left of spring and stitch when there is time.
Brenda

Entry 33 – April 21, 2016
Spring has finally arrived and with that comes the birds and critters. Before we got spring weather we had a very nasty ice storm at the end of March. We got at least an inch and a quarter ice build up. It not only took down branches and trees but also took out our power off and on for a few days. I think it might have been easier on Kodi if it had stayed off rather than continually going off and coming back on. He was a wreck before the weekend was done. The ice did make for a very pretty sunset once the weather improved. The thunderstorm that started the week after the ice storm took out power again and just added to his anxiety. A week later we had a serious snow storm but since then, spring!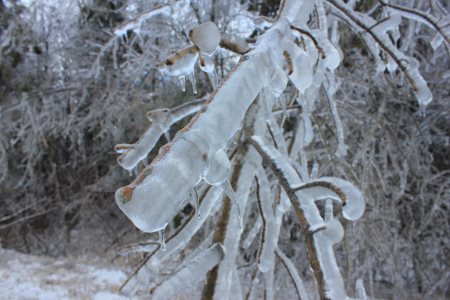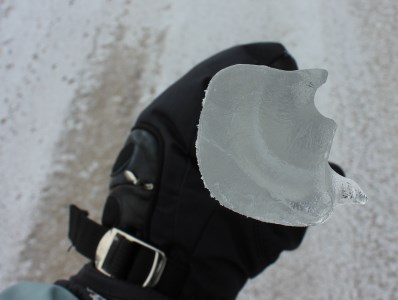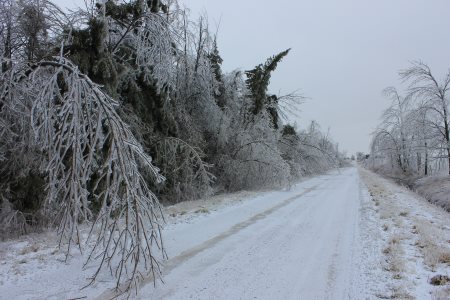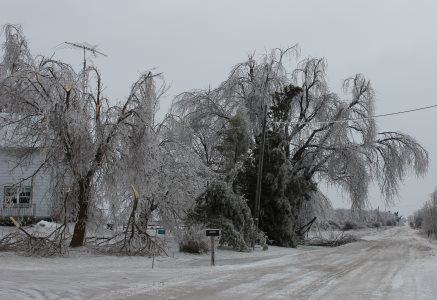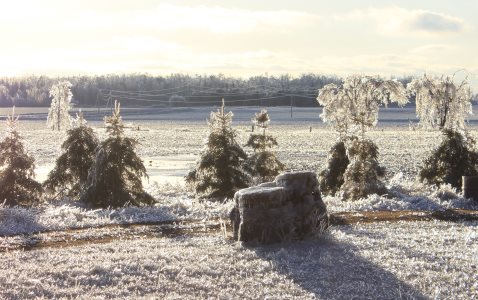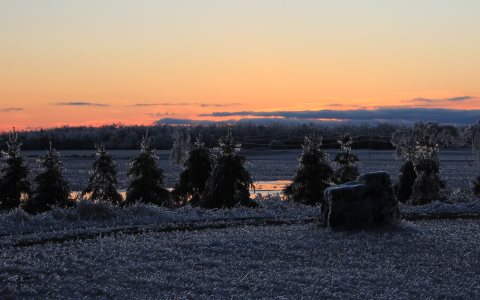 I could tell that we were headed for nice spring weather with the arrival of many birds. There was a bit of a struggle looking for food after the snowfall but now that most of the snow is gone, finding food is much easier. There are still some bird species that haven't arrived back in our area but I'll keep looking for them.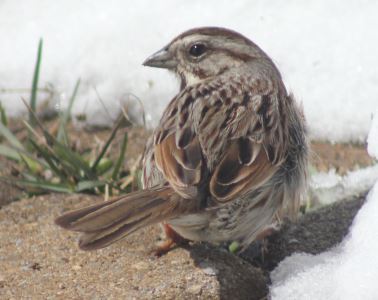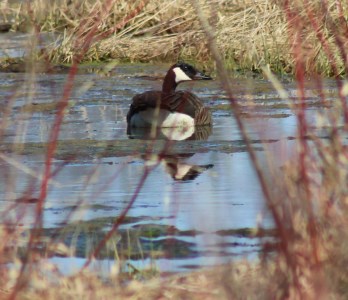 Kodi has been hunting and not only are snakes fair game but also mice. I don't let him harass the snakes but small rodents are fair game. He has been doing some serious 'ditch diving' (jumping into the air and pouncing into the grass along the edge of the road) and yesterday came up with a fat mouse. I made sure it was dead before we kept walking and also placed it in the middle of the road where some night critter could find it. The mouse was gone this morning so I'm sure an owl or something else enjoyed the feast.
I've been working hard preparing for my upcoming shows. I'm not sure if I want to continue doing shows but will make that decision once I finish with the three that are coming up over the next few weeks. I finished one more butterfly, a tiger swallowtail, and have been putting the kits together for the fish. I feel like I'm behind in where I wanted to be at this point in my preparations but I'll keep working away and hopefully by the end of April I'll be ready.
Easter wasn't quite what we'd expected because that was when the nasty ice storm arrived. It was an interesting weekend and Ari got some metal models and Curly, the bald eagle to join Larry and Moe in her knit bird collection in her Easter basket. I'm not sure I'll be making any more birds but now she has the full set, Larry the penguin, Curly the bald eagle and Moe the owl.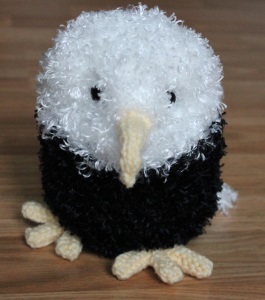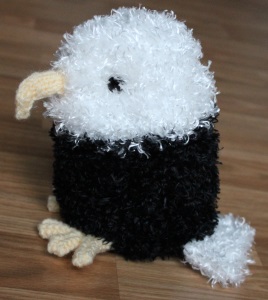 Ari is just about finished her work term and soon to begin another school term. I know she isn't looking forward to the work load but she is looking forward to learning new things. She already has a job lined up for her fall work term which will relieve some stress at the beginning of the school term when students have to also work on lining up a job for the next work term.

Glenn's 'silly season' has begun and also his show season. We both have shows on the same weekend so that makes life a bit more complicated. Thankfully he will be around to help with my other shows.

This will be a very busy spring but I hope to add another blog entry in May.

Wishing all the very best that spring can bring,
Brenda

Entry 32 – March 17, 2016
Happy St. Patrick's day, especially for those who love green!
Even though March arrived with a roar, things have turned spring like but will freeze up and bring snow again this coming weekend. The wild weather allowed for some beautiful photos, from ice storms to hoar frost. I can tell that it is spring weather out there.
The ice storm made everything shimmer in the sunlight. The hoarfrost added a coating of thick textured frost to everything. It grew where the wind put it and made for some interesting looking plants.

The birds are back and Kodi wants to go outside more. His nose tends to be glued to the ground when he is outside. We spotted a skunk and one morning, Glenn had to call Kodi back from chasing it. Thankfully he did come home rather than run full tilt into skunk smell. I'm happy we didn't have to take time to clean up a stinky dog. Kodi is now leashed whenever he goes outside. The only other critter I've seen is a cottontail bunny touring around the front yard, just in time for Easter. Another good reason to keep him tied is because he thinks that those flying birds are fair game and that he can catch them. I often see him eying them when he is out and he has 'gone off on a lark' so to speak, chasing birds and not watching where he is going. He'd cross road, field and stream after a bird, thinking he can catch it and end up in the next county. None have flown close enough to the ground or he probably could catch one.
Progress has been made and the old van has it's replacement transmission and is back on the road. Unfortunately some other issues have cropped up and the 'used' replacement water pump will also soon be replaced. It is a bit noisy. Other things have gotten in the way of the next auto project, my car, and I'm already noticing some frustration about that. We'll see how the rest of this month goes but I don't have any hopes that it will be ready anytime soon.
I'm happy to say that the itchy dog issue has been corrected. I kick myself now knowing that I could have solved this problem ages ago. It was a simple yeast infection that has caused his off allergy season itch. With the aid of a cider vinegar rinse and natural yogurt to replenish the good bacteria, he is much less itchy and didn't lose hair or have to wear the hockey sock this winter. I'm hoping that his allergy symptoms will be less and possibly we can omit the steroids in late summer and fall but I know that ragweed will still get to him. It is said that allergies get worse with age so we'll see how things go once late summer arrives.
We've had some water birds and shore birds visiting and the most exciting one was a stopover by some tundra swans. They didn't stay long, being camera shy, they took off shortly after I came outside to get some shots but at least I have those shots, even from far away on a dreary grey day. Lately it has been mostly mallard ducks in the wet spot out front. We have had Canadian geese visiting occasionally too, as well as sea gulls. No sign of the local eagle since that one chance sighting last month.
Personal projects are progressing well. I finished up another pair of fingerless mitts just in time for my sister to enjoy them. I've moved on to learning brioche knitting and have also finished a knit sample of shadow knitting.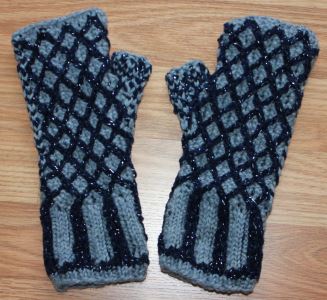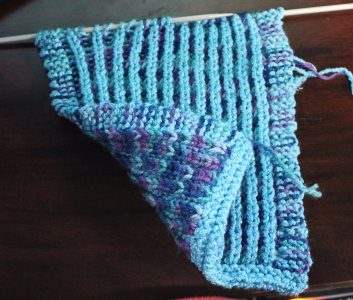 The interesting thing about shadow knitting is that the image can easily be seen but only from certain angles.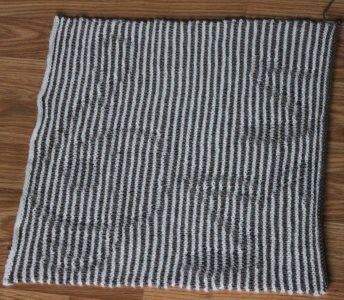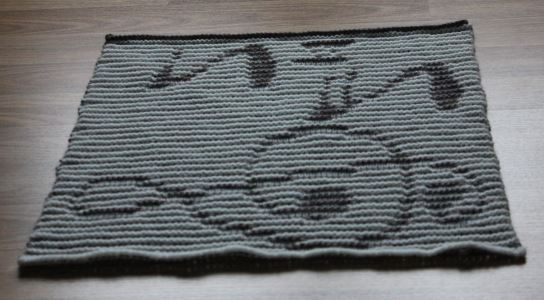 At the weaving guild meeting, I learned how to make plaited paper baskets and have since made a few and taught Ari who made one as well. I hope to make more of them. They are fun and I have all of these vinyl wallpaper sample books to use. Recycling sample swatches into something if not useful, at least decorative is a great way to put less into the landfill.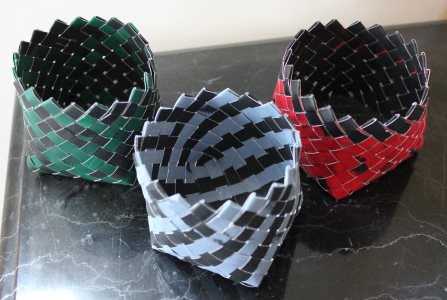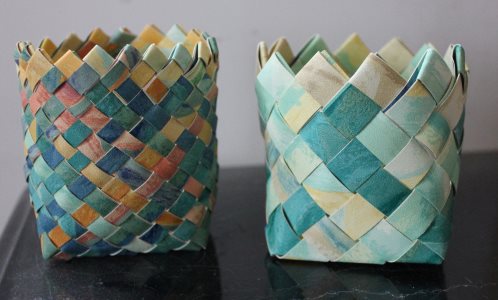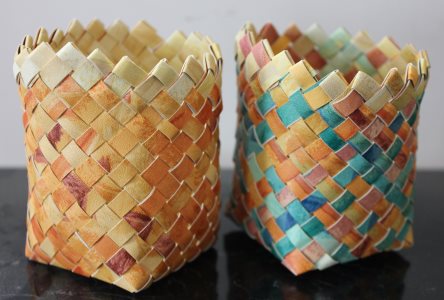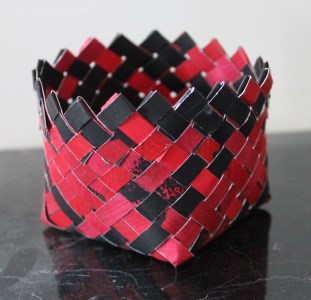 I've finished up more butterfly models for the new bead point designs, soon to be released and would love to make more. We'll see how time works out. I've also scheduled another spring show so May is going to be a busy month. It is the Pet Expo at the Kitchener auditorium. I hope to have some new needle felting kits available for that show. Work on those will begin soon. That means that my next month and a half will be filled with doing up kits so making more butterfly models may not work out. I have one model left to stitch, the tiger swallowtail. I have also made patterns for the beaded fish designs and hope to have those set up as kits too.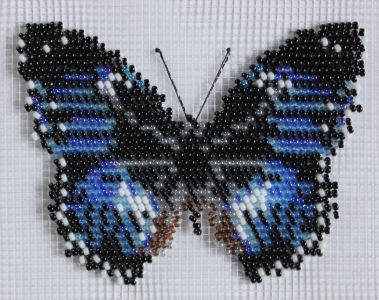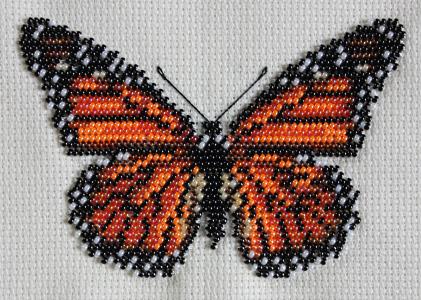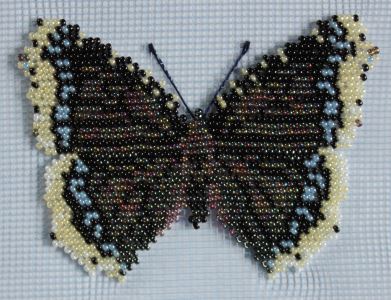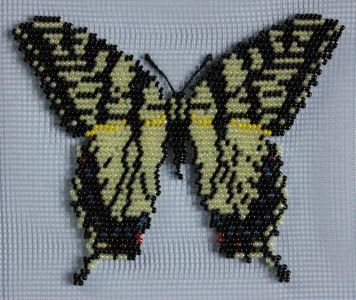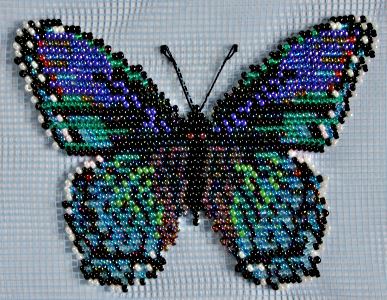 The butterfly designs are stitched on either 18 count fabric, 36 count over two threads or 18 count gauze using size 15 seed beads.


I continue to work on custom designs and also paintings but these projects haven't been getting the attention they need to be finished. I am hoping that the headach calms down more and I can get to this work more consistently. In the mean time, I will keep working and finish up as much as I can for new designs, custom orders and personal projects.

Spring will soon be here for real and I look forward to things becoming green and hopefully not too hot weather. I'm afraid that the weather will skip spring and jump right into summer heat.


Take care all and happy stitching!

Brenda

Entry 31- February 19, 2016


This is the first entry for 2016 and not in the month I had wanted to write. Unfortunately, living with a constant headache does have it's drawbacks. There are days when looking at a computer are practically impossible and I've had more than a month of those days. That is when I work on models and other things that tend towards mind-numbing rather than creative. There are a lot of things I'd like to cover in this blog and hopefully I will remember them all.

January was a quiet month other than vehicular issues. There came a point where we didn't have a functioning vehicle other than a borrowed pick up truck. Thankfully Glenn managed to finish the repairs to the newer van and get it licensed so that Arianna has a vehicle for getting to and from work and home on the weekends. She is currently enjoying her work term and will be starting her next semester in the spring. The older van's transmission decided it was time to pack it in so Glenn has been working, as weather permits, on replacing that van's transmission with one from a donor vehicle. On top of our vehicle issues, Glenn's father's van is soon on it's way to becoming a donor vehicle so a van that was donated to our collection this past summer will be fixed up for him. I hope that Glenn enjoys working on vans because it doesn't seem to ever end. I am seriously hoping that my car will be on the road this summer too. We'll see how Glenn's schedule looks once all the vans are repaired.

I have been getting personal projects done. It isn't hard when they are mind-numbing work that can be done even when the headache is nastier than normal. The biggest project was finishing the carpet which still needs a major amount of blocking. It is much too big and heavy to wet block so I've attempted to use steam blocking. This didn't hold so I will have to consider wet blocking. Other knitting projects that have been finished are some fingerless mitts. I made one pair for myself and another for Arianna. I may make a few more pairs over the next few months.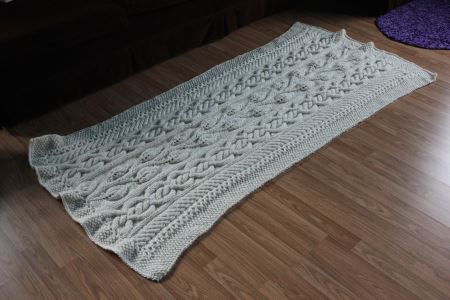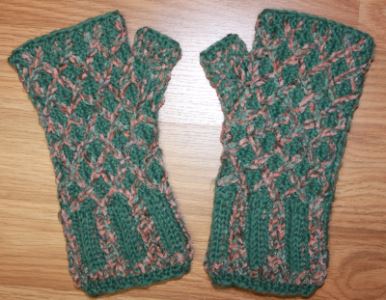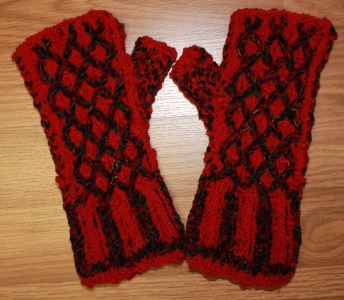 Other knitting projects that I squeezed into my time, for fun were some fuzzy little critters. Ari saw them in a magazine and I thought they would make a nice Valentine's gift. The first owl I made, I wasn't happy with so Laurie adopted it and named it Hank. Laurie works for Dixie's. I had used yarn that was a bit too chunky for the beak and feet and they ended up a bit over size. After making another one for Ari I thought about adjusting the pattern a little and then made a penguin. Ari named them Larry and Moe so now I have to figure out what to do for Curly. It will either be a bald eagle or a vulture. I'm leaning towards the eagle.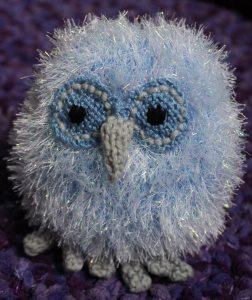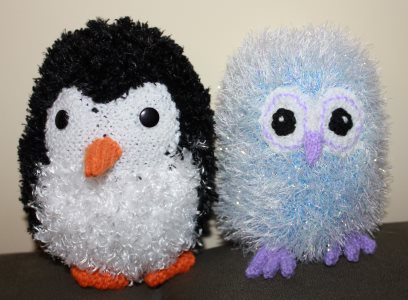 Other projects I have been working on is designing beaded fish. I finally finished the angel fish model for myself and a discus fish that I admired in a friend's fish tank. Ari was thinking that a lion fish would be a wonderful addition to my collection but I'd have to figure out how to do all of those spines. I enjoy a challenge so may give it a try sometime. At this point, I will consider putting together patterns and instructions so that I can set them up as kits. The seahorse was from a book of designs that a friend got for me. I may re-design that one to simplify the design and make it easier to stitch but since it is not my design, I would not be selling it.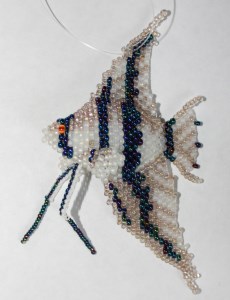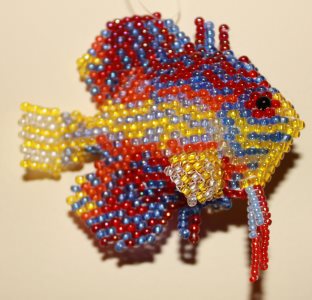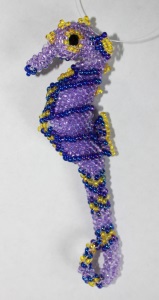 I received an update from Kreinik Threads and am happy to let you know that they have used their wonderful threads to create a line of designer shoe laces for a cause. They come in two different lengths and are shimmery or even glow in the dark. The funds from the sales of these shoe laces go towards suicide prevention, addiction counseling and grief support programs. For more information, please check out www.kreinik.com I was thinking that these would be great on more than just running shoes. They could be a team feature on hockey skates, or dress up those roller skates and roller blades. Even cheer leading teams could were them not only to support the various causes but also as team colours.

Wild life sightings have been rare this winter. I know there are critters out there but none that show other than tracks in the snow. One of the more telling signs was a line of mouse tracks that stopped suddenly where wing tips brushed marks in the snow. Other tracks that I've spotted have been rabbit, coyote and dog, cat, deer and raccoon. The birds we've been seeing are mostly crow and snow buntings however yesterday I got a chance to spot something I've never seen in my 'neck of the woods', a bald eagle. I couldn't get a close shot but did manage to get one distant picture. Maybe it will be back and I can try again. Now I'm thinking about how to capture that majesty in a little fluffy knit critter. We'll see what I can come up with . . .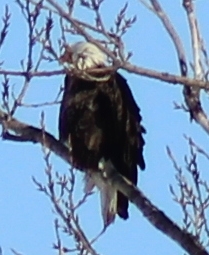 I've been working on some new projects for 'A Needle Pulling Thread' magazine and will be experimenting with bringing beads back into knitting for next winter. Spring will soon be here but in the mean time, I will work through the rest of winter, taking it one day at a time and try to accomplish as much as I can. Loving what I do makes every day a pleasure.

Stay safe and wishing all good eyesight and smooth threads for great stitching.
Brenda



Copyright (c)2016

Brenda Franklin

All Rights Reserved