Brenda's Blog
Entry 30 - December 31, 2015
Obviously I had a busy fall since my blog was neglected again. I spent some of the time working on gifts for Christmas and finishing up some projects. I have some new 'free' charts that will be added to my website for those who enjoy cross stitch. It is a series of roses, one for each season. All of the roses are stitched on a lovely Wichelt fabric and have 'optional' back stitching, French knots and little glass roses added to the design. The back stitching features a rose related quote from a poem or saying.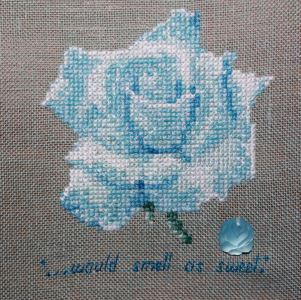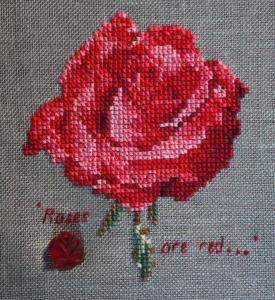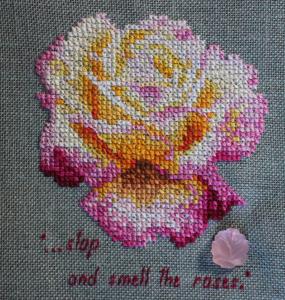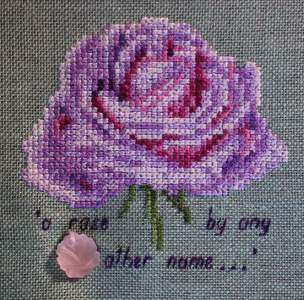 This time of year is definitely one of reflection of the past year's events and of what the new year may entail, things I've learned and ideas I would like to pursue. For some it can be an exciting time and for others, unhappy. To start my new year, I plan on finishing the current custom cross stitch designs that very patient customers are waiting for. I would also like to do the designs that I have plans for. Some of these are large projects and can take months to design. The soonest I expect to update my website with the new designs will be sometime this spring. I would like to have as many new designs finished as possible for that update.

Family activities were the typical for fall and Arianna is very happy to have finished her first term of environmental engineering and is looking forward to her first work term. Although she will have the basic '9 to 5' job, she won't have the hectic study schedule and is happy that she will have time to work on her second novel. She told me she is totally hooked on writing.

I managed to finish up a few knitting projects this past fall and plan on tidying up a couple of unfinished knitting projects this winter. I also joined the knitting group that is an offshoot of my weaving guild. The knit afghan was a big project that I did to use up a chunky yarn that I didn't like for sweaters. It is very comfortable, like a hug, and matches the furniture in the family room. The pot holders were lessons in mitered knitting and made four of them. I used them as Christmas card envelopes so that all of my siblings got one for Christmas. The sweater was for me and although I did up a very simple design and re-designed and re-knit it a second time, I would still make some small changes to the design. I may try that sweater design again, version three. I'm not sure I will rip out the current sweater but may try it with some new yarn. It too is very comfortable, like wearing a hug.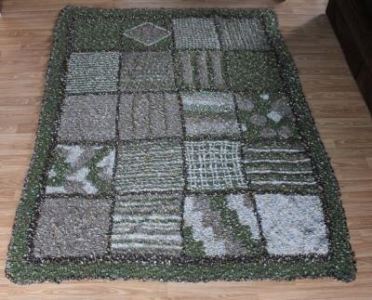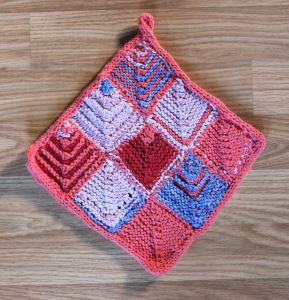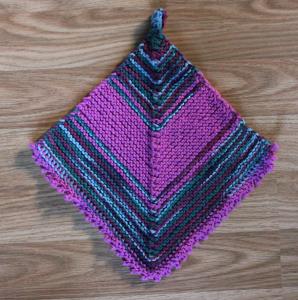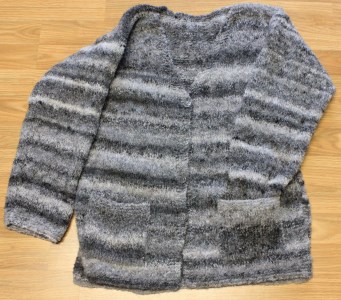 I also managed to squeeze in some weaving this past fall. I made a double sized blanket using six inch woven squares, combined to form a brick pattern and I also used six inch squares to make an afghan for my mother-in-law. I used yarn from a sweater she had started to knit for me from years ago but since she doesn't knit anymore and that sweater was much too heavy for me now, I decided to re-purpose the yarn for her afghan. She was delighted with it and I know will use it when she is resting in her family room.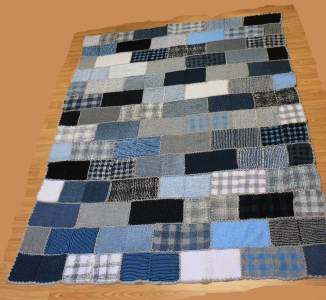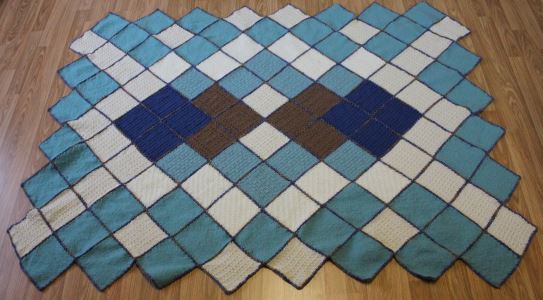 I enjoyed card making with my sister during a visit and she also introduced me to alcohol markers and I tried them out on some of my 'edited' photos. There are an interesting art tool and I have plans to try other ways to use them. One of which was to re-color a picture from for the summer ANPT project. The markers can also be used on metal and glass but need heat to make the color permanent. More things to experiment with in the New Year.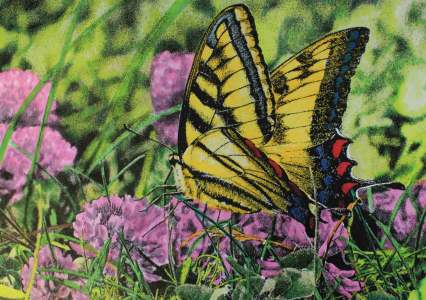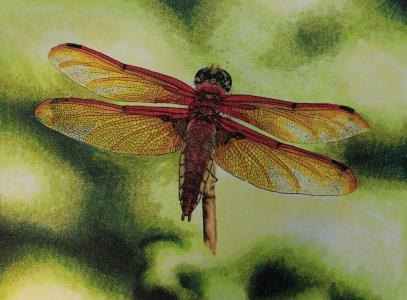 Beads have also taken some of my time this past fall. I made some Christmas ornaments to add to my fish collection both personal designs and from a book of dimensional designs that a friend gave me for my birthday. The angel fish are a continuation of the fish theme that I started with the clown fish from the past Christmas. The green sea turtle is just too adorable and something I thoroughly enjoy. I'm currently working on a sea horse and hope to finish that soon. As for the next fish I plan to try, there are a few options I'm considering and we'll see which one wins for 2016.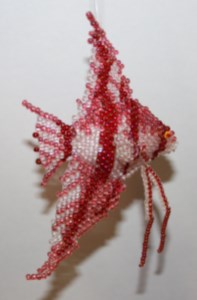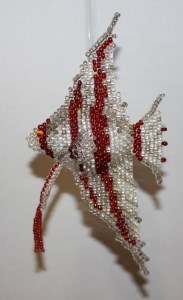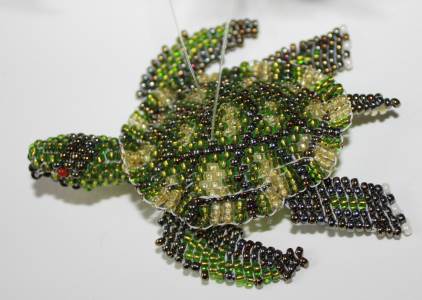 That finishes up my project gallery from this past fall. I will continue to work on unfinished projects, both stitching and knitting, more weaving projects, painting and bead work in the New Year, as well as the new needlework designs. It will be another enjoyable and creative year for 2016. I will try to be more consistent with monthly blog updates but no guarantee. Life can get away from you sometimes.

Hoping and praying that you all have a wonderful, healthy, happy and productive New Year!
Brenda

Entry 29 - October 13, 2015
Looks like I've missed September, probably because of preparations for the tatting show, Arianna starting university and dealing with Kodi's allergies.

The most recent excitement has been the birds visiting our yard. Birds I'd never seen here before. It took a bit of research but I think I've figured out what they all were. One was easy, the blue bird. They stayed around for a few weeks and were a cheerful brightness every day.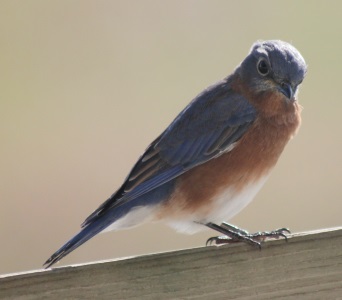 The other two, not as easy but the markings on the one, the yellow-rumped warbler were distinctive enough so that I could figure it out. The other, not so much. My best guess is that it is the northern waterthrush. Both of these birds were voracious eaters and the flies didn't have a chance.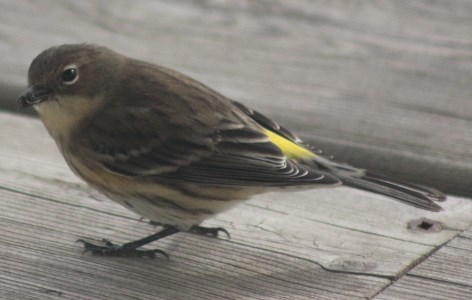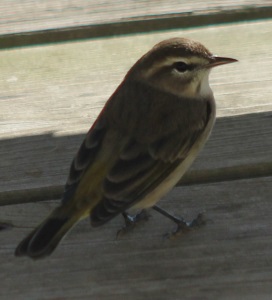 We enjoyed our Thanksgiving this past weekend and soon it will be time for Arianna to write her mid-term exams. She has already been studying and will be writing a three hour practice exam tomorrow evening on all of her subjects to see if she knows her stuff. She has been working hard and doing well at keeping up with the workload although she would love a day to just crash and not think about assignments or tests, she knows that won't happen until December.
I finished up what I needed for the tatting show at the end of September and have been concentrating on custom orders. I also squeezed in a photo shoot and managed to get a bunch of pictures of a Friesian horse. I will be using some of the shots for new designs in the future.
It appears that we have finally moved past the worst of Kodi's allergy season so he no longer needs to wear the cone or take the heavy duty allergy meds. He will soon be free of that as well. We celebrated his 9th birthday last week and he still looks like a young dog although maybe a bit whiter around the muzzle.
At this point we are preparing for winter and hope to tidy the outside work before the snow flies. Most of the fall has been pleasant for weather but that can change quickly so it is better to be prepared.
Wishing all a productive and enjoyable fall season,
Brenda

Entry 27 - August 29, 2015
August did give us a chance for a short camping trip and we spent just over a week in Algonquin park, hiking the trails and seeing the local sights. It seems that we were also checked out by a local when a bear stopped by to see if we had anything left of supper. Fortunately for us, everything was finished and cleaned up so nothing for the bear to find. Algonquin is an amazing place with great trails for hiking. Not only are they well marked but also include a guide book that features specific points of interest. My camera was kept busy trying to capture all that Algonquin had to share. The photos don't even come close to displaying what we saw with our eyes. There wasn't much for wildlife for us to see but it was very hot and muggy for most of our trip so I can understand why they'd be scarce. The fungus and woodland was a rainbow of colors and I wished I could bring a selection of all the plants home with me. Unfortunately, I don't think my little corner of Alma would be the right place for that type of growth. One rainy day we took a drive to Bancroft and see if we could find some blue sodalite that is mined in the area. We got to play in a pile of rock tailings from one of the local mines that was also seeded with rocks from other areas. I found a very interesting beryl crystal as well as sodalite and soapstone. Ari was thrilled with her flint from Ohio and also her collection of sodalite and paper thin mica. It turned into another hot, steamy day. For lunch we visited The Granite restaurant and were thankful that they had a patio that welcomed dogs. Kodi got a nice bowl of cold water, some welcomed shade and a cookie for dessert. The hamburgers were recommended by a friend so we gave them a try. Truly one of the best burgers I've ever had in my life!
Here are some of the pictures I took to try and capture the feel of the Algonquin area. I'll start with the 'wildlife, a dragonfly in flight and a red squirrel enjoying a meal before it took flight when I got too close.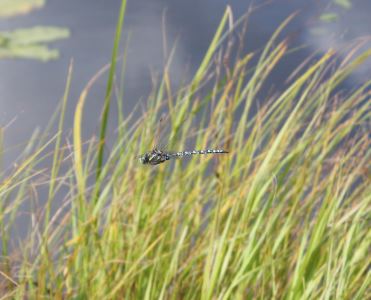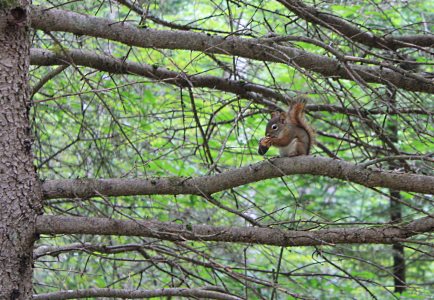 The views from up high were superb and you could see so far. I just don't think the camera captured that vastness very well.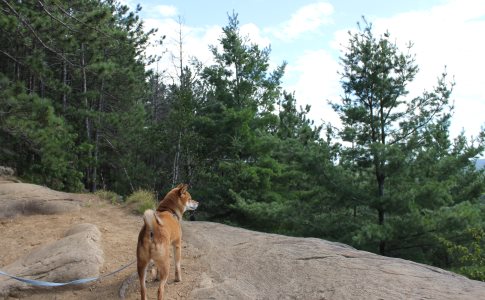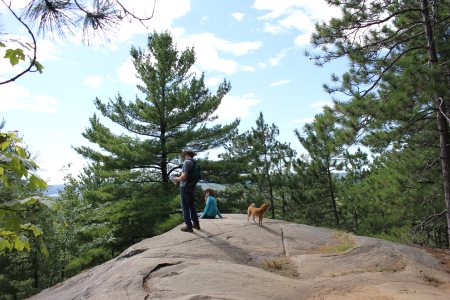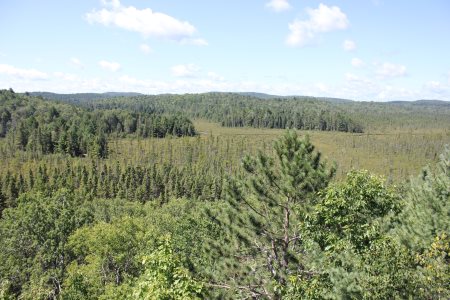 In many areas of the forest there are 125 year old white pine trees and again, I tried to capture the majesty and size but I know that the camera could not show it the same as being there. The first shot is looking up at the tops of the pair of pine trees and the second is of Glenn, 6' 2" at the base of those same trees. The other fascinating thing was where the trees grew. Some found root around rocks or even in old tree stumps.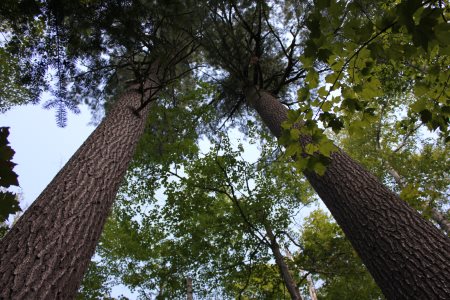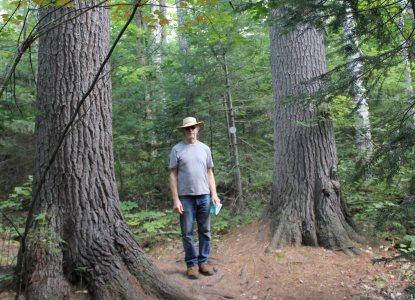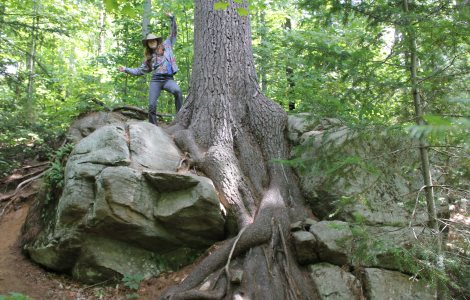 I just couldn't seem to stop taking photos of fungus. There is such a wide variety throughout the various forest trails and the colors were awesome. It was hard to choose just a few to demonstrate these colors. Again, I am sure that the photos don't even come close to showing the hues and subtle color combinations like the greens and purples of the last photo but they do show a bit of the range of colors that fungus can display.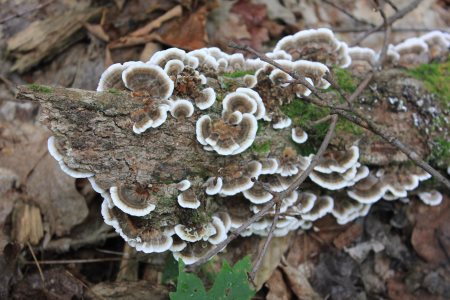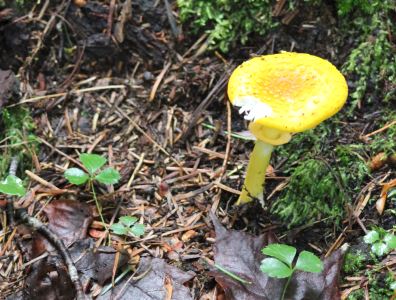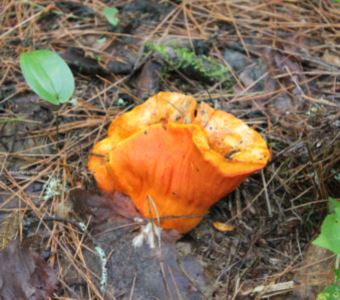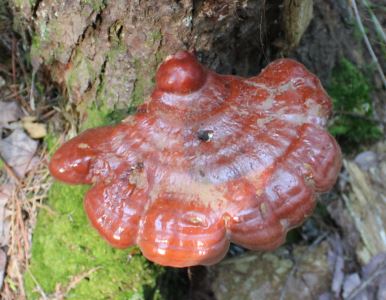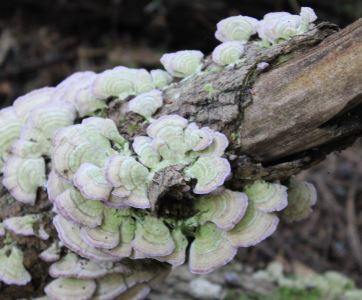 This fall will be busy with moving Ari into her 'shared' apartment and her start of university, Glenn's fall show season and all the work he still has on his plate and me, preparing for the Fringe Elements weekend at the end of September. I will continue to work on new designs and other projects. Needless to say, fall will not be slow or quiet for any of us.
I am hoping for an early killing frost and I'm sure the farmers are wishing for a long growing season. Kodi is again suffereing from his allergies and especially ragweed. Not only is he taking medications to help with this but also sporting the Victorian collar, nicknamed the cone, megaphone and funnel. Poor dog is not a happy guy but he is dealing with his discomfort as best he can and I'm keeping his nails filed down to try and prevent him from scratching until he bleeds in the areas he can still reach.
Wishing all of you a spectacular fall filled with all the activities that you love!
Brenda

Entry 26 - August 7, 2015
Plans for July didn't work out so we changed things up and did a bunch of day trips instead. What we had planned was to head west and see more of Canada but unfortunately there were too many roadblocks in the way so we changed our plans to more local adventures. Our first day trip was a visit to the very touristy area of Niagara Falls. It is overwhelming to imagine the amount of water pouring over the falls. Photos really can't do it justice and I do remember when you could actually photograph both falls at the same time but they've changed a fair bit over the years. While we were there, we grabbed some lunch near the falls and were accosted by a noisy, insistent little sparrow that wanted to share our lunch with us. He had some crumbs of Glenn's sandwich and then wandered off to check out the other diners. We not only checked out the falls but visited an aviary, the butterfly conservatory and the Brock monument in Queenston. On our way home, we squeezed in a stop at a chocolate factory. Just taking a whiff of the chocolate filled show room was enough to give you a chocolate high. We checked it all out, got a sample of a chocolate covered strawberry and purchased some chocolate that we are still enjoying. If you are ever in the Niagara area, I highly recommend a visit to Chocolate FX in St. David's, near Niagara-On-The-Lake. I have to admit that I think I've had enough of that touristy area for quite awhile . . . so many people!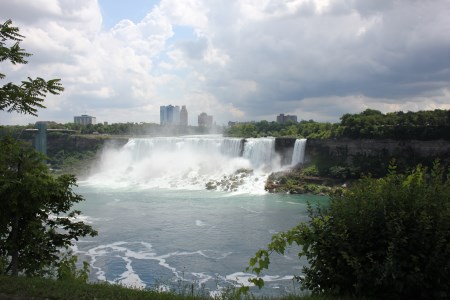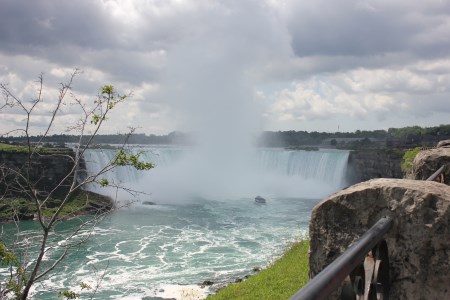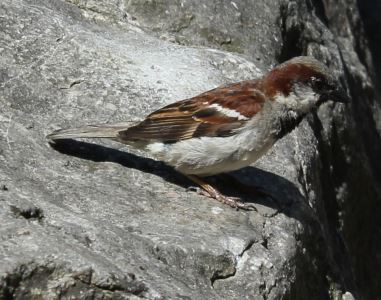 Our next day trip took us to the middle of Toronto and Casa Loma (the castle on the hill). I'd always wanted to go there and was happy that I was allowed to take photos inside and out. Another tourist filled space but large enough to spread them out a fair bit. We were amazed at the overwhelming lavishness of the structure. There is even an underground tunnel to the carriage house so that the inhabitants didn't have to cross a road or venture out into weather to go for a drive. The picture of the carriage house (second shot) was taken from high up in one of the towers of Casa Loma. There was a lot of woodwork in areas of the house and most of it was hand carved. Other areas had various coloured marble for floors and walls. We couldn't see all of the castle inside and out because some is still being re-furbished.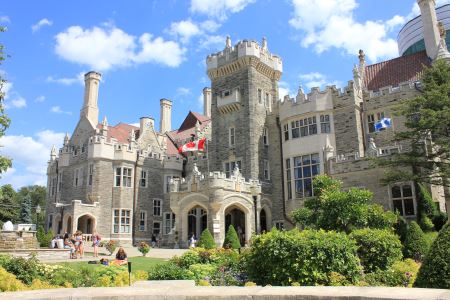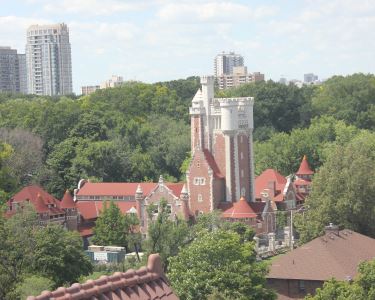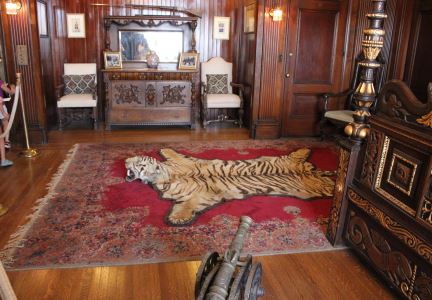 We are still enjoying flight school for the baby swallows. It happens every year but was closer to home with a nest under the balcony. I still don't know how the parents managed to not only squeeze five little birds into that nest along with one of themselves. Watching the little birds fly woven patterns in the air makes one wonder how they don't fly into each other. They also fly crazy patterns through the balcony and around the posts. It is dangerous to venture onto the balcony when flight school is taking place. We've had some breezy days and a little one just learning to fly had a bit of a struggle staying firmly in place on the balcony railing. I figured he was going to taking off soon when one of his feet lost purchase. Parents also feed on the fly which is exciting to watch. I just like the idea of so many bugs being eaten so that they can't bother me. The other really fun thing is to sneak up on the babies when they have congregated on the windowsills and peak at them without scaring them. We've had as many as eight one one sill at a time. They only stay long enough to take a short break and then they are off again, flying like little fighter jets doing dog fights in the air around the house.




Our most recent day trip took us to the Toronto Zoo. There was lots to see and photograph and we did as much of that as we could. There was also a lot of walking to be able to cover all of the territories being represented. I think I took more than 600 photos although not everyone of those was usable. Most of the animals were smarter than us, snoozing the day away. The cheetah was spectacular but for some reason, no matter where I was viewing it from, it always seemed to focus directly on me. Maybe it was the beep from the camera. So, no profiles of that kitty for my collection. The birds in the pavilions were especially friendly and one was especially curious about us. The local wildlife was also very friendly but a bit more cautious. I did pay for the day of walking with pain but recovered after a couple of days of rest so I'm ready for our next adventure . . . whatever that may be.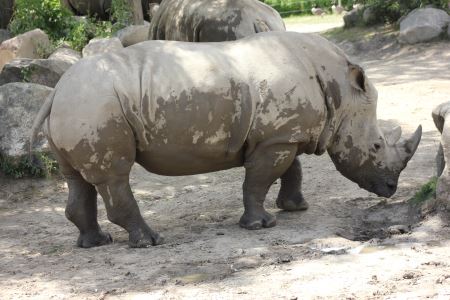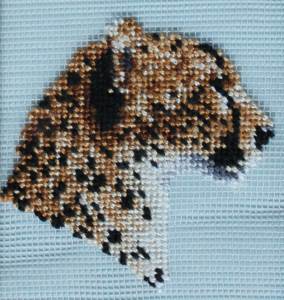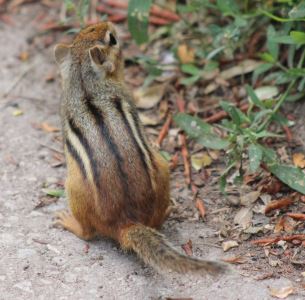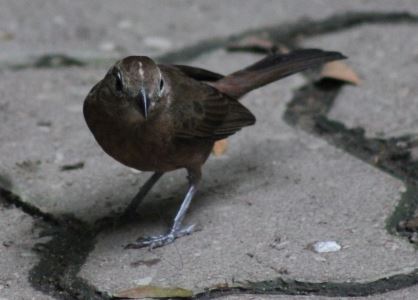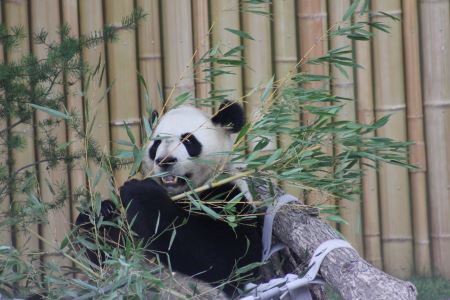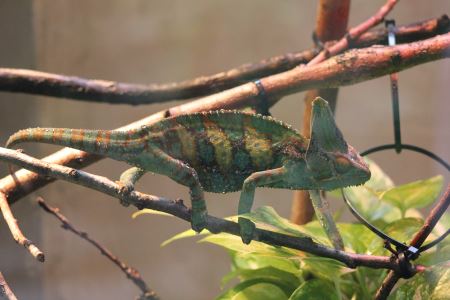 Arianna has organized her new residence for university and will be moving in around the 1st of September. She is not staying on campus but is in an apartment suite with at least 3 other girls. She is trying to avoid thinking about university until she actually has to be there, squeezing as much out of summer as she can. She has been working on her novel and is actually just about finished the first draft. Then she said she'd like a break. I'll be reading through and suggesting some editing but we may not get to actually doing the editing until after her first term. Her other summer activities include work around the house, her volunteer work at the hospital's second hand shop . . . she polished a lot of silver this summer and she has also been helping me test some of my bead work patterns.

Most of my work lately has involved stitching up models. I have also been helping Glenn with finishing up some work on the camper which now has windows in the ends. The roof has been resealed and won't leak and the insides have changed a little. We're taking out the sink and stove and replacing it with a flat countertop. The wiring is being refurbished and hopefully we will get a chance to try it out before our summer ends. I am still working on the knitted afghan and just doing the edge around the outside. I also started a more portable project, a sweater, based on one of my favorite sweaters although I think the one I'm knitting will probably be a lot warmer than the 'store bought' version that is almost worn out.

Most of this summer has been extremely hot. So far, Kodi is holding his own but with ragweed on the verge of being in full bloom, I know that he'll soon be taking more meds and sporting his 'Victorian collar' also called 'the cone', to prevent him from ripping his eyes open. I'm hoping that he doesn't have it as bad this year but I know that is totally wishful thinking.

Glenn continues to be busy with silly season, what I call summertime for him and his hobby oriented business. This will likely continue until the weather changes enough for his customers to think about putting their cars away for the winter. I think he has enjoyed the forced days off with our family adventures. I know from previous years that if you don't take the time to do it, you never will.

So take some time for yourselves and enjoy what little bit of summer we have left.
Brenda


Entry 25 - June 19, 2015

It has been such a busy month, I decided to write another entry. Weather has been mostly wet but the sunny days try hard to dry out the standing water in the fields but before that can happen, it rains again. The ducks and other birds are loving the wet spots.

I was at a resort last week with a friend. It was in the Kawartha area in between Minden and Haliburton. We had a lake front view and there was a small beach but I only visited to photograph the water birds hanging around on shore. I did manage to get some great shots of the mallard ducks and the common merganzer.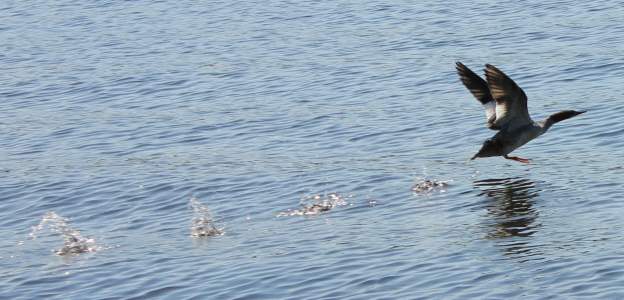 It was a wonderful week of bead work and sight seeing. The weather co-operated fully by raining on the beading days and being sunny on the days we ventured out to visit the area. I noticed that there were a large number of tiger swallowtails flitting about but they were much too fast to photograph until we came across a field of clover and other wild flowers. This was butterfly heaven and I managed to get a good number of shots. Also found a few dragonflies to add to my photo collection.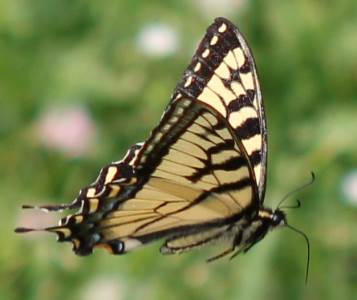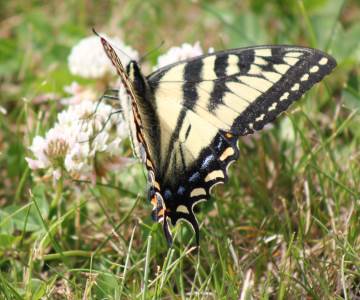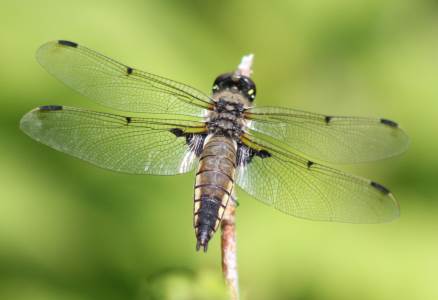 While out and about, visiting the area, we also came across a boardwalk through a wetland and a very calm river giving me the opportunity to practice photographing reflections. One thing that surprised me in the wetland was a snail. It was a normal snail with a shell but it was doing something somewhat unusual. It was moving across the surface of the water but it was upside down so it was under the water and using the surface tension to move. I did photograph the snail but it wasn't a clear picture. The frogs were in great numbers in the rushes but sadly, didn't find any turtles. On our drive back to the resort, we stopped for a turkey crossing the road. She was lovely but cautious enough to only give me a quick glimpse with the camera.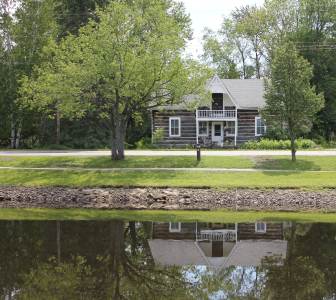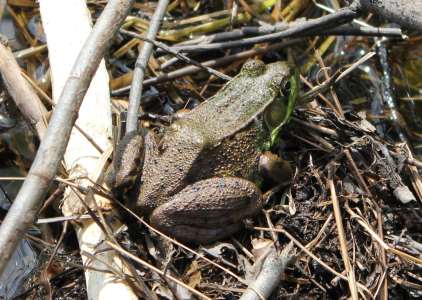 It was a productive week and a lot of bead work was completed. I was stitching models for new designs as well as making another little critter from a book that my friend gave me. The week reminded me of how much I enjoy working with beads and I will try to fit more beading into my schedule.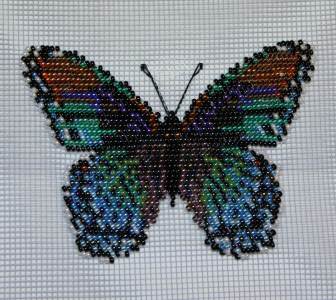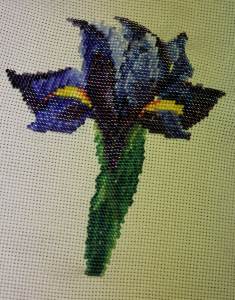 The butterfly is one of a new collection that I am working on. It is the red-spotted purple. The iris will not be released as a bead design. It is too large for beading and there is some crowding on the fabric. Miyuki Delica beads lend themselves beautifully to needlework designs but finding the fabric that has the correct stitch count is difficult. I'll continue to look for the perfect fabric for the Delica beads and in the mean time, keep the designs to a smaller size for bead point. The little green sea turtle was the first one of this type and I can see that I will be making some adjustments and changes to the design to make it easier to work with. It was a great week and maybe there will be another beading retreat next year.
The bunny is still hanging around the house and the deer shows up in the back yard occasionally. I'm not sure whether it is because the field is so wet but the field crayfish have been found crawling around on the driveway and flowerbeds. This is what a crayfish looks like when it feels threatened. If we were as small as the crayfish, I'm sure we would find that stance imposing. There are a variety of birds nesting in the area including the barn swallows in the balcony floor joists. The newest visitors are a pair of brown thrashers that I'm sure have a nest somewhere near by. They could be in the spruce trees but I haven't checked recently. I didn't want to disturb them.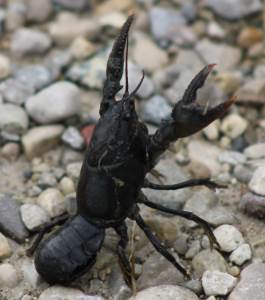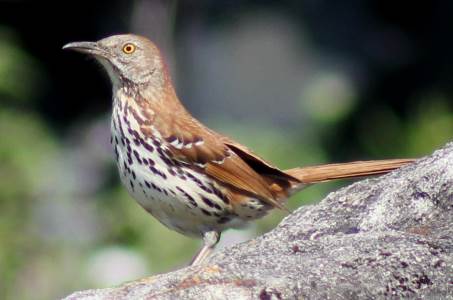 The website updates have been completed and I'm almost done with the catalog update as well. Soon I'll be ready to work on new designs again. I don't hate the administrative aspects of my work but I would prefer to spend all of my time doing new designs. It looks like I will be working on new horse designs, more dogs this fall and hopefully a few more bead point butterflies. Summertime will be busy with finishing up more projects as well as squeezing in a family vacation. Thankfully I am not as busy as my husband Glenn. His work is always crazy busy in the summer when his customers bring their antique cars out of storage and want to have them perfect for driving.
Arianna wrote her final exam yesterday do other than the graduation celebration next week, she is finished with high school. I asked her if it still felt like she was still in school and she responded with a yes. I wonder how long it will take for her to feel like she is done.

Kodi is starting into itchy season and I've started giving him allergy meds. The medication is not a perfect solution but it does help. He will be nine years old this fall and still looks great. I always hope for a less itchy summer for him but unfortunately I doubt that will happen. I think, since we have added steroids when things are really bad for him, he seems more sensitive between seasons.
Summer will arrive officially this weekend. Here is wishing all an enjoyable pleasant summer.
Happy stitching! Brenda

Entry 24 - June 2, 2015
Great things are going on, praise the Lord! My brother has improved and got out of the chair and has been using a walker. He will soon find out if he can start putting weight on the right leg. For me, I don't notice any issues with my wrist and am back to using it as I used to. Occasionally the scar tissue will get itchy but otherwise, back to normal. It is final, Arianna is headed to university in the fall. She has chosen environmental engineering at the University of Waterloo and has already received some scholarship offers which will help immensely.

The birds are back and singing like crazy. The robins have had nests and eggs in trees and also on the tractor manifold, again. Hopefully Glenn won't need to use the tractor until the babies are out of the nest which looks like it will be soon. The little swallows have even managed to build a nest in the balcony floor joists. They tried more than once and the heavy rains actually washed away one attempt. Hopefully this one will last through the torrential rain storms that show up on occasion. The neighbourhood birds all seem to be back but the goldfinches took longer to arrive than normal. I managed to get some great pictures of the, not so shy, Baltimore Oriole but other birds seem to be more elusive. Some birds we've heard but not seen and some we don't recognize but the thumping of the roughed grouse was just about constant this spring and I caught a sliver of a glimpse of this activity between a pair of tree trunks.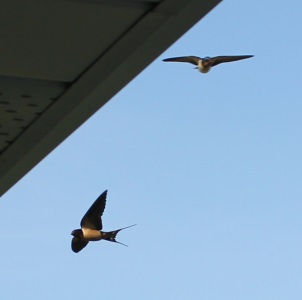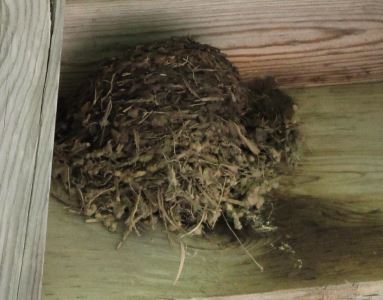 Even though the snow is gone, our weather still manages to get cold enough for more snow but since the night was clear, all we got was a damaging frost. Thankfully the damage wasn't permanent because I've found new growth already. Now that it has been warmer, the bugs are out so walking is not as pleasant. Mostly we are fighting off mosquitoes but black flies are around and deer flies are soon to be bothersome.
Arianna enjoyed her school formal last month. She decided to wear the long dress to the formal and save the short dress and bolero jacket for her graduation ceremony later this month. I am glad I finished beading the dress on time and also squeezed in enough time to add a bead fringe to the shawl. She looked lovely and had a wonderful time. Dad got her a corsage since she wasn't going with a date and chauffeured her in the'57 Chevy to make the evening even more special.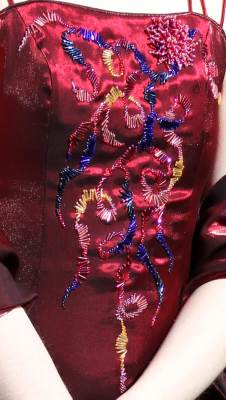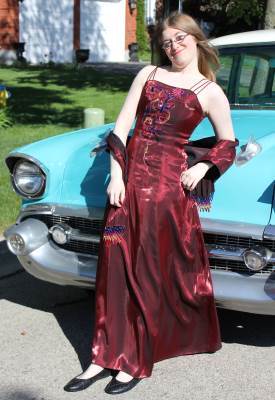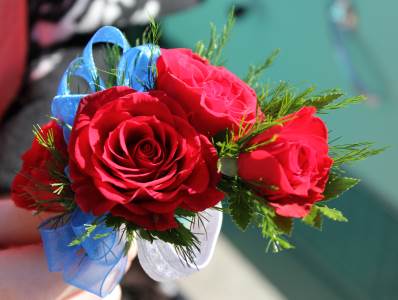 I am currently in the process of updating the website with new designs. Since my custom work was heavier over the past year, I don't have as many new designs as I'd like but expect to continue working on whittling down the list of requests and photos that customers have sent. I have not started another painting yet but hope to soon. I am taking a break next week with a friend to get deeper into bug country, Haliburton and the Algonquin area, so we may spend a lot of our time inside doing bead work. I will continue to work on unfinished projects that got delayed while my wrist healed. Currently, I'm doing the appliqué and embroidery on the 1935 dresser scarves and using up more yarn, knitting an afghan. I finished knitting the sleeves of the lace jacket I had been knitting and still need to add the ruffled edge to the collar. I haven't decided how I would like that to look yet so it has been set aside while I think about the finishing touches. I was going to make a sweater from the yarn but ripped it out for the second time and opted to use up the yarn making the afghan. I guess I'm not into bulky, textured yarn for my sweaters. I'm enjoying the knitting and the design I've decided to play with since the yarn has been cut up into smaller lengths after the two different sweater attempts, is making 12 inch squares with various textures, colour combinations and stitches. Some of the patterns are more tedious to knit than others but it is only for 12 inches so I move on to the next idea once that square is done. I have three earthy colours with a very dark brown that I will be using to put the afghan together once the squares are done.
Kodi is enjoying the walks and also visitors to his back yard. The most recent one got him very excited. I managed to get some photos before I showed Kodi the deer. Then Kodi wanted out so that he could give chase. That doesn't work since he goes out on a rope. I decided I'd like to get more shots of the deer running away so I let Kodi out and photographed the results. He barked and told off the deer and I kept snapping shots. The athletic movement of the deer was marvelous to watch and you definitely can tell why it was named the 'white tail' deer.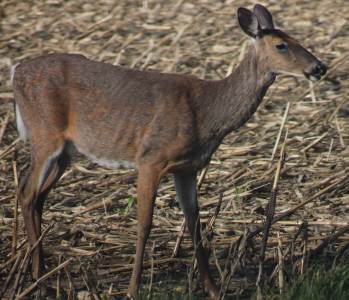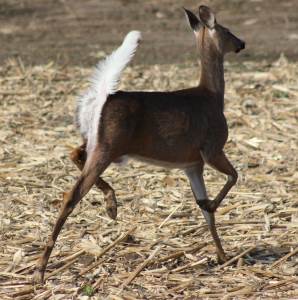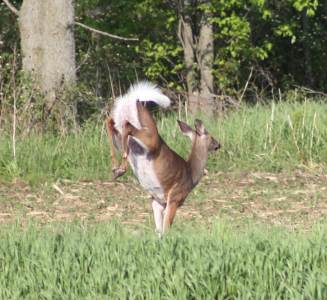 This summer is sure to bring new adventures and will also be busy with preparations for university. Glenn is just finishing his spring show season this weekend in Barrie and hopefully we will get a chance for another family holiday. I will continue to work on unfinished projects as well as new designs and paintings over the summer. I would also like to get some painting done around the house and possibly even get more work done on my car. It would be nice to have that available yet this year but I know that I need Glenn's help with both of those things so depending on his work load, I may or may not get to those things.


I only have one show this year, the Fringe Elements Tatting show in September and I'll be teaching beaded needle cases that weekend. That one has become international with visitors and teachers coming from not only England but also Denmark and Australia as well as Canada and of course USA. It is always a very enjoyable weekend with wonderful people.

Enjoy the last few weeks of spring, summer is soon here and hopefully make a dent in your own unfinished projects this summer.

Brenda


Entry 23 - May 3, 2015


April was a crazy month with many things going on. The most devastating of which was my brother being thrown from his bicycle after hitting a soft spot on the side of the road on Easter weekend. He ended up with eight broken ribs, a broken pelvis as well as soft tissue damage in his knee and shoulder, all on the right side. He had an operation to add a support plate to the pelvis and is now home. He is improving every day and hopefully will be riding his bike again soon. In the meantime, his wheels will be a wheel chair for a while. I feel even more fortunate that the only damage I had from my fall at the end of January was a minor fracture of the wrist. I am back to living life as normal and building the strength in the hand and wrist again. I didn't seem to lose very much and hardly ever feel pain or discomfort. I know my brother will have a longer recovery time than I did but thankfully he is strong and healthy. To celebrate my life getting back to normal, Glenn and I tried out the Tuesday morning adult roller skating club in Cambridge. It felt great to be rolling again but the music wasn't always very good for dancing.

Ari finished a school art project in April and handed it in. The teachers and friends loved her concept. I was actually fascinated by the fact that I had findings that matched the sketch she'd drawn up. I was also thrilled that she could duplicate her design sketch with the beads and chain maille. She doesn't have a lot of experience doing bead work but I know she enjoyed learning new techniques and making her fashion design project.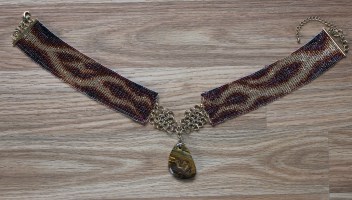 The snow finally appears to be gone but we actually had to get most of the way through April before that happened. We ended up getting some snow in April that hung around for almost a week. Our weather is actually warming up to the point of maybe too warm too soon for me and the bugs are starting to wake up as well. Everything is beginning to show some life again and I've actually done a wee bit of weeding in the gardens and around the house.
Kodi is definitely into the warmer weather and spring time. He gets his yearly vet appointment this week. He doesn't enjoy the shots or the examination but it is always good to know he is healthy. He is eight years old now and still looks adorable. He has been seriously into hunting this spring. He chases the cottontail rabbit that hangs out around the house. He also found her nest of baby bunnies and unfortunately, being a critter dog, they didn't survive. Placing them right up against the back of the house in Kodi's domain wasn't all that wise for the mama bunny to do. He showed me his hunting versatility when we were out walking a couple of weeks ago. I noticed a large bird feeding along the side of the road up ahead and eventually it noticed us and disappeared into the ditch. I was guessing wild turkey but since all we saw was a silhouette, I wasn't exactly sure. We kept walking and soon came to where it had been feeding. I knew we were in the right area because Kodi's nose suddenly went into overtime and he wanted to get into the ditch. There was dead fall in the ditch from a previous ice storm and I couldn't see anything so I figured it had gone deeper into the woods and tried to keep walking. Kodi was only interested in tracking and pulled back on the leash hard enough that I let him sniff deeper. Yes, it was a wild turkey because he didn't get much further off the road and flushed it from under the dead fall. She quickly disappeared into the woods. I guess her colours were such that even though I could see under the dead fall, she blended right in. Having a dog that hunts with its nose is very different from the sight hound we used to live with. Although the Basenji's nose worked well, Indi concentrated more on what she could see. I did teach her to track and she did do some scent tracking as well but Kodi is definitely better with his nose than she was. I think this can also get him into trouble so we'll have to be careful about that if we travel where there are things like rattlesnakes and other dangerous critters. Snakes are one of his favorite things to hunt.
Arianna has accepted her university offer and will be attending environmental engineering at the University of Waterloo in the fall. She has the school formal coming up and I embellished a bolero jacket that she wears over her halter dress and she also picked out her graduation dress. It happened to be used and had little red rhinestones on the front, some of which had fallen off. Rather than replace the rhinestones, she asked if I could embellish this dress as well. We did some research, she picked the colours and I've started working on adding bead work to cover where the rhinestones used to be. She loves the design and I'm having a great time doing the bead work. I'm glad it is working out well because we pealed the remaining rhinestones off of the dress and the glue patches don't look all that great.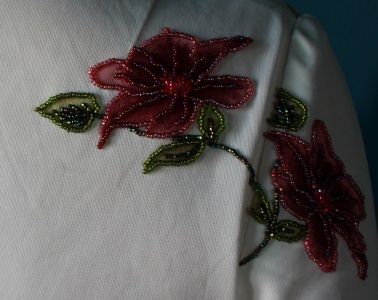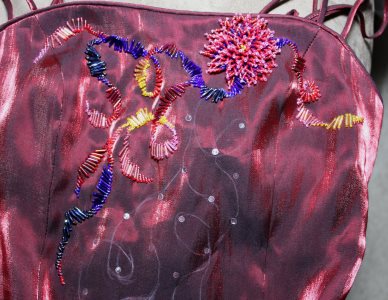 I have managed to finish a couple of personal projects. One was a simple scarf that I could work on while recovering from the wrist fracture and the other, a painting that I've had around way too long. It was more difficult to do than I had anticipated but now that it is finished, I'm thinking about what I'd like to paint next. There are a few possibilities that I have rough sketches for but I have decided which to try first. I have also been working on beaded needle case designs for an upcoming class I'll be teaching at the Fringe Elements tatting event in September. I would like to do more designs and different colour choices which will also be fun. Now that I'm healed I have been working on finishing those projects that I'd started to work on in the fall. I guess my winter 'unfinished project' work will be continuing on through the summer.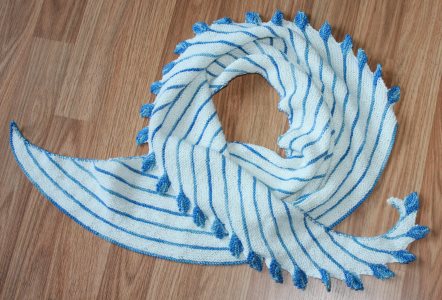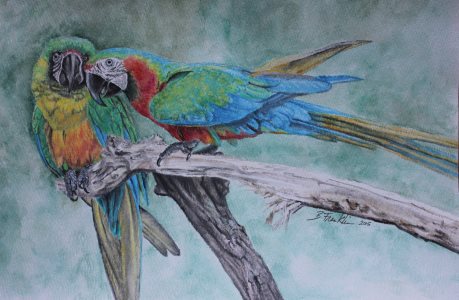 This month will be busy with tidying up some new cross stitch designs and working on the updates for my website. I plan on finishing the updates and posting them sometime in June or sooner if possible. My spare time will be filled with beading on Ari's graduation dress, continuing the knitting on the lace jacket's sleeves and hopefully some stitching. There is also painting and weaving to help fill up my spare time and when I'm not doing that, I am hoping for the energy to continue with spring cleaning around the house. So far the windows have been getting most of my attention but I expect I'll be working on more than just windows. Now that I can use my left hand again, I will be busy with many projects.
Wishing all of you great enjoyment and success in all your own projects and a warm and pleasant spring.
Brenda

Entry 22 - March 11, 2015
Things are finally warming up and snow is melting. I know that many people in my area are very happy to be enjoying warmer weather, they were totally done with the deep freeze we've had for most of the winter. The corn that is still standing in the field did a great job of being a snow fence so we had very little snow removal required this past winter. I think Kodi is especially happy with the warmer weather. He is not as itchy and he gets more walks.
Ari received the university offer of admission she was waiting for so after her mid-term marks are in she will be accepting it and headed to Waterloo for environmental engineering in the fall. Today, she is flying to Europe (France, Belgium and The Netherlands) for a school trip. I hope she has a wonderful and safe trip.

I've had quite an adventure with the fractured wrist. I saw my doctor at the beginning of February and a week later saw the orthopedic surgeon. That was the day I found out that there was a tiny bit of displacement in the broken corner of the bone and he advised that I get surgery to put a metal plate in to stabilize the bone. Otherwise, it may not heal properly. What have I had to eat today . . . . Yes, I opted for surgery so that once I was healed I could shovel snow again and do all those other things I like to do confidently. They scheduled me for that day at 6 pm but the weather was really dicey and if something showed up in emergency that was more dire than fixing a broken wrist, I could get bumped to the next day . . . and so on. I ended up camped out in day surgery waiting to find out if I would be able to get my wrist fixed. I could see what came in since I had the bed by the entrance and watched a few people come in that bumped me, one was a bad appendix and he even had to shovel snow out of the driveway to be able to get there. Very painful! There were others but they still managed to get me into the surgical queue around 8 pm. It was funny when the surgical nurse was flipping through my paperwork trying to find out what medications I was on. She was getting frustrated because she couldn't find anything. I guess it's rare to not be on any medications. Once the surgery was done, I was allowed to go home. The surgeon was confident of a full recovery and the return of full mobility in my wrist. He prescribed something heavy duty for the pain. I found that some Ibuprofen worked just fine but even that wasn't needed very much and not at all after the third evening. There really wasn't much pain. The new splint was awkward and uncomfortable but he suggested that I work on moving my fingers so I was soon typing with both hands and also practicing scales on the piano. Below is a picture of my new wrist hardware.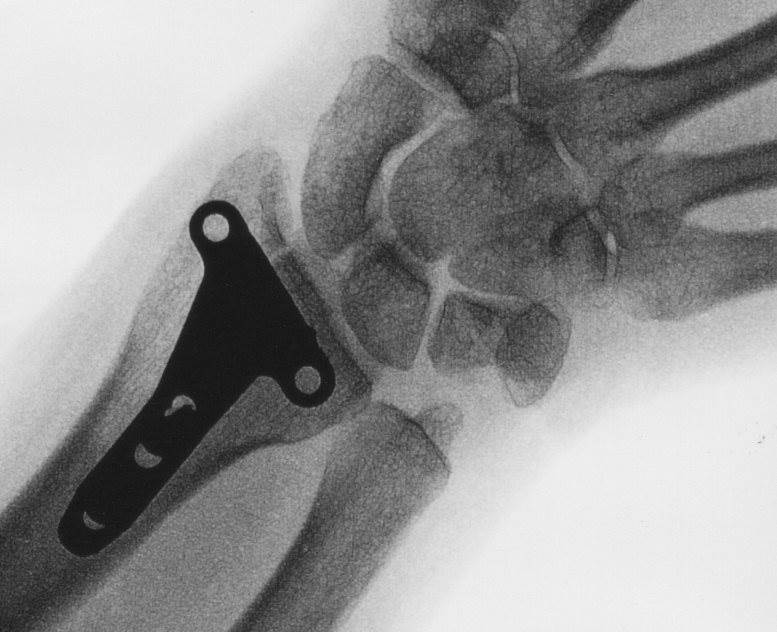 I ended up wearing the splint and those nasty sutures for an extra week because of a holiday on the day they would have been dealt with so when I went to get my cast, I only had to wear it for two weeks. Yes, the cast is off already. Of course that came with more limitations as to what I'm allowed to do than while the cast was on. I am not allowed to lift anything heavier than a cup of coffee for the next four weeks and once I'm past that I can start strengthening things again. I have bi-passed the hand and put things on my arm closer to the elbow because my arm can still carry weight but that wrist is not allowed to so anything my left hand picks up has to be just about nothing. I am very fortunate that the hospital has a physiotherapy clinic dedicated to anything to do with arms. We saw the therapist right after the cast came off and got my first set of stretching exercises. Actually the physiotherapist was very surprised that I could already make a fist and could rotate my wrist 160 degrees so that I could flip my hand over. I guess playing piano is good exercise for a fractured wrist. I was also grabbing the cast in my fingers during the last week to keep pushing it down my arm because after the cotton felt settled, it kept climbing up my hand and chafing my knuckles. The only stretch that I'm finding difficult is the one that flexes the wrist to wave my hand up and down. The rest of the stretches I can do easily already. We'll see how things go on Monday when I visit the physiotherapist again. I don't see the surgeon again until mid-April. I've attached jpgs of my dragon embellished cast, thanks to Ari's artwork.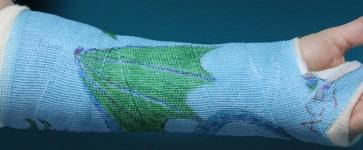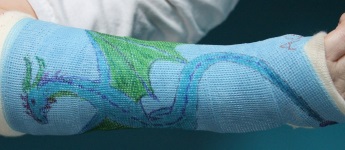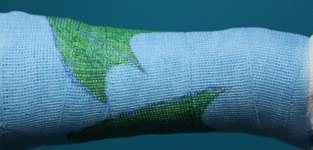 All this has put a damper on my personal projects. I have not been able to weave and any stitching is awkward and uncomfortable. I have managed a tiny bit of knitting but had to start a new and simpler project because the numbness of my thumb made it too difficult to do the lace knitting. It is not normal for me to sit around idle so I had to find other ways to keep me busy. Fortunately I could still paint and work on custom designs and I have also been working on my latest painting. As a first timer for breaking something, I don't advise it. Takes a lot out of you and the recovery time is crazy long. Not as long as a really bad sprain though so I guess in that way, I'm lucky. Thankfully I can feel most of my thumb again but there is still a small area of numbness. I hope I will feel it again soon.
I hope to soon get back to personal projects and bead work. A friend has booked a week away for the two of us so I will also enjoy a bit of a 'working' holiday later this spring. Wishing all of you enjoyment in your crafts and an especially wonderful spring.
Brenda

Entry 21 - January 29
The New Year arrived just as quietly as the previous year ended. I filled the Christmas holiday with work on various projects. I wanted to try doing a beaded fish ornament that was an actual type of fish and decided on a clown fish. It was a time consuming endeavor but I found the results to be exceptional. My next challenge will be to try an angel fish. I also wove more scarves and one is to be donated to a fund raising auction. Not sure which one yet. I'm letting someone else choose which one.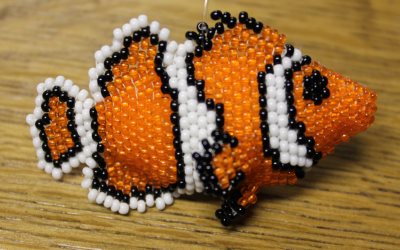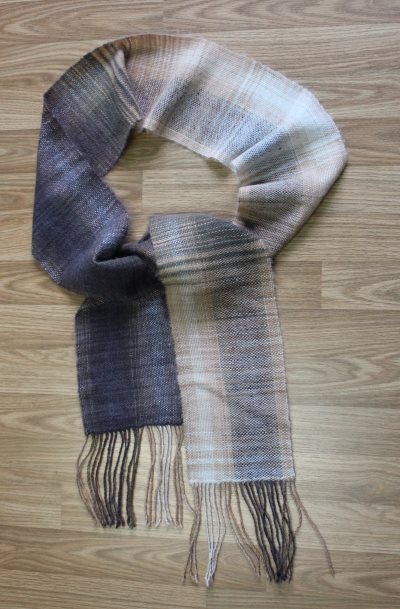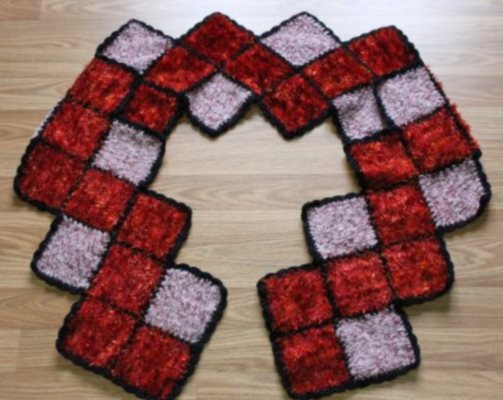 Our weather is still dramatically changeable and mostly bitingly cold. We now have some snow but nothing compared to last year. Having corn sill standing in the field around our house does help as it acts like a snow fence. We do experience occasional sunny days but when the wind kicks up even those days can be nasty outside.
I managed to finish the pre-Christmas commissions and already have a new selection of jobs and commissions to do. Fortunately I have patient customers because I think I will be a bit slow for the next month or so. Personal projects are also temporarily on hold.
Since we really enjoy roller skating, used to do it almost every day, we decided to try a Friday night family skate because the January adult skate was canceled due to weather. It was crowded with knee-biters for the first couple of hours so I took it easy and practiced avoiding the clumps of people and falling bodies. This is not easy since little ones go every which way including against the flow of traffic. I hadn't skated with little kids since the late 70's when I taught at Saturday morning family skate sessions. The rink was clearing quickly and open enough so that we could do some backwards skating. Glenn was working with Ari and I was practicing one of my favorite backwards steps. I wasn't aware that someone's skate was disintegrating and leaving chunks of plastic all over the floor. My wheels found one and stopped but the rest of me didn't. This is where being able to fly and land would come in handy. I flew but the landing was more like a crash. I had just been thinking that I'd need sacrum compressions because it was feeling tight across the pelvis. It got compressed alright, probably too much because I felt that and not much else. As soon as I landed, I crawled back to find the 'whatever it was' that took me down. It was easy to spot from my 'close to the floor' perspective; it was an inch wide and half inch tall. I remember waving off some skaters so they wouldn't hit it and go down. I picked it up, managed to get up and was assessing what hurt as I worked my way off the floor. Thankfully Glenn saw me getting up and came over to check on me. I wasn't feeling too steady and figured I might black out but I didn't. I showed Glenn what took me down and we figure that someone's in-line skate was leaving shrapnel all over the floor. I was done skating for the night and wasn't happy because the skating was just getting good. I got some ice from one of the cruisers and headed for home, icing my worst pain, my left wrist.
In all of my years of living, skiing and skating, I've never gone down so hard or so fast or hurt so much. I asked Glenn to take me to the hospital to get my wrist checked out and what did they find? I have a hairline fracture. I'm currently sporting a 'not so fashionable' splint, what is called a half cast and am not really in pain anymore. Of course I'm also not doing much either. I ended up with a bit of bruising on the base of my right hand (didn't feel that at all), a bulls-eye of a bruise on my right elbow and really sore across the sacrum area of the pelvis on top of the very sore left arm. I am supremely thankful that I didn't nail my tailbone or my head. I'm also happy that I am right handed. I can still do some things. Unfortunately the knitting, embroidery and weaving I had been working on will have to wait until I have more finger mobility before I can spend time on those personal projects. For the first few days, I couldn't do much but now that most of the pain is gone, I'm more able to do things on my own. Kodi would love to walk but with the icy conditions outside, someone else will have to take him.
I hope to soon see the orthopedic surgeon and find out what needs to be done and also get a more permanent cast and settle into the healing process. There is an adult skate scheduled for April and I don't want to miss it. I'm not one for tattoos but I've asked Ari to deck out the cast, once I have one, with a dragon drawing. Since a cast is not permanent, we'll have to photograph it for posterity. I guess skiing is out for me this winter . . . . sigh.
Ari's university applications were well received and she already has two acceptances, here second and third choice. One came with a nice scholarship offer. She hadn't even finished writing her exams so they must have liked last year's marks. She still has to finish an application information form and submit that and then will hopefully hear from here first choice.
Life continues to be quiet for me, more so now that I'm recovering. Glenn has, what he calls, an expensive month coming up with two birthdays and Valentine's Day all within a couple of weeks. I guess I'll need someone's help to make Ari's birthday cake. That should be interesting.
With such a dramatic start to my New Year, I wonder what the rest of the year will be like. Happy New Year to all and Happy Stitching!
Brenda
Copyright (c)2015
Brenda Franklin
All Rights Reserved