Brenda's Blog


Entry 20 - December 20

Weather continues to be changeable but for now it is bright and sunny. The freezing fog from this morning coated everything with a frosty white layer so it is very pretty outside. At this point it is a guess as to whether we will enjoy a white Christmas or not.

I have been busy finishing commissions, new designs and personal projects. Not only did I get the blanket done but also the large needlepoint and some scarf projects as well. I recalculated the time spent to make the blanket and it is actually closer to 300 hours for the complete project and it fits the king sized bed. I plan on doing a few more scarves over the next week or two as well as dig into the pile of unfinished projects and get to work on finishing something else. It is rewarding to tidy up unfinished items and I hope to clean up that pile this winter. I've included photos of those projects below.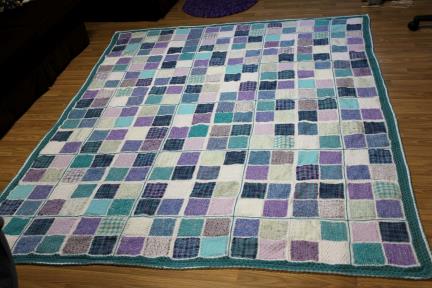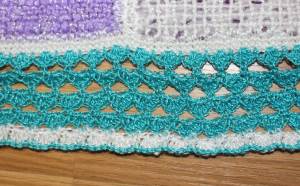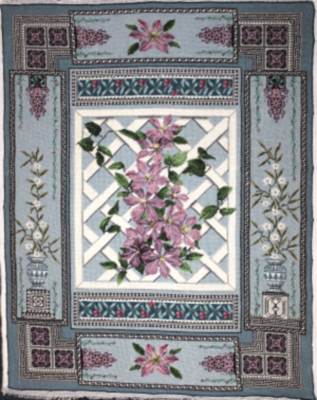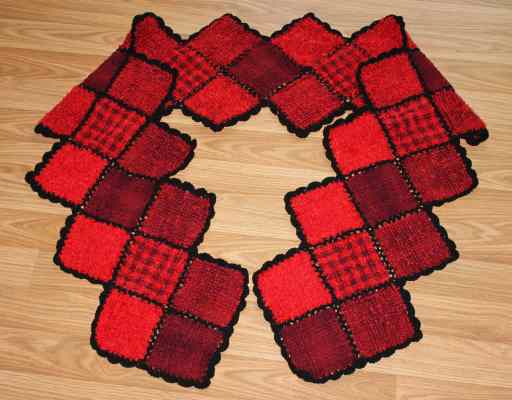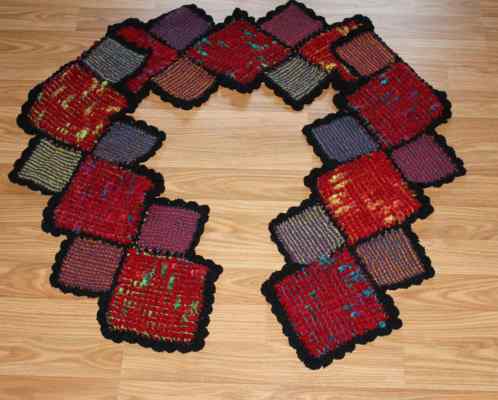 There have been ups and downs over the past couple of months but other that working on various projects, a very quiet life. We did find a place somewhat local to roller skate so one a month we have been enjoying one of our favorite activities again. There has been a change for the magazine article, two bead designers will be featured in the 2015 issues so the only thing I need to do for that is edit their work. We have no special plans for the Christmas break but will be visiting with family and friends.
This month Arianna will be applying to universities and we all are hoping that she gets her first pick. She is happy that she has chosen a career path and happy with her choice. She mentioned that some of her friends still don't know what they will be doing. She has been working very hard and has super grades to reflect how hard she has been working. She is also volunteering with a local organization to help out in their second hand store. So far she is enjoying the experience.
I am happy life is quiet. It gives me more time to work on various projects. I would like to wish you all the best of the season. A very merry Christmas and an even better New Year.
Brenda

Entry 19 - October 24

We are not seriously into fall with freezing temperatures overnight and cooler days. There have been some very gusty, house shaking winds that make me think that winter, which is just around the corner, could be a nasty one. Rag weed season burned itself out this year and relief came before the frost but at least it is over and Kodi is back to being playful again.
I continue to work on some larger projects in my spare time and they are still not finished so again nothing to photograph however, a customer sent me a jpg of a recently finished afghan using the dog sled design and it is stunning.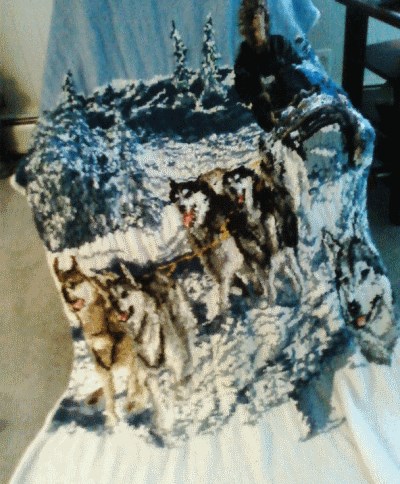 It was a huge amount of work but I think the results are wonderful. I don't like intarsia knitting well enough to tackle a project like this one. It was enough just to do up the design twice. Once as a cross stitch pattern and again as a knitting pattern. I have a lot of respect for someone who would not only tackle such a complex piece but also stick to it and finish it. Congratulation Ginger!

As for those personal projects; I continue to work on the woven blanket. I finished all 320 four inch squares and then put four together so that I had 80 squares. I then did a single crochet edging around all the squares. Once that was done, I connected all the squares together to make the blanket. I am now in the process of crocheting a lace edge around the blanket. It took around 400 hours to get to this point. I started last winter and I hope to finish before Christmas. I am also back to stitching the very large, Oriental needlepoint. It is coming along nicely and another project that has been in the works for some time. Another one I hope to finish before the New Year. I am planning on working on 'unfinished' projects throughout the fall and winter, in my spare time and hopefully tidy up most, if not all of them. Once that is done, I have lots of other potential projects to fill my time.
The latest project for the magazine has been completed and I'm looking at the spring project at this time. There are a bunch of ideas kicking around for possibilities but I think I've settled on one and now have to make the model and do up the instructions. Fortunately it is a smaller project so won't take as much time. All commissions have been completed so I am working on the backlog of photos and requests. I also squeeze in some painting when I am up for it.
Other than work and personal projects, there really isn't much new or exciting to write about so this is a short entry. Hopefully next month will bring something new to my blog. In the mean time, enjoy the season and your stitching!
Brenda

Entry 18 - September 17

Fall is in the air with a definite threat of frost overnight. I look forward to this time of year and the cooler days and even colder nights. Partially because it can give relief to my poor ragweed allergic dog but also because the trees are turning, which adds colour to the scenery and a wonderful spicy scent to the air. Every season seems to have its own special set of attributes for the senses. The world we live in is truly a gift from God.

I have been working an various personal projects, most of which are not finished so not much to photograph. I did finally finish the painting of the peony and I did finish weaving a bathroom mat for a wedding present but forgot to photograph it. I will continue to work on the blanket, more paintings, knitting and stitching and try to remember to photograph them as they are completed. For my 'job' work, I currently have a few commissions as well as design requests on the go and with a show coming up I will be putting together some class kits and packing up for that. I also need to tidy up the instructions for the magazine project, which means the rest of this month will be super busy.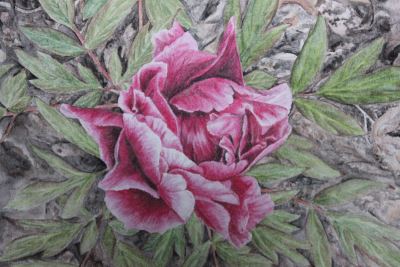 As for the wedding, it was lovely. They even managed to get the '57 Chevy finished enough that, as Glenn would say, it got it's five minutes of fame. I photographed those involved with fixing it up for the wedding. Since I'm running the camera, you won't see me in the photo but Glenn, his brother, parents, nephew and girlfriend as well as Ari are in the photo. It was a beautiful day and since the wedding was held outside, that was a bonus. I did struggle at the reception because it took them more than two hours to serve the meal. Normally I don't eat after 7:00 pm but had to make an exception to my rule. Although they started the meal shortly after 6:00 pm, it was after 8:00 by the time they began serving the main course. The food was very good and also hot so no complaints about that. I would have been more comfortable with better timed food service.

As busy as my month is, Glenn asked for help to prepare the roof on his parents' house for steel tiles. It appears that the shingles were ready to be replaced and after some water in the house during a heavy downpour, we worked on getting it far enough along to stop the water from coming in during the next rain storm. Now that Glenn's brother is back from his holiday, he and Glenn will be finishing the job of putting a new roof on the house. He has not requested more help from me . . . whew. The roof does not have a steep pitch and the house is only a raised bungalow so not that high off the ground but I was still uncomfortable when I was working at the peak of the roof. I think the worst moments for me was when Glenn appeared to slip or lose his footing although he never actually did. Years ago I watched him fall about eight feet when an extension ladder separated out from under him. He didn't break anything but the fall did give him a nasty sprained ankle that took years to fully heal. I told him then not to ever do that again. I was not up for a repeat performance in any way.

Canadian Thanksgiving is in October so once I'm finished with my show, that will be the biggest priority for my spare time. I will be organizing my family's get-together this year. I'm going to keep it simple and call it 'pot luck'. After Thanksgiving, we start thinking about Christmas. This year my family will be celebrating at my sister's new place. I guess it is time to work on figuring out those Christmas gifts that I either need to make or to purchase.

Wishing all a wonderful fall and hopes for finishing your Christmas stitching in good time.
Brenda

Entry 17 - August 21
Summer seems to bring along what I call 'silly season' in the automotive hobby world and best laid plans can change and adapt to fit the crazy schedule silly season creates. This year was no different than any other year except that we were working on holiday plans. Normally summer is all about work and no time for holidays. Arianna was spending five weeks in Quebec for a French immersion course and since we were driving her out and picking her up, and also half way to New Brunswick we decided that after picking her up we would then continue on our way to New Brunswick to visit with family and grab a short holiday. Glenn didn't want to stay in motels so he thought about building a tent trailer. Time quickly ran out for that project and I decided it was time to look for alternatives. Even if we built a tent trailer, we would have to make a tent so we found an older tent trailer that needed a new tent and purchased that. It was certainly more work than we had planned so after the day job, evenings and what time we could scrape out of weekends was spent fixing up the slightly neglected, old tired tent trailer. We did manage to get it done in time to pick Ari up in Quebec and continue on our way to New Brunswick but . . . just . . . with no windows in the ends of the trailer because we didn't have time to sew them in. We left at 10:30 pm the night before we were to pick her up after about 3 weeks of working late nights and early mornings and weekends as well as being on our feet most of that time. The good thing about a long drive is that you don't have to do it on your feet. We finally ran out of steam near the Quebec border around 2:30 am and grabbed a nap. Well at least Glenn got a nap. I didn't mention that Kodi, the dog who hates to travel in a vehicle was going along on this trip. He gets somewhat anxious in vehicles and sat in the seat behind my head, heavily panting while I was curled up in a reclined bucket trying to sleep. Since I'm a light sleeper and he decided that transport trucks were scary, neither Kodi nor I got any sleep. We did manage to pick Ari up on time and headed off to New Brunswick, only to get stuck in nasty construction and traffic around Quebec City. It took us two hours to travel about ten kilometers. I hooked into a web site with the tablet called 'beat the traffic' and found an escape route if we could just get off the highway. Thankfully there was an exit nearby and after some interesting maneuvers, we managed to get off, tour around a business and residential section and soon after return to the highway, past all the nasty traffic. The rest of the drive was quiet and easy.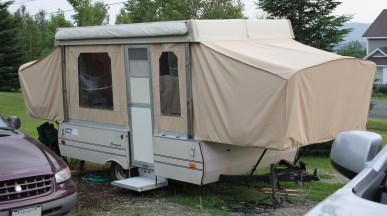 We enjoyed a few days visiting family and friends on our way to Fundy National park where we planned to camp and do some of the local sights. We also had a day in Moncton not only to visit more friends but I also got to spend the afternoon at a wonderful needlework shop '

Because You Count

' and visit with some eastern stitchers. It was a super afternoon, and a real treat to chat with other embroiderers as well as checking out their latest projects. Shelley certainly knows how to put a party together. Thank you to all who attended. It was a highlight for me and a joy to meet you all.
I had a deja vu moment when I found out we were staying just outside of 'Alma' only this one was in NB. Anyway, it is a very beautiful place and we enjoyed the trails and the local sights. The trails come in three levels, easy, moderate and difficult. Funny how they are also coloured the same as ski runs - green for easy, blue for moderate and black for difficult. We found that some of the trails should probably have been listed as double black because at one point Ari suggested that maybe she'd enjoy them more if they didn't always seem to go up. Climbing up continually for what seems like hours can not only be wearying but the thrills can go stale rather quickly. I took many pictures and expect that some of them will be used for either painting or design projects.


Fundy is a very interesting place with the highest tides in the world. There are stands under those boats to keep them off the ocean floor when the tide goes out. Unfortunately I wasn't there to see what happens to those stands when the tide comes back in. Oh and that's Ari mugging for the camera at the Alma sign.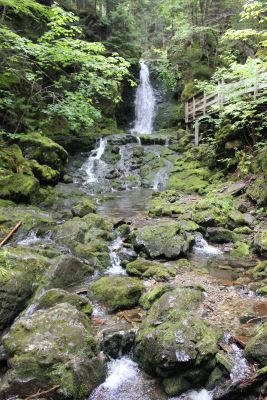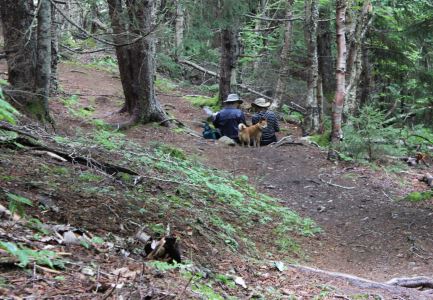 At Fundy National Park, we found a waterfall 'Dickson Falls' where the water seemed to fall forever. This is just the top section of that falls. The other picture is the gang taking a break from climbing up a steep trail. Actually most of the trails we were on were steep.
We also spent time on the ocean floor, exploring the flower pot rocks. Ari and I found a small tide pool and watched a pair of hermit crabs have a bit of a tussle. They always look so much bigger when you see them on nature shows on the television. We stayed until the tide started coming in again. There are amazing things to explore in this world around us and I'm happy that we got the chance to do some of that this summer.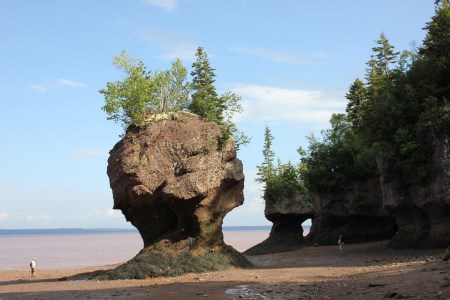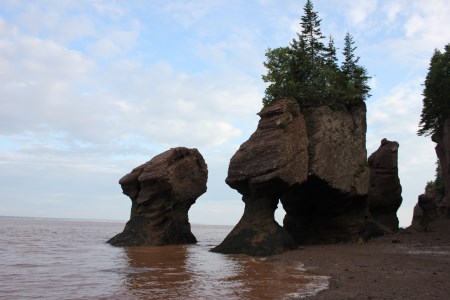 One other thing we did was visit the longest covered bridge in the world. New Brunswick is home to a large number of covered bridges and although Glenn and I had been to Hartland many times in the past, this was the first time for Ari.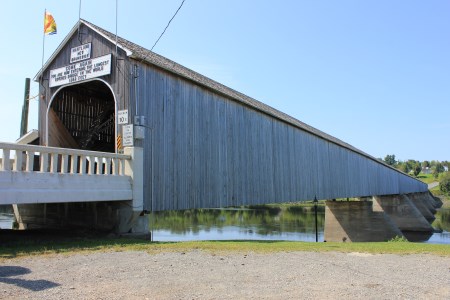 I'm glad to be home again. Vacations are fun but also exhausting. You work so hard to get away and then there is so much to do when you get back. Sometimes I wonder if the effort is worth it but after looking and the great collection of pictures, I am happy we made the trip. Thankfully Kodi managed to learn how to sleep in the car. There was also another great thing about New Brunswick, no ragweed. Kodi actually had a break this year from the worst of his allergies. He is still being medicated because that noxious weed is in full bloom all around us but I haven't had to put his Victorian collar on yet this year.
On the home front, I've been working on various projects. A gift for an upcoming wedding, more painting as well as knitting, crochet and weaving. I would like to squeeze in some time to do some stitching as well but that current project is on the back burner probably until after school is in full swing again.
School is starting soon and I know that Arianna probably feels like she didn't get much of a summer after spending 5 weeks of her summer in French classes. My summer wasn't typical either. Normally I spend it working on UFO's (unfinished objects) but this year it was spent refurbishing a tent trailer along side Glenn. We still have more work to do on that tent trailer but I see them leading to other possible adventures in our future.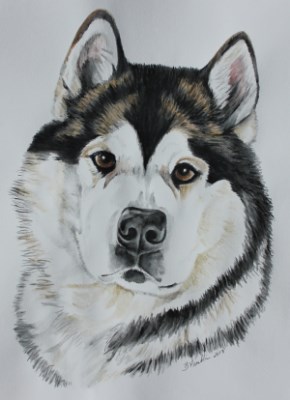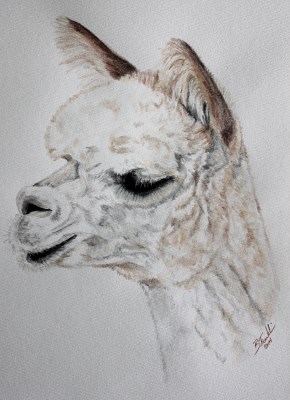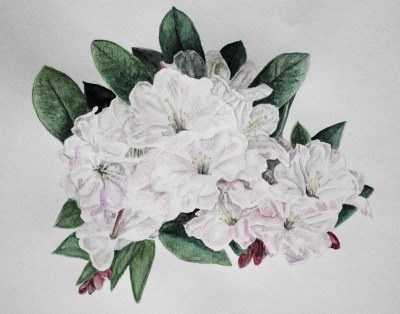 I am currently working on more critter and more floral paintings and who knows, maybe even some landscapes and seascapes too. I'm sure September will be busy with Ari starting grade 12 and thinking about University and wishing we could get an early frost so that Kodi doesn't have to suffer much longer.
Hope you all had great summers and lots of time to do the things you love best.
Happy stitching!
Brenda

Entry 16 - June 25
Spring definitely showed up by June and now we are securely into summer. The weather improved to the point of actually feeling hot and muggy which also brings those violent thunderstorms that frighten Kodi. Summer also brings the weeds that Kodi is very allergic to so once ragweed season is here, we'll be giving him medication to help ease his itchiness. The other thing that the warm weather has brought is the bugs and they are more vicious and hungry this year than what I can remember. I am happy to see the birds and butterflies. We've even seen a few Monarchs floating around the milkweed. We've also spotted a few other critters that we don't see as often. When Glenn and I were walking, we saw this strange thing moving around on the road and were trying to figure out what it was as we got closer and closer. It finally dawned on me as to what we were looking at once the style of movement triggered memories. It was a snapping turtle.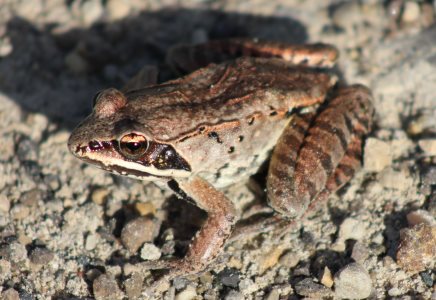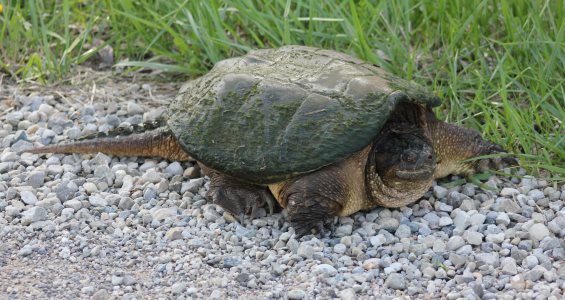 We've actually seen two snapping turtles. One on our side road and one around the corner on the concession. Not sure what they were doing, strolling down these roads but maybe they were looking for each other.

We have some new birds in the neighbourhood but most are a bit elusive and more difficult to catch on camera. I've seen both hermit and wood thrush and Ari actually recorded the wood thrush singing on her phone. It has a massive vocabulary and I we really enjoyed listening to it. We also have yellow-shafted flickers and they are pretty interesting to watch as well. They feed on the ground but perch on trees like a woodpecker. Lots of birds I couldn't possibly identify unfortunately but will keep trying. I managed to get shots of the Oriole and a Bobolink which I haven't seen in the area for quite a few years. I'm happy they are back.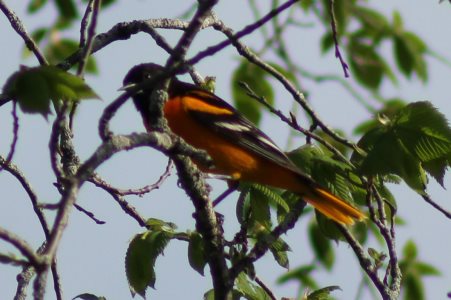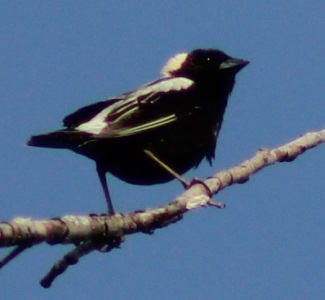 I also managed to photograph a couple of swallowtails that have been hanging around.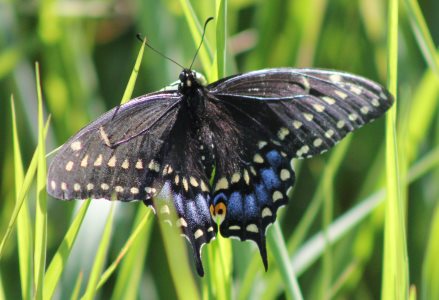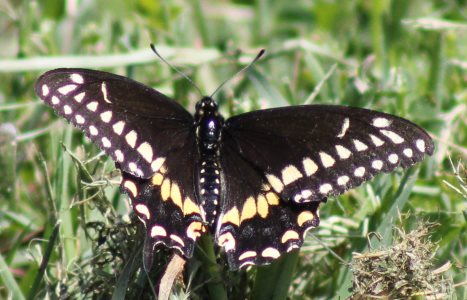 Now that school is finished, Ari is happy to soon be headed for Quebec and her French immersion course. It will be an interesting and exciting time for her. This past weekend she also purchased a set of drums from her cousin and is in the process of learning how to use them. I don't mind hearing her practice, I've always liked drums and may give them a try for myself on occasion. I think in some ways she'd like to stay home and learn more drum techniques but Quebec is too important to miss.

Glenn is in his busy season with customers all wanting his help, time and expertise. Sometimes he is stressed and working long hours too. Hopefully things settle down soon so he can get a bit of a break.

I've tidied up most of the commissions I needed to finish and now just have some small things to do. I've also been painting, weaving and knitting as well as doing a bit of beadwork. A friend picked up some beaded ornaments and loaned them to me so I could see how they were put together. I made models of my own from her ornaments and see possibilities for other styles as well.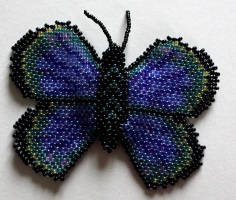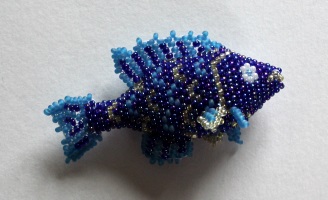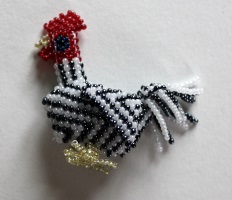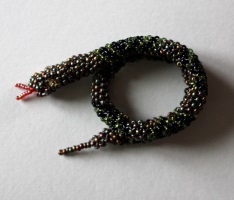 I changed up the butterfly a bit, made minor adjustments to the fish, changed the colur and feet of the rooster and plan on doing some changes to the snake to turn it into a cobra version. I would love to make different types of fish so will eventually have some fun with that one. There was one other ornament in her collection that I did make a pattern for but since it is not clear as to what it actually is, I decided not to make one. I may do something with it in the future but will probably turn it into a polar bear or something similar since that is what it appears to represent.

Other than designing, my work has involved doing a new project for the Festive issue of ANPT magazine. I finished designing the pattern and am in the process of making the model. I also have a friend who is testing the pattern and making a second model. This I hope to complete for the end of July. I'm glad my workload is as light as I can keep it. I try to use the summer to tidy up unfinished projects that have collected through the winter. I also have to work up some new possible articles and even find designers to submit more projects. We'll see how that goes over the next few months. I'll be teaching at the Fringe Elements Tatting event in Cambridge at the end of September but it doesn't look like I'll be doing any other events or shows this year.

I hope all are enjoying the weather and your crafts. Keep on stitching!
Brenda

Entry 15 - May 17
Okay, somewhere in my blog entries, I missed April so I guess I have a bunch of catching up to do. April was a bit of a rush since I managed to sneak away for a little break with a friend in the middle of the Month. We visited Northern Michigan and I knew it was going to be cold but seeing snow every day was more than I had expected. The fact that we were staying in a condo on a local ski hill probably helped with the snow. Too bad I didn't bring my skis, the hill was open every day we were there. No surprise with all that snow. Being far enough north to actually be near Sault St. Marie was also a new one for me. Some of you may know that I'm a bit of a rock hound and finding out that the Michigan had a state stone and we were staying very near the area that this specific stone is found was a treat. We managed to do some shoreline treasure hunting for this particular rock once we figured out what they looked like. It is called a Petoskey stone, named for the city where they were discovered. None of the beaches in Petsokey were open when we were there but there was a rocky shore access just outside of Petoskey that we checked out and were happy to find some of these special rocks. There wasn't much for wildlife so I had to limit my photography to some of the local colour.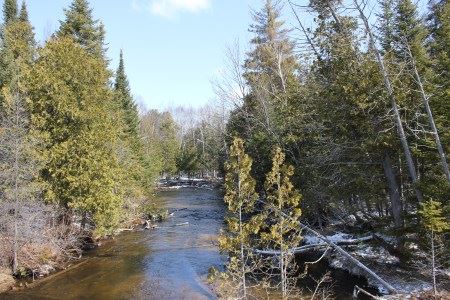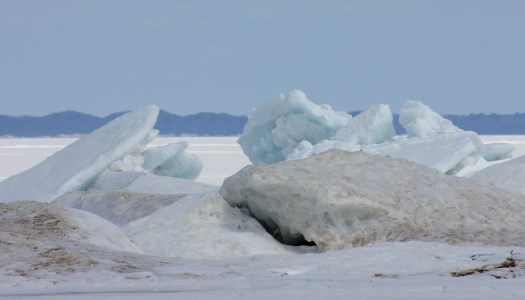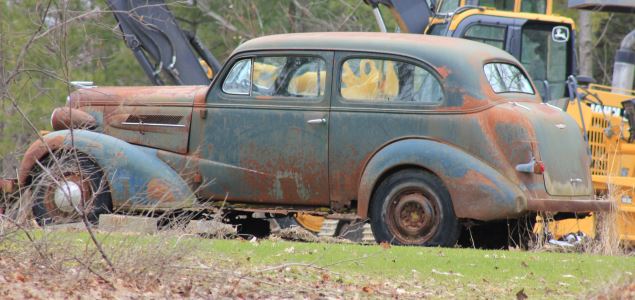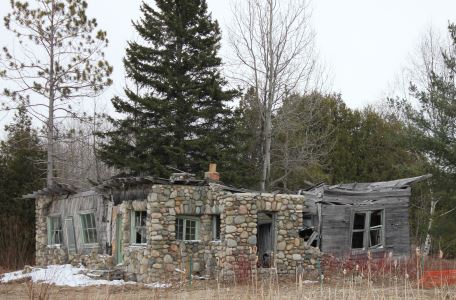 Shortly after I returned from Michigan my daughter left for a school trip to Montreal for a few days, and then suddenly the month was finished and after squeezing in a 'last minute' one day show, it is now the middle of May. All of the snow is gone in my area but the weather still manages to be cold at times. We've also had some very warm and muggy weather just to make sure we haven't forgotton what summer can be like. I've managed to go for walks as often as I can and some of which have been interesting and even bizarre. We've been seeing a variety of birds this spring that we haven't seen in the area before. A Dickcissel was singing it's little heart out one morning while perched prominantly on the corner of the storage barn. A pair of wood ducks that has now been joined by a third continue to hang around the drainage ditches at the back of the property. A meadowlark was looking for something to eat in the back yard and orioles brighten the trees as well. One surprise was a pair of Northern Yellow-shafted Flickers that keep flashing their wings at us. They sure can fly fast but are very shy. These are just a few that have been spotted in the area.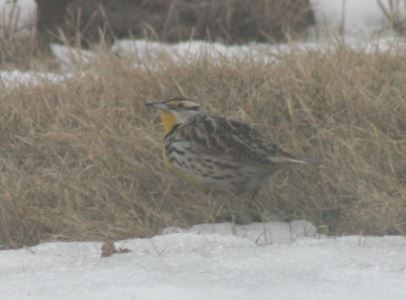 During one of these walks, Ari and I heard a very strange noise and all we could think of that would make such a sound was a wild turkey. Since they are very cautious we froze and stayed quiet, hoping it would show itself. We heard some more noises but it didn't sound like a turkey. After a short wait, out of the ditch nearby strolls a little red hen. Ari and I looked at each other in disbelief, seeing a chicken in an area where we figured a coyote or fox would have snatched it up and she asked if I thought we could catch it. I handed her Kodi's leash to give it a try. He was very interested in catching it. I slowly strolled closer to the chicken, making clucky chicken noises. It moved away from me along the edge of the ditch but not as fast as I was going so I slowly and calmly closed the gap. We had a lot of fallen trees along the ditch from the winter ice storm so when I was close enough and it was somewhat cornered by tree branches, I reached down and picked it up and then tucked it under my arm. It accepted this treatment without a fuss and Ari and I decided to take it home with us. Our walk was a little short that day. We ended up walking Kodi in front rather than behind me as I carried the chicken just to make things easier on him and Ari. Halfway home, Ari asked to carry the chicken and we continued on our way. Once we got home, I called a friend who I knew had chickens and asked what to feed it. It was acting very hungry. After finding out they'd eat just about anything, I found some things I figured would work and fed the chicken. It was so tame it would eat out of our hands. Ari figured someone dumped it on the road side. I called around to some of the neighbours but no one had misplaced a chicken. I asked if the friend who has chickens would take it and eventually they said they would. Good thing because otherwise Ari thought it would end up being fox or coyote bait for sure. By the next night, our little red hen had laid an egg and I was told that I no longer needed to find the owner of the bird, it had been adopted. This made Ari very happy and we hope to visit the little red hen soon.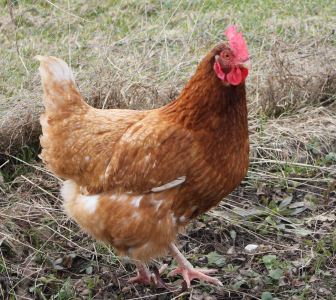 I've been working at keeping up with commissions as well as tidying up project articles for ANPT magazine. I seem to be on track for the deadlines involved in both jobs but have not had as much time for personal projects as I'd like. We'll see how the summer unfolds since I like to dedicate my spare time during the summer to finish up those unfinished projects that end up piling up as other things take priority. I will continue to walk as often as I can and enjoy the local birds and the greening of the trees.

Hope spring has arrived warmer for those of you not living in Ontario. Happy stitching!
Brenda

Entry 14 - March 17

Happy St. Patty's day for those who celebrate the green in their lives. The only green I was seeing this morning was what the visiting cottontail rabbit was finding on the front lawn for food. I was surprised that it found something green in all of that brown. The bunny blended in well with the dead looking grass but Kodi still knew it was there when we got back from walking Ari to the bus. I wouldn't let Kodi chase him away so managed to get these shots before his belly was full.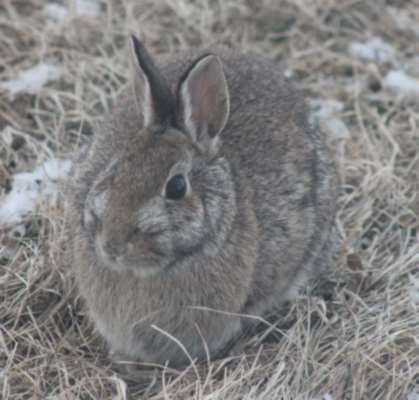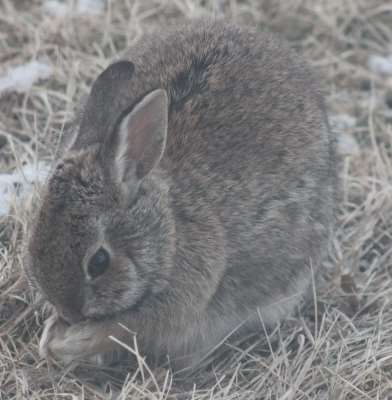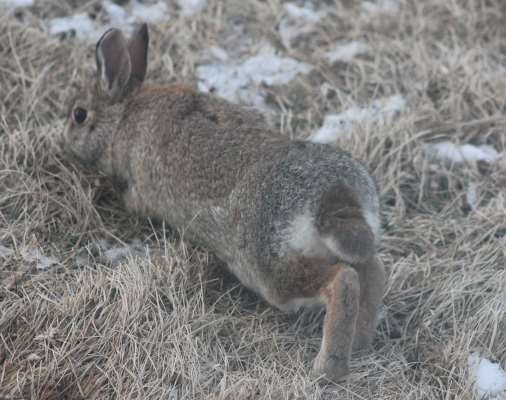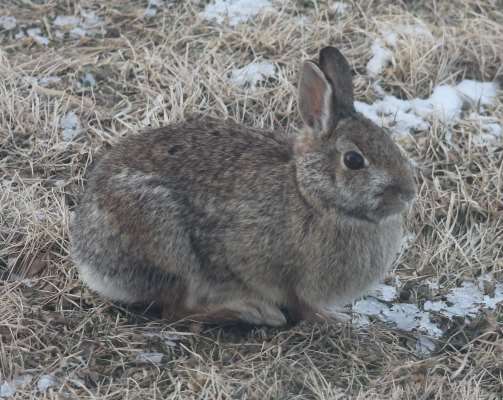 Good thing Glenn got the tractor back together and has been able to use it for blowing snow. We have been getting storms every few days that dump more snow on us. The mound at the corner of the parking area is huge and the snow banks on the side road are like driving through a tunnel. We have a lot of snow. Fortunately there have been some warmer sunny days and some of the snow is either melting or evaporating - can't tell which. There is still a lot of ice on the road and our driveway but some gravel is beginning to show up.

During the last week of school before March break we got a serious storm so I called the school and asked them tell Ari not to stay for choir practice but to come home on the bus since we were snowed in and couldn't get out to pick her up. Shortly after that, the school sent out an announcement that choir was canceled and the buses were leaving early to bring the students home. Not long after that, Ari called to ask us to pick her up in Fergus because that was as far north as her bus could go. I suggested she stay at the school because if we couldn't get the driveway cleared, we'd get her grandparents to pick her up. Glenn then got to work trying to clear the driveway so he could go and get her. In the mean time, someone got stuck on the road just past our driveway so we wouldn't have been able to get past them anyway. I dressed up for the nasty weather conditions, grabbed a shovel and while Glenn continued to attempt to clear the driveway, I went and checked on the person in the stuck vehicle. He wasn't dressed for the weather conditions which were high winds, blowing snow and white outs with a windchill of about - 35 C. I did a little bit of digging since mostly snow was jammed up under the front of the car. Got him unstuck and turned around and he went back to visit his relatives. Unfortunately, Glenn couldn't get out the side road either and the driveway was blowing in just about as fast as he blew it out so the grandparents had to get Ari from school. Once it got dark, things calmed down and with me lighting the driveway and road with the van's headlights, Glenn cleared a path all the way to the side road with the snow blower and went into town and got Ari. He knew she would sleep better at home and still had school in the morning. Rural living certainly can have challenges.

I noticed that the snow buntings are now getting their summer plumage and there are more birds around - some of them we don't see in the winter so I'm sure they are back from the south. We haven't seen a robin in our area yet, which is usually the harbinger of spring. March break is now over and sadly school is on. I know Ari would rather enjoy more of a break but summer will soon be here.

I am happy that the catalog and website updates are complete and now available to view on the website. I continue to work on new designs and hope to add them later in the spring or sometime this summer. As for what I'm working on personally, I continue to paint, stitch, knit, weave and bead on various projects but nothing is ready to photograph for the blog yet. I will be taking a short vacation soon with a friend. That will be a fun new adventure since I'm visiting an area in Michigan that I've never been to. After all the work on the catalog and website updates, I'm ready for a break. We will be doing some sight-seeing as well as lots of walking. We also plan on playing with bead projects when we are enjoying a rest. I still haven't decided what I'd like to take to work on but have some time yet to figure that out.

I hope to have my car back on the road this summer but don't know if that will happen. It has warmed up enough so Glenn can work on it again without freezing. We'll see what happens. This certainly has been a very cold and snowy winter compared to the past few years.

Wishing all a wonderful spring and lots of sunshine.
Carry on stitching!
Brenda



Entry 13 - February 12, 2014

We've gotten through two birthdays this month and are headed for Valentine's day. After Valentine's, there are two more birthday's in my family to celebrate before the end of the month. Glenn find's February the biggest month for gift buying. Fortunately we didn't need to buy all of our gifts. I managed to finish the sweater for my daughter's birthday on her birthday. We also had storms almost every day through January which amounted to more and more snow piled up in our yard. I've added more pictures and if you compare them to the previous snowy shots, you can see that we've got more snow than we know what to do with now. Glenn is working on getting the tires back on the tractor because the little snow blower can't get the snow over the top of the pile anymore. He needs the large tractor driven snow blower to clear the snow mound. We have also been getting a lot of hoar frost. The pictures I took of it one morning was so feathery, it looks like the deck was wearing a feather boa.

Work is progressing in many areas but especially in updating my catalog and website. I will soon be putting the updates on my website with new designs and new pricing but I also have a PDF version of the catalog that will be available for those who would like one. I will continue to work on commissions as well as new designs and maybe eventually I will catch up on requests. I will also soon be working on a series of bead point designs that I hope to release in the spring.

In my spare time I have been enjoying some stitching. I had forgotton how enjoyable it is to sit and stitch and expect to squeeze in more stitching through this new year. No idea what else I will be filling my time with but I do have lots of ideas to choose from. My summers are usually dedicated to finishing up unfinished projects so I have that to look forward to.

So now on to the pictures. The first on is the birthday sweater which was actually a fun project to knit. The ruffles are some of that funky yarn that is on the market lately. It makes easy showy trim. The other three pictures show the snow in our yard. The first on is our driveway and you can see a bit of one of the trucks that is buried in the snow. All that is currently visible on the other truck is the top 4 inches of the antenna. I know, hard to spot on such a small photo. The drifts are massive, taller than me and if they continue to build, I think we'll use them for a ski hill. They look like petrified waves and are wind sculpted into such dramatic shapes. The third snow picture shows the vehicles parked by the barn. The previous blog entry had a similar picture showing a small white van that is even more inundated with snow. On the right center of that same picture is another van and the only thing showing is a bit of the roof rack. Yes, we have piles of snow and I wonder what will happen to it when it starts to melt in the spring. That could be interesting.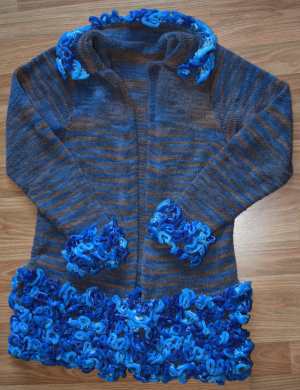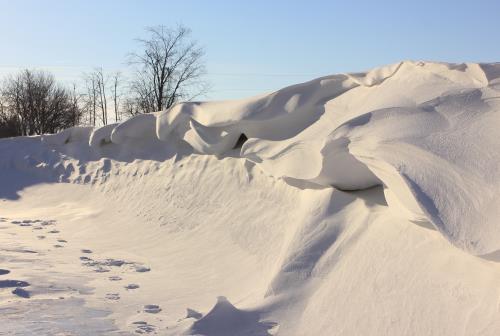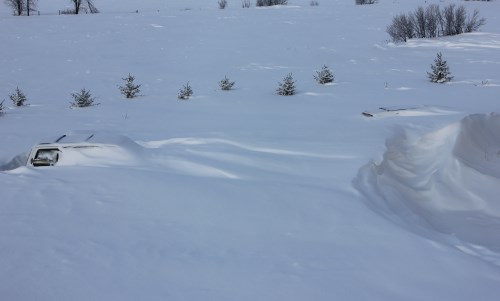 We have been getting very cold weather and with the added windchill, it is down right frosty. This gives us many mornings with hoar frost on everything. Most often it is interesting shapes but on this particular morning, it was shaped like feathers. I couldn't resist grabbing the camera and getting some shots of the trees with the sunrise through the clouds in the background. I can't help but love the varied beauty of winter and I honestly don't mind being snowbound and not able to keep the driveway clear of snow at times. The driveway is 75 feet long and then we have a large parking area near the house. I managed to shovel most of that after a light and fluffy 6" snow fall in an hour and a half. I also love to shovel snow. There is something very Zen about digging and moving the white stuff that I find enjoyable. Most often I let Glenn move it with his snow blower but every now and then when he isn't here, I clear out what I can on the driveway so that he can get in easier and doesn't have to clear the snow to park the van. There have been times when he has had to clear out not only the driveway but a path down the road so that we could get home.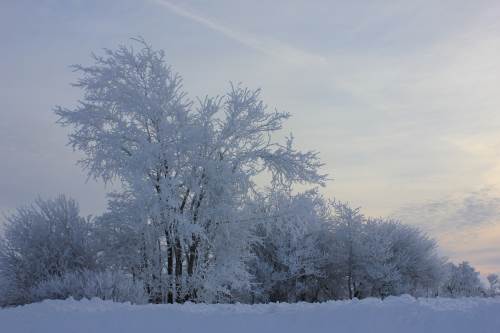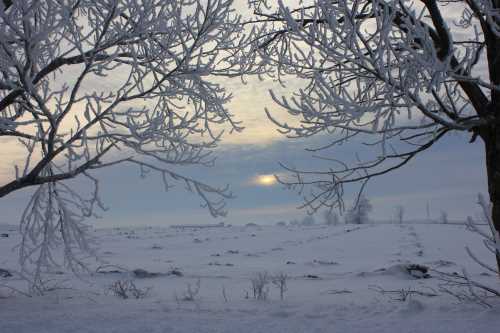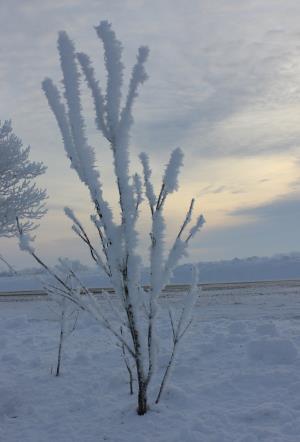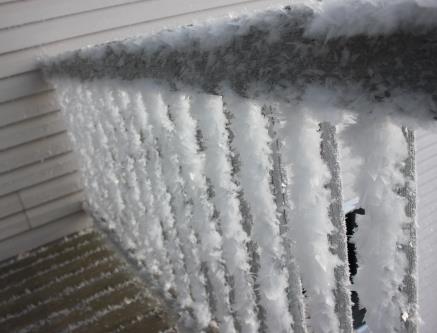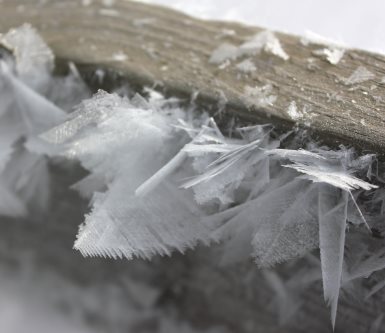 This is a taste of what our winter has been like this year. The previous two years were nothing at all like this. We hardly had to move snow at all and I remember January feeling like T-shirt weather. This year we have igloo snow, lots of it but it is a bit frosty out there for building igloos. I haven't been down the road since the storms built up such large snow drifts. The snow on the road will likely be waist height to taller than me and pretty hard going without snow shoes. I may venture out later this week once it warms up a bit more. Right now we are enjoying what I call 'freeze your nostrils shut' weather and the snow is actually squeaky when you walk on it. Glenn mentioned that within a week or so we may get more freezing rain so time to stock up on more fuel for the generator and make sure the battery back up for the sump is charged up.

Enjoy Valentine's day and another month of winter!
Brenda

Entry 12 - January 7, 2014

Christmas holidays started early for Arianna with the last day of school off due to an ice storm. Now that the holidays are over, we are ending them with not just one day off due to the school being closed but now two. We are in the middle of crazy weather. It is very cold outside, feels like -40° (same C and F), very windy and lots of blowing snow so we experience white out conditions even if it isn't snowing at the moment. We also have blizzard warnings out so when a flurry hits, we don't see anything but white. Now just because the school is closed doesn't mean that there isn't school work being done. With internet access, students can get their homework assignments. I admit, I don't think Arianna is impressed with that little improvement to technology.

The storm that hit just before Christmas break was nasty. We had freezing rain off and on for two days. We anticipated a major power outage and stocked up with fuel for the generator so that we could last at least 5 days without power. That is our emergency plan. If we can generate our power, we can supply fresh water, heat and food for as long as we have fuel. We don't run the generator at night so we have to have battery back up for the sump otherwise, there could be a flood in the basement. This storm plastered us with more than an inch of ice on everything and in some areas, up to two inches. We did lose power, same as last spring but instead of being out for 4 days like last spring, we were only out for 5 hours. We were amazed. We lost our phone about an hour after the power went out but didn't get that back until a day and a half later. Some friends were better off than us and some not so much. We loaned the generator to one of those. Another friend didn't get her phone back until almost two weeks after the storm. Our yard, driveway and deck were totally covered with this thick layer of ice. I used a hammer to break up the ice on the back deck so the dog didn't go sliding off. That was a tough job. Our driveway and everything else that didn't shed the ice is still covered. These are the more dramatic pictures that were taken before the ice was shed.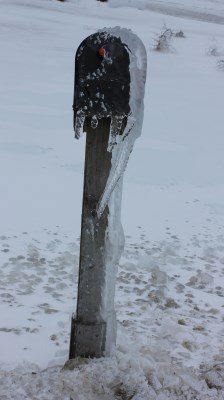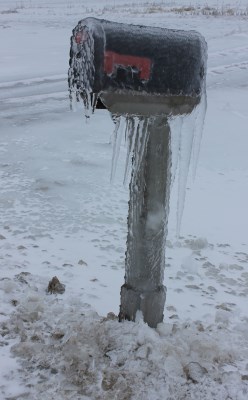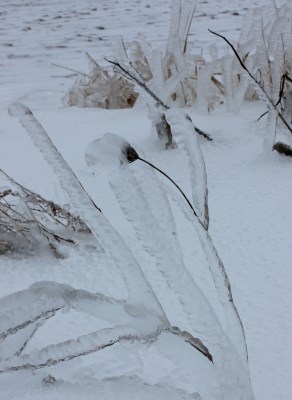 The current storm continues to blast away at us and so I guess all that fuel that was stocked up for the generator will be put through the snow blower once the wind slows down a bit. Right now, blowing out the driveway is a waste of time because as fast as we clean it out, the wind fills it back in. We don't mind the weather, we just don't want to bother wasting time digging out until it will actually accomplish something. This weather is hardest on the dog because his feet get cold so quickly, they begin to hurt and he doesn't want to stand on them. It is very hard to balance and pee when you only have one leg on the ground. Our previous dog, a Basenji did manage to do just that, much to our amazement but our current little boy isn't finding that as easy to do. Time to introduce him to doggy booties.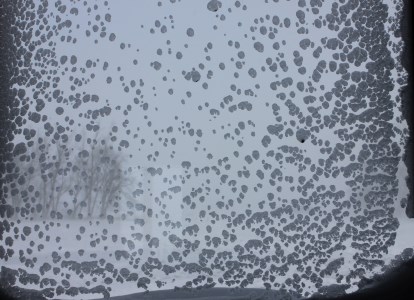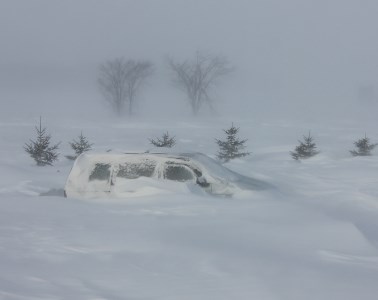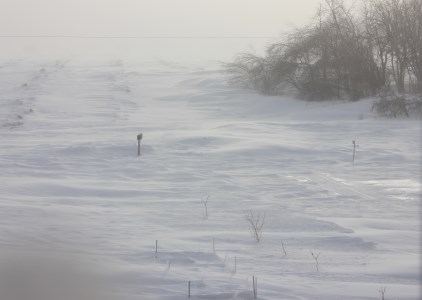 These pictures are views from my windows. The first one is the back yard and somewhat protected so the snow collects on the window. The second on is my side yard showing the end of the driveway close to the barn. Fortunately that van doesn't need to go anywhere, anytime soon. The snow for more than half of the driveway is as deed as it looks around that van. The final shot shows the driveway end, close to the road. The road has since been plowed but the driveway still needs some cleaning. If you look to the middle right side of the picture, you may be able to see the icy tire tracks but the rest is drifted in with snow.

Not all of our weather is nasty. Some days we get very little wind and sunshine. On those rare occasions, we enjoy walks and other activities outside. This is when the dog can do what he loves best, hunt. It is rare to see him without snow on his face when he's out hunting. He will dive deep into the snow so only his curly tail is hanging out. If he smells anything that could be a critter, that tail is wagging. I love these calm days not only for the beauty of snow laden trees but also to be able to be the first one to track up the snow. I've included a shot of our back field and our sideroad, the 'no winter maintenance' section.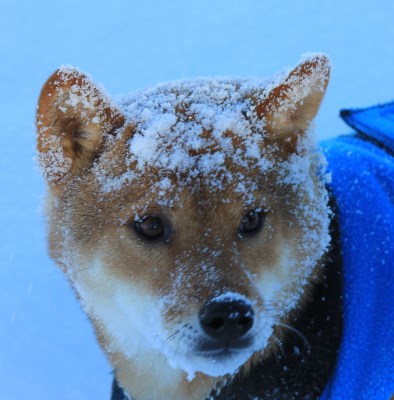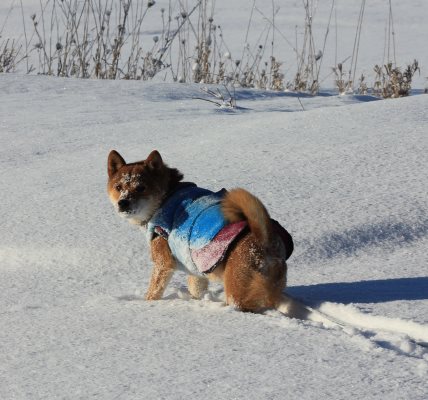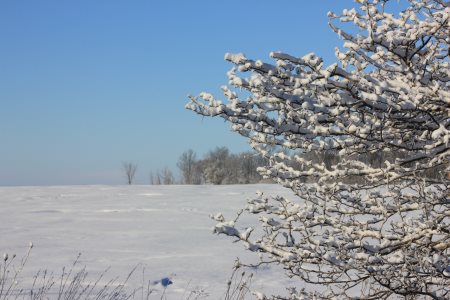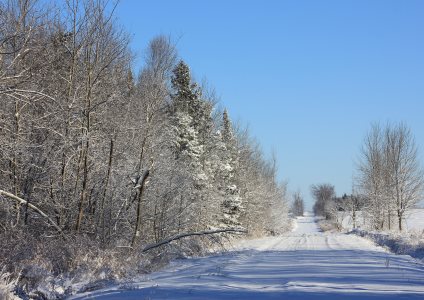 So as much as weather can be nasty around here, there is so much beauty and wonder. I feel blessed to be able to experience all aspects of the world around me.
Hope all enjoy a productive and stress free New Year!
Brenda



Copyright (c)2014

Brenda Franklin

All Rights Reserved